Online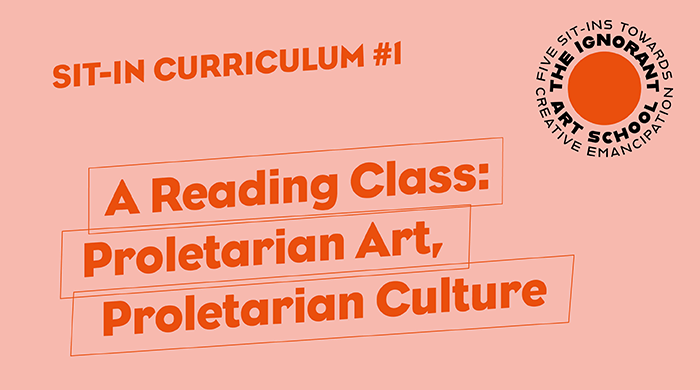 A Reading Class: Proletarian Art, Proletarian Culture
Date: 11 March 2021 - 11 March 2021
Gallery: Off-site venue
A Reading Class: Proletarian Art, Proletarian Culture
Thu 11 March 6.00 – 7.30pm
An audio presentation and reading group, facilitated by researcher and Sit-in #1 Associate Occupier Hussein Mitha, exploring a particular conception of proletarian culture and art in the wake of the Russian Revolution, through readings of extracts from Leon Trotsky, Asja Lācis, Walter Benjamin, and 'Proletkult' publications.
Free tickets are available on Eventbrite.
This event forms part of The Ignorant Art School, Sit-in Curriculum #1.
___________________
Facilitator Biography
Hussein Mitha (they/he) is a writer and artist based in Glasgow. Their writing has featured in The Drouth, Frieze and Radical Philosophy. They have taught workshops at Glasgow School of Art, Central Saint Martins, Market Gallery, Transmission Gallery, and previously led a reading group at Cooper Gallery during The Pleasure of Expense in 2019.
___________________
All enquiries please contact: exhibitions@dundee.ac.uk
Funding support:
The Ignorant Art School at Cooper Gallery, DJCAD is supported by the National Lottery through Creative Scotland and the Henry Moore Foundation.