Preview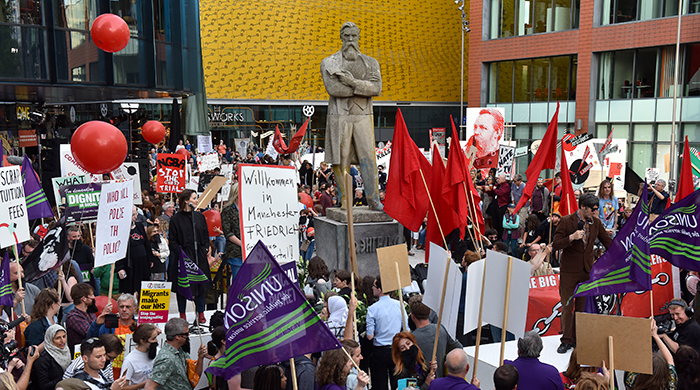 Preview & Panel Discussion | Phil Collins: Ceremony
Date: 17 January 2019 - 17 January 2019
Gallery: Cooper Gallery
Phil Collins
Ceremony

Preview & Panel Discussion
Thursday 17 January, 5.30 – 7.30pm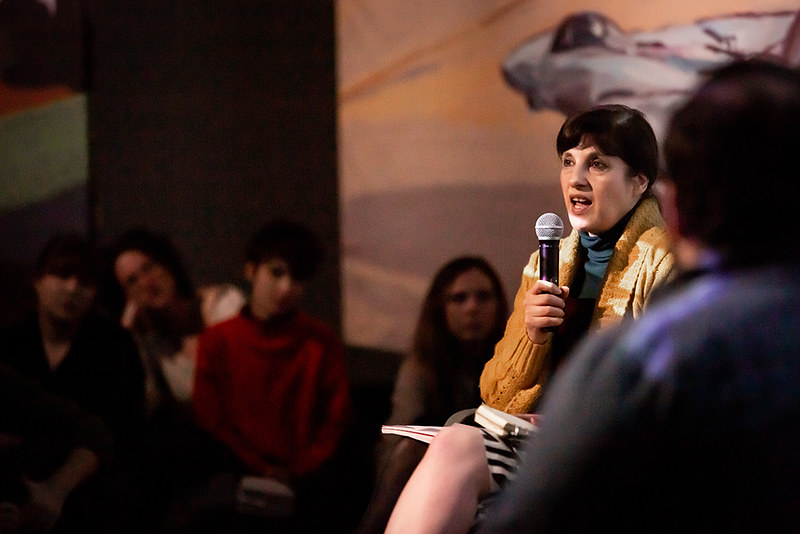 Photography by Sally Jubb.

To launch Phil Collins' forthcoming exhibition Ceremony, Cooper Gallery are delighted host an exhibition preview on Thursday 17 January 2019. This event is accompanied by a panel discussion featuring contributors from activist groups in response to the pertinant themes contained within Phil Collins' film.
The panel discussion will be chaired by documentary filmmaker, writer, podcaster and activist Sam Gonçalves who will be joined by Pinar Aksu, a Human Rights Activist, Community Development worker, and Theatre of the Oppressed practitioner; Sarah Glynn, an activist, academic and architect who played a central role in the establishment and running of the Scottish Unemployed Workers' Network; Derrick Johnston, a musician, writer and activist based in Dundee involved in direct action through community organising and running DIY events; and Stella Rooney, an artist, current DJCAD student and activist working against precarious employment.
We warmly invite all audience members to bring any activist materials, pamphlets, placards and banners to the preview event, to stage an informal group demonstation in response to the struggles faced by so many in our current political climate.

Panel Biographies

Sam Gonçalves is a documentary filmmaker, writer, podcaster and activist His work has engaged with stories of inequality and urbanisation, from the sprawling favelas of São Paulo to the birth and re-birth of Dundee's Alexander St. Multis. Originally from Brazil, Sam has been in Scotland for 12 years and is now heavily involved with Scottish Detainee Visitors and campaigns to end immigration detention in the UK. You can also see his work as the Digital Producer for Creative Dundee. Follow him on twitter at @SidlingBears.
Pinar Aksu is a Human Rights Activist and works with Maryhill Integration Network as a Development Officer in Glasgow, and with Active Inquiry using Theatre of the Oppressed methods. She has been involved with asylum and refugee rights since a young age. She is involved and a committee member at the Right to Remain, Glasgow Campaign to Welcome Refugees and Stand Up to Racism Scotland.
Sarah Glynn is an activist, academic and architect. She has played a central role in the establishment and running of the Scottish Unemployed Workers' Network, which combines grassroots support with campaigning. She has also organised tenants' campaigns – especially against demolitions – and has contributed to debates on housing policy. As an academic, she has looked at issues around lower-income housing (see Where the Other Half Lives: Lower income housing in a neoliberal world, Pluto Press 2009) and around multiculturalism. She has written about public housing, 'regeneration', housing in a neoliberal economy, immigrant political mobilisation, the rise of identity politics, and Islamism. She has worked as a University Lecturer at the University of Edinburgh and the University of the West of Scotland. As an architect, she has worked on new designs and with historic buildings.

Derrick Johnston is a musician/writer/activist based in Dundee. As a founder member of Make That A Take Records, frontperson of punk rock band Uniforms and protagonist of Tragical History Tour, Derrick has spent the last twenty years in the trenches of DIY punk; from protesting the Iraq war and G8 to running Conroy's Basement, Book Yer Ane Fest, Tins For Tunes, Food Not Bombs, Write Yer Ane Zine and more. A country boy from Highland Perthshire, Derrick graduated from Stirling University, is anti-fascist and has been sober five years. Be radical, spread joy. w: makethatatakerecords.bandcamp.com | tragicalhistorytour.bandcamp.com | uniforms.bandcamp.com
Stella Rooney, an artist, current DJCAD student and activist working against precarious employment. She has been involved with the Better Than Zero for a number of years; a campaign which seeks to end low pay and zero hours contracts and fights for dignity and respect in the workplace. Stella has also been involved in organising within workers struggle locally, through assisting precarious workers fight for unpaid wages, to showing solidarity with striking UCU lecturers at Dundee University through a two week occupation. Her artistic practise is performance and installation based and explores some of the multitude of ways in which people become alienated under capitalism.
____
Reflecting on the work and legacy of Friedrich Engels, co-author of the Communist Manifesto with Karl Marx, Ceremony is a nuanced and timely exploration of Engels' ideas within the context of social conditions in contemporary Britain.
Appropriating a decommissioned 1970 statue from former Eastern Europe, Collins' multi-faceted project explores how we perceive and still live today with the complex politics that underpin revolutionary desires. Featuring an artist's film and a set of printed backdrops, Ceremony at Cooper Gallery indexes the symbols of revolution, industrialisation and contemporary Western imperialism to provide a critical mediation on both the passing of an idea and the necessity for its urgent reappraisal in the 21st century.
Tracing the journey of a communist era statue from one side of Europe to its permanent relocation in Manchester, where Engels wrote his seminal work, The Condition of the Working Class in England, Ceremony cuts back and forth to the lives of Collins' collaborators in present day Britain to unpack how the idea of communism continues to provide a visionary alternative to the tyranny of capital. Ceremony provides a fitting occasion for reconsidering working class histories and industrial struggles that have marked, and still do, the city of Dundee.
Acknowledging Engels' observations on the condition of the working class in the 19th century as its starting point, the Panel Discussion at the preview evening will bring together representatives from activist and community groups in Dundee and beyond to reflect upon impacts of the past decade of austerity measures in the UK.
____
Ceremony was commissioned by Manchester International Festival, 14-18 NOW: WW1 Centenary Art Commissions and HOME. Produced by Manchester International Festival, HOME, Shady Lane Productions and Tigerlily Productions. Supported by Arts Council England's Ambition for Excellence, the BBC, The Henry Moore Foundation and My Festival Circle.
Ceremony opened at HOME, Manchester, Sat 7 Jul 2018 – Sun 16 Sep 2018 and has previously toured to Baltic, Gateshead, Fri 22 Jun – Sun 30 Sep; MAC, Belfast, Thu 9 Aug – Sun 28 Oct; and to Cooper Gallery, DJCAD, University of Dundee, Fri 18 Jan – Sat 16 Feb, 2019.


Image credit: Phil Collins, Ceremony, 2018
Colour, sound, 67 min.
Courtesy Shady Lane Productions, Berlin
Photo: Joel Fildes

Ceremony at Cooper Gallery, DJCAD is supported by the Goethe-Institut Glasgow