Preview & Performance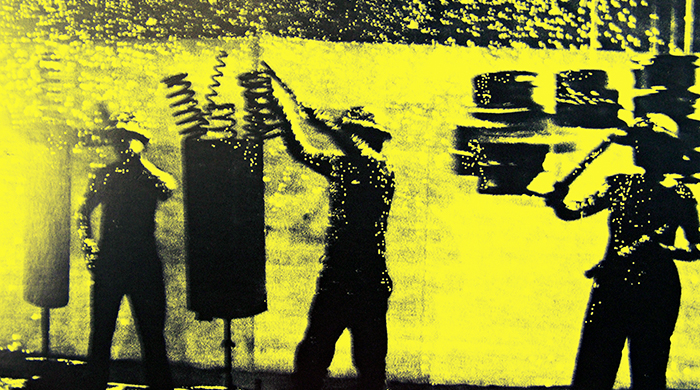 Preview & Performance | Bow Gamelan Ensemble: Great Noises That Fill The Air
Date: 26 October 2018 - 26 October 2018
Gallery: Cooper Gallery
Bow Gamelan Ensemble
Great Noises That Fill The Air

Preview & Performance
Friday 26 October, 5.30–7.30pm

Join us for the preview of Great Noises that Fill the Air, the first retrospective of influential artist collective Bow Gamelan Ensemble (Anne Bean, Paul Burwell, Richard Wilson) where Anne Bean and Richard Wilson present a newly developed live performance, in their new incarnation as W0B.
Performing with support from students at Duncan of Jordanstone, W0B conjures the unorthodox magic of Bow Gamelan Ensemble using their repertoire and scores of bangs, taps, thumps, rattles, echoes, whispers, blasts, booms, clangs, clashes, howls, peals, pops, roars, rolls, rumbles, slams, smashes, thuds, thumps, thunder, whams, hums, murmurs, purrs, shouts, grunts, hisses, hollers, hoots, claps, screams, screeches, shrieks, wails, whines, whistles, whoops, yammers, sniffs, sobs, squalls, whimpers, groans, laments and sighs.
Student Performers:
Conor Gray, Calum Ingram, Julian Larrainzar, Jek McAllister, Stella Rooney, Saskia Singer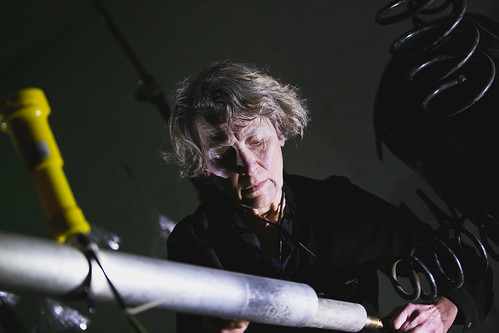 Slideshow: W0B Perform Nalemag 2 at Cooper Gallery on 26 October 2018. Photography by Eoin Carey
Performance by W0B (Anne Bean & Richard Wilson) with Conor Gray, Calum Ingram, Julian Larrainzar, Jek McAlister, Stella Rooney and Saskia Singer on 26 October 2018 at Cooper Gallery.
Tickets are free. Sign-up via Eventbrite.
___
In the late 1970's, Anne Bean, Paul Burwell (1948-2007) and Richard Wilson were enthralled by the range of aural poetry and parallel visions they encountered during numerous boat trips on the Thames. Bow Gamelan Ensemble, the group they later formed, originated at this juncture. For the next 10 years they worked on ideas to distil and extend these stimuli, ranging from jagged and harsh to haunting and lyrical, into events all over the world.

Wilson and Bean have since carried on working together as W0B in many contexts and modes, continuing to treat both sound and visuals as inter-relating sculptural forms in works such as Dark Haloes and Spooky Drums for Liverpool Biennale, the Red Jail, Iraq, the Maunsell Forts in Thames Estuary, London Contemporary Music festival and Shuffle festival, Bow.

Exhibition runs 27 October – 15 December 2018

For more information on the exhibition and Event Series see our website here.

*
Image credit: Bow Gamelan Ensemble, In C and Air, 1986, ICA, London. Courtesy Bow Gamelan Ensemble.