Preview & Curator's Talk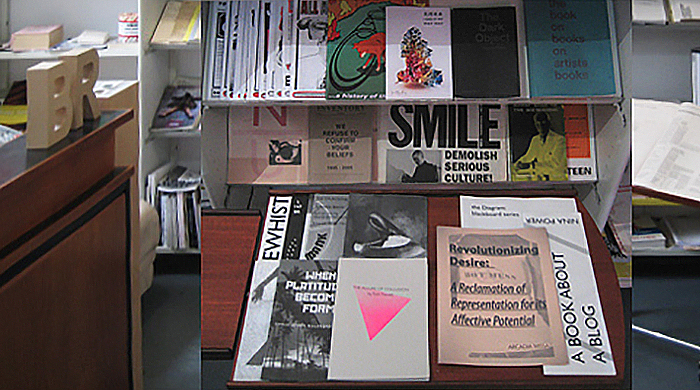 Preview & Curator's Talk: Publishing as Process
Date: 8 September 2016 - 8 September 2016
Gallery: Centrespace
Please join us for the Preview of our forthcoming exhibition Publishing as Process: An exhibition of artists' publishing by Banner Repeater on Thursday 8th September. Prior to the preview, Ami Clarke of Banner Repeater will give a Curator's talk at 4:30pm

The Curator's Talk accompanying the exhibition will focus on ideas of 'Publishing as Process', and will pick up on several publications developed with artists during exhibitions. She will also touch upon the recent publication of her 'writing' Chapter 4 of the French financier Elie Ayache's influential book The Blank Swan: The End of Probability,and how this might differ from previous ideas of copying and appropriation, to repeat the contingency of the text.
Banner Repeater publications under discussion include: the UN-PUBLISH series with contributions from: Yuri Pattison, Nina Power, Arcadia_Missa, orbits.com, El Impublicado (The Unpublisher) with Mexican writers/artists: Nadia Cortes, Miguel Trancozo, and Isaac Olvera, The Outage by Erica Scourti, the collective writing project On Demand, and Ami Clarke: Author of the Blank Swan.
Preview: Thursday 8th September, 5.30 – 7.30pm
Curator's Talk by Ami Clarke: Thursday 8th September, 4:30 - 5.30pm
Exhibition Continues: 9 September – 29 September 2016
Centrespace, Visual Research Centre, DJCAD
Located on the lower levels of Dundee Contemporary Arts
***
This is an exhibition of Artists' books and prints from the experimental art space Banner Repeater, including those recently acquired for abcD, DJCAD's artists' book collection, Dundee. The works exhibited are drawn from Banner Repeater's Archive of Artists' Publishing, the imprints: Banner Repeater paperbacks and the UN-PUBLISH series, and co-presented alongside selected books from the abcD collection.

Sited significantly on a working train station platform in Hackney, Banner Repeater is an experimental project space and reading room with an onsite public Archive dedicated to Artists Publishing and soon to be launched Digital Archive of Artists publishing: BookBlast. It has an ongoing arts programme of newly commissioned works with exhibitions, lectures, and performances, and publication launches. Driven by it's location, Banner Repeater is dedicated to developing critical art in the natural interstice the platform and incidental footfall of over 4,000 passengers a day provides. Integral to its operation is the distribution of artists publishing straight into a main artery of the city of London.

Banner Repeater developed from a sense of location that includes footfall and the inter-related networks/structures that it sits within through a diagrammatic reading of the project as a site of affective experimentation. As a site rich in a historical sense it provides an opportunity to reflect on more recent technologies in terms of what might blur the lines between publishing and broadcasting, via social media and other networked connectivities, and an evolving subjectivity that emerges through market relations. As such, an emphasis on performative and processual articulations has developed, that come of an expanded idea of publishing as a means to consider what might amount to 'criticality' within our accelerating technicity.


For more information about the project and curator, please visit the website:
www.dundee.ac.uk/djcad/exhibitions/exhibitions/banner-repeater
To find out more about Banner Repeater and their publications, please visit www.bannerrepeater.org

* * *
Open: Monday - Saturday 12pm-4pm, Sunday Closed.
Centrespace is located in DJCAD's Visual Research Centre situated on the lower levels of Dundee Contemporary Arts, 152 Nethergate, DD1 4DY.
We aim to be accessible to everyone, therefore if you have access requirements, please email exhibitions@dundee.ac.uk or call 01382 385 330 in advance of your visit.
Image courtesy of Ami Clarke and Banner Repeater.