Event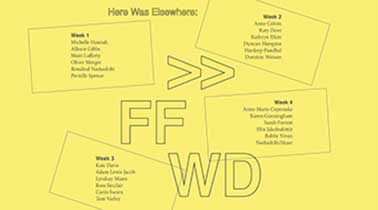 Press the eject and give me the tape
Date: 17 February 2018 - 17 February 2018
Gallery: Cooper Gallery
Here Was Elsewhere: >>FFWD Culminating Event
"Press the eject and give me the tape"
Saturday 17 February 2018
2 – 8pm
To celebrate the flourishing artists' moving image practice in Scotland and the triumph of Cooper Gallery's international tour of the exhibition CURRENT: Contemporary Art from Scotland (Phase Two), >>FFWD: Artists' Moving Image from Scotland to China, a culminating event entitled "Press the eject and give me the tape" will be held on 17 February. A vista of moving image works featuring all 24 artists will be illuminated by performances, readings and talks from artists Anne-Marie Copestake, Kate Davis, Michelle Hannah, Alex Hetherington & Lyndsay Mann, and Corin Sworn, followed by a set of music and sound works curated by Duncan Marquiss.
The culminating event of Here Was Elsewhere: >>FFWD is co-organised with the British Council.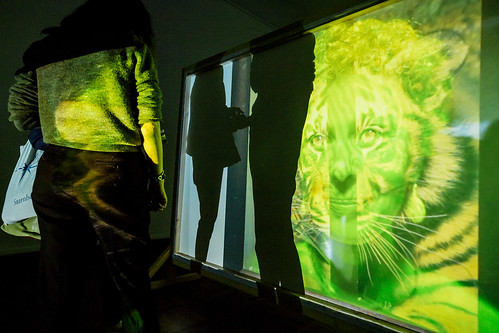 Photography by Ross Fraser McLean




Biographies

Anne-Marie Copestake is an artist and musician based in Glasgow. She studied Fine Art at Glasgow School of Art and at the Stadelschule, Frankfurt-am-Main. Copestake works with moving image, sound, performance, print, and sculpture. Moving image is at the core of her practice and recent works have focussed on research into technological optimism, and female legacies. Copestake often works collaboratively, and has been a founding member of two long-term collective projects in Glasgow: Poster Club, a group of artists using the medium of print as a site for collaborative work; Muscles of Joy, a band with a shifting line-up of members, often working with polyvocal arrangements and hand built instruments for performance. Copestake's exhibitions and screenings include: Salon: Alternative Burns Night (with Muscles of Joy), Glasgow Women's Library, Glasgow (2016); Autumn Screening, Inverleith House, Edinburgh (2015); Ripples on the Pond, Gallery of Modern Art, Glasgow (2015); eee e o ee i a ae e a, Rhubaba, Edinburgh (2015); The Trigger Tonic Compendium, Tramway (2014), Studio Jamming (with Full Eye), Cooper Gallery, Dundee (2014); Tectonics (with Muscles of Joy), The Old Fruitmarket, Glasgow (2014); Oberhausen International Short Film Festival, Germany (2013); Media City Festival, Canada (2013). In 2011 she received the Margaret Tait Award, and in 2015 was awarded the inaugural BFI Experimenta Development Award from BFI London Film Festival.

Kate Davis (b. New Zealand) lives and works in Glasgow, Scotland. Her work reconsiders what certain histories could look, sound and feel like. This has often involved responding to the aesthetic and political ambiguities of specific art works and their reception, or re-evaluating historical moments that have been marginalised. Informed by successive waves of feminist art and theory, Davis works across a range of media, including moving image, drawing, printmaking and bookworks. Recent group exhibitions/ screenings/ awards include: Charity, LUX, London; Nudes Never Wear Glasses, Stills Gallery, Edinburgh; Cinenova Presents Now Showing, LUX Cornwall, St Ives; LUX/ BBC Artists and Archive commission; GENERATION exhibition, Scottish National Gallery of Modern Art; HOUSE WORK CASTLE MILK WOMAN HOUSE, Glasgow Women's Library; Art Under Attack, Tate Britain; For Each Gesture Another Character, Art Stations Foundation, Poznan, Poland; eva International 2012, Limerick, Ireland; Olinka or Where Movement is Created, Museo Rufino Tamayo, Mexico City. Forthcoming projects include a solo exhibition at Stills, Edinburgh. Davis is the recipient of The Margaret Tait Award 2016/17.
Michelle Hannah is an artist and performer based in Glasgow. Hannah holds a Master of Fine Art from the Glasgow School of Art. Hannah uses a musical guise to engage, entice and detach equally with a strong sense of post – digital romanticism, namely in the roles which image, sound and performance can be used as an outlet to understand – in her own finite way –emerging technologies, cosmic pessimism and new ontologies of identity in a non-corporeal world. Exhibitions and performances include at Talbot Rice Gallery, NGCA Sunderland, HOME Manchester, DCA Dundee, CCA Glasgow, CGP London, ZKU Berlin, The Royal Standard Liverpool, Res. Gallery London, Limoncello Gallery London, Stereo Glasgow, Central St Martins London, University of London, Vetlanda Museum Sweden, Dresden Film Festival, CCA Glasgow, Glasgow Film Festival, Generator Projects, Embassy Gallery Edinburgh, London Art Fair. Hannah is the curator of 'Niteflights' which has taken place at various venues in Glasgow. She is a member of the collective Opera Autonoma, commissioned by Edinburgh Arts Festival as part of Generation in 2014 and Shortlisted for the Margaret Tait Award in 2013.
Alexander Hetherington is an artist who works with the moving image, writing, publishing, performance and curatorial activities in event and exhibition-making. Recent projects include: TREATMENT, Kate Davis, Stills Gallery, Edinburgh; Anonymiser Particular, Richard Taylor, This is it – Universe, Helen McCrorie, ENTHUSIASM, Andrew Gannon and Orchids, Catherine Street at No.35, Stirling; Five Propositions, Toward A Scottish Collection of Artists' Moving Image, LUX Scotland; The Hallucinating Edge, Pure Movement and >>FFWD, as part of CURRENT, Contemporary Scottish Art in China, Phase Two, Cooper Gallery, Dundee; the publication and screening project Ripples on the Pond, GoMA, Glasgow, CCA and GSS and MOTHS, Summerhall, Edinburgh.

Lyndsay Mann is an artist based in Scotland. Mann's works focus on descriptions of experiences and events, subjective reflections and remembrances, which draw attention to the often overlooked details and interactions that shape attitudes, beliefs and actions in quiet and subtle ways. Mann gathers material across time periods and subject areas from reading, archival research and interviews she conducts to produce scripts, videos, performances and installations. Her work has been shown across the UK and Europe, most recently in 2016 at Transmediale, Berlin, and the Glasgow Film Festival. Recent exhibitions and events with: LUX Scotland; C/O Center for Contemporary Art, Milan; Aarhus University, Denmark, Liverpool John Moores University, and Liverpool Biennial; Edinburgh International Film Festival, Scottish Documentary Institute, and LUX; Transmission Gallery, Glasgow; blip blip blip, East Street Arts, Leeds; Modern Edinburgh Film School; Tramway, Glasgow; CCA, Glasgow; Enclave, London; Royal British Society of Sculptors, London.

Duncan Marquiss is an artist working with video, drawing and collage. Often using appropriated material he draws links between disparate cultural reference points, re-imagining them in new narratives and contexts. Duncan Marquiss graduated in 2001 in Printmaking at Duncan of Jordanstone College of Art & Design and subsequently graduated from the MFA at Glasgow School of Art in 2005. He undertook the LUX Associate Artist Programme, London in 2009. He was the recipient of the Margaret Tait Award 2015-16. Recent exhibitions and screenings include Copying Errors, Dundee Contemporary Arts (2016), Renderruin Glasgow International (2016), Experimenta, BFI London Film Festival (2015); International Motley Honest Signals, Glasgow Project Room (2015); Index, screening at Microscope Gallery, New York; Foraging Economics, essay for The Happy Hypocrite (2014); and Information Foraging, Artist Moving Image Festival Tramway, Glasgow (2013).

Corin Sworn lives and works in Glasgow. Sworn creates installations that explore the ways objects can circulate stories and histories. Often combining images with spoken narrative, her work examines the cultural and personal significance attributed to things and how they in turn narrate us as social subjects. Sworn has exhibited widely and recently was a subject of solo exhibitions in institutions including Gallery Arsenal, Poland (2016), Inverleith House, Edinburgh (2014), The Common Guild, Glasgow (2014), Neuer Aachener Kunstverein, Aachen (2013), Chisenhale Gallery. London (2013), Whitechapel Gallery, London (2012), Art Now, Tate Britain, London (2011), Contemporary Art Gallery, Vancouver (2011). Sworn was one of three artists representing Scotland at the 55th Venice Biennale in 2013 and recently participated in You Imagine What You Desire, 19th Biennale of Sydney. As a winner of Max Mara Prize for Women 2013 - 2015, Sworn presented solo exhibitions in Whitechapel Gallery, London and Collezione Maramotti, Reggio Emilia in 2015. Corin Sworn is represented by Natalia Hug Gallery in Cologne and Kendall Koppe in Glasgow. The artist holds a BA in Psychology from the University of British Columbia, Vancouver (1999), a BFA from The Emily Carr Institute of Art & Design, Vancouver (2002) and an MFA from The Glasgow School of Art (2009).


***
CURRENT: Contemporary Art from Scotland is kindly supported by the British Council, China-UK Connections through Culture, The National Lottery through Creative Scotland, Scottish Government, and is part of the Spirit of Youth programme. CURRENT is a direct result of the Research and Development Trip (January 2014) funded by Creative Scotland.

Cooper Gallery would like to thank the British Council Scotland for their funding support of the Culminating Event for Here Was Elsewhere: >>FFWD and LUX for their support of the exhibition.