Reading Group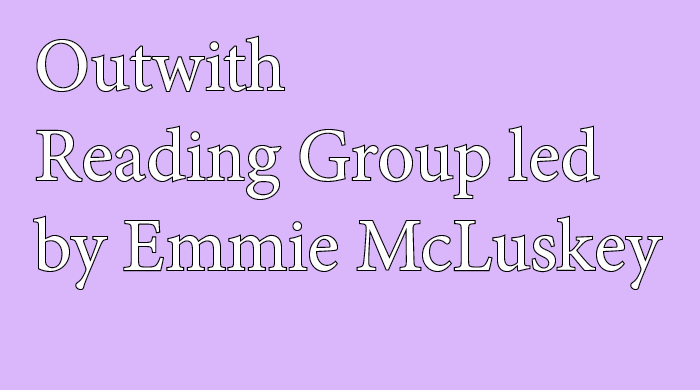 Outwith Reading Group | Led by Emmie McLuskey
Date: 28 January 2020 - 28 January 2020
Gallery: Cooper Gallery
Outwith Reading Group
what it is to go further…
Led by artist Emmie McLuskey
Tuesday 28 January, 5.30–7.30pm

As part of the Cooper Gallery's reading group sessions Outwith, Glasgow based artist Emmie McLuskey has selected reading material in response to the current exhibition Ambiguous Becoming: Artists' Moving Image from Canada. As part of the session, Emmie will lead participants in a close study of Park McArthur and Constantina Zavitsanos's text The Guild of the Brave Poor Things (2017), with optional further reading of extracts from Mariana Ortega's text Hometactics (2014) and Andre Lepecki's Choreography as an Apparatus of Capture (2007). Texts have been selected based on their relationship to art works in the exhibition, expanding on ideas raised surrounding the politics of visibility and what it means to belong.

Emmie's reading material is taken from ongoing conversations around practice with artists Ima-Abasi Okon and Kimberley O'Neill.


Sign-up
The Reading group is free and open to all. Places can be booked by emailing exhibitions@dundee.ac.uk
After signing-up you will receive the texts in advance by email. Print copies can also be requested.

Participants are welcome to read the texts beforehand, but no prior reading is required whatsoever. Emmie will lead participants in a close study of The Guild of the Brave Poor Things and then continue to an open discussion referring to the two further extracts from the texts Hometactics and Choreography as an Apparatus of Capture.

Biography
Emmie McLuskey lives and works in Glasgow. She works with other artists to produce collaborative work; this has previously taken the form of publications, events, objects, conversations and exhibitions. In 2020 McLuskey is exhibiting as part of Glasgow International alongside Ima-Abasi Okon with new text by Mason Leaver-Yap. She will be undertaking a residency with ARCUS project Ibaraki, Japan in February 2020 as part of the Scotland / Japan Residency Exchange Programme. In 2019 she presented these were the things that made the step familiar, a solo show as part of Collective's Satellites Programme. McLuskey programmed Hanging Out, the Artist Moving Image Festival alongside Ima-Abasi Okon and Kimberley O'Neill with LUX Scotland and Tramway November 2019.

____________________
Venue Information

Address
Cooper Gallery
Duncan of Jordanstone College of Art & Design
University of Dundee
13 Perth Road
Dundee DD1 4HT
The gallery is on two floors. First floor has ramped access and a disabled toilet.
Second floor is accessible via lift and for wheelchair access via a stairclimber.
Large print versions of the exhibition information handout are available, please ask in the gallery office or email.

For access enquiries please contact exhibitions@dundee.ac.uk


*
Ambiguous Becoming has been made possible with funding support from the Québec Government Office, London.