Online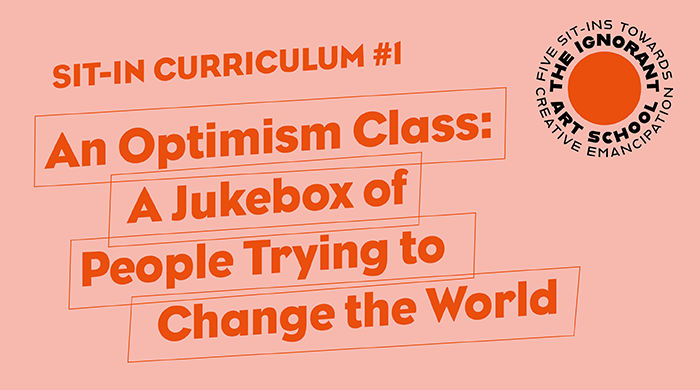 An Optimism Class: A Jukebox of People Trying to Change the World
Date: 8 April 2021 - 8 April 2021
Gallery: Off-site venue
An Optimism Class: A Jukebox of People Trying to Change the World
Thu 8 April 7.30-9.00 pm
A variety of artists perform a selection of songs addressing ideas of social transformation from Ruth Ewan's ongoing project A Jukebox of People Trying to Change the World. The event is a fundraiser for Optimistic Sound, a charity established by the family of Michael Marra, Scottish singer-songwriter and musician from Dundee, supporting the Sistema Scotland Music Programme in Dundee set up to transform the lives of young people and families through music.
Tickets are available to book via Eventbrite, and a suggested donation of £6 can be made directly to Optimistic Sound.
This event forms part of The Ignorant Art School, Sit-in Curriculum #1.
___________________
All enquiries please contact: exhibitions@dundee.ac.uk
Funding support:
The Ignorant Art School at Cooper Gallery, DJCAD is supported by the National Lottery through Creative Scotland and the Henry Moore Foundation.