Postal Drawing Project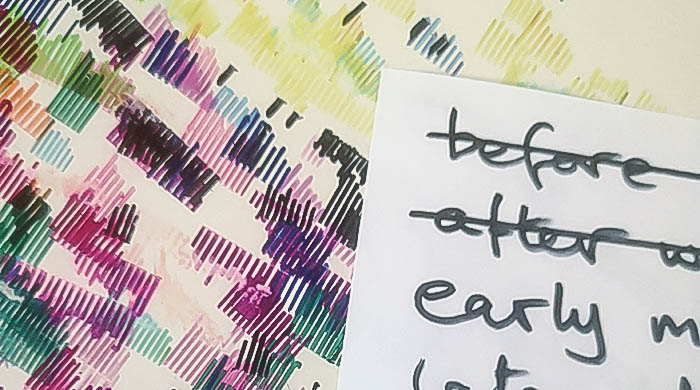 Nina Chua | A Prompt for a Drawing
Date: 13 November 2020 - 19 December 2020
Gallery: Off-site venue
A Prompt for a Drawing
Nina Chua
13 November – 19 December 2020

Trinity Buoy Wharf Drawing Prize 2020 shortlisted artist Nina Chua invites you to participate in a drawing exercise devised as a one of a kind exchange. Participants will receive a unique handwritten prompt for a drawing—not an instruction or a fully-fledged idea, just a word, mark or a phrase on a sheet of paper to spark a response. Each prompt will highlight an aspect of Chua's practice and attitude towards drawing. In sharing these she hopes to generate an exchange and for participants to explore through making drawings of their own, following in the history of postal art projects.

Sign-up
If you would like to recieve Chua's drawing prompt, please email exhibitions@dundee.ac.uk with the subject line 'A Prompt for a Drawing', your name and postal address or request a collection at the gallery from 13 November. Prompts can be requested anytime from now. On receiving a prompt, participants will be asked to make a drawing on the same sheet of paper and invited to share it with others on the gallery's website or social media.
No prior experience required to participate.


Bio
Nina Chua was born in Manchester, UK. She studied at Manchester School of Art and completed her MA in Fine Art in 2011. In 2016 she was selected for the Liverpool Biennial Associate Artist Programme. She predominately works in the field of drawing and has exhibited at, amongst others, Castlefield Gallery, Manchester; Baltic 39, Newcastle; DOX Centre for Contemporary Art, Prague and Workplace Gallery, Gateshead. Her work is held in collection at The Whitworth Art Gallery, Manchester; Manchester Art Gallery, Manchester; The Artists' Books Collection Dundee (abcD), University of Dundee, and Simmons and Simmons Contemporary Art Collection.

____________________
This project accompanies the Trinity Buoy Wharf Drawing Prize 2020, 13 November – 19 December 2020 at Cooper Gallery.
Access
This is a postal project.
Note: Postal address will only be used to send the prompt for this project and will be deleted straight afterwards inline with GDPR.
For access enquiries please contact: exhibitions@dundee.ac.uk

*
Image courtesy Nina Chua