Preview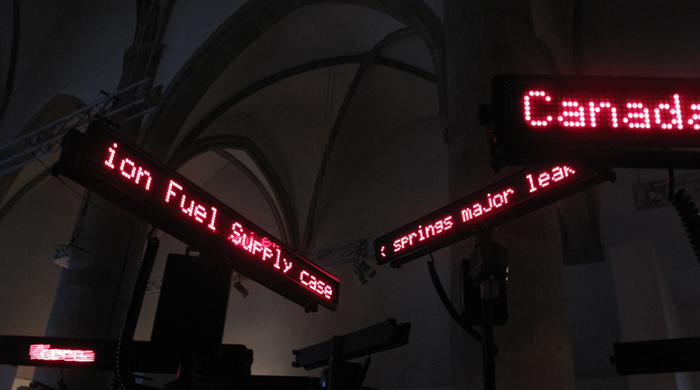 Nigel Johnson: A.E.S.O.P. Reception
Date: 31 October 2014 - 31 October 2014
Gallery: Entrance Gallery, Matthew Building
We invite you to the Reception for Nigel Johnson's exhibition A.E.S.O.P. (An Enhanced Sense of Place) in Level 2 of the Matthew Entrance Gallery at DJCAD.
Exhibitions at DJCAD are delighted to present A.E.S.O.P. (An Enhanced Sense of Place) by Nigel Johnson in Level 2 of the Matthew Entrance Gallery.
A.E.S.O.P is an interactive installation comprised of nine autonomous rotating units, displaying moving messages in red LED lights. Acting like a compass, each message display points at different global geographic positions whilst collecting news data from that location. These changing texts are drawn from real-time, global RSS data news feeds, broadcasting truths and untruths, drawing attention to the distortions of mediated information through unfolding news events from around the globe.
The underlying premise of the installation is related to the interpretation of information and as the recipients of that information, how the reading of the 'spaces' in between unrelated news events leads to new but fictitious narratives emerging. The work is equally playful and challenging for audiences in their interpretation of the 'received' information and its veracity as a news story. Unlike Aesop's fables these stories may develop seamlessly or suddenly fracture, creating new temporal and spatial associations in the recipients mind, producing cognitive shifts and 'an enhanced sense of place' within the context developing global events.
This will be the first time Johnson's A.E.S.O.P. installation is displayed in the UK since its inaugural exhibition at the European Media Art Festival in Osnabrück, Germany 2013.
The exhibition is programmed to coincide with Williams Latham's exhibition Mutator 2 in Centrespace, VRC and Dundee Science Festival 2014 in Dundee.
For more information about A.E.S.O.P. (An Enhanced Sense of Place) by Nigel Johnson, please visit the exhibition page:
www.dundee.ac.uk/djcad/exhibitions/exhibitions/nigel-johnson