Workshop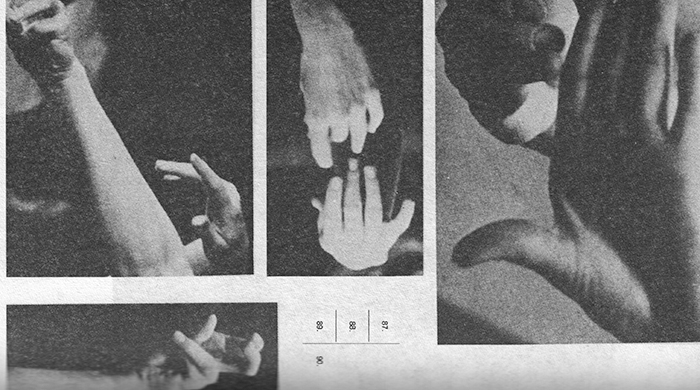 Morning routines under microscopy: A workshop on writing and gesture by Jude Browning
Date: 16 November 2017 - 16 November 2017
Gallery: Cooper Gallery
Morning routines under microscopy:
A workshop on writing and gesture by Jude Browning
16 November, 2-4pm
As part of the Event Series for Cooper Gallery's exhibition Ulay: so you see me, artist and writer Jude Browning leads a participatory workshop exploring instructive language, gesture and observation. The workshop is developed by Jude in response to Ulay's practice which has consistently used the body and its relation to others to interrogate the meaning of 'self-other' dynamics.
The workshop uses writing and movement to reflect on performance and the role of gesture in communication. Participants are asked to bring an item which they use during their daily morning routine as a starting point to consider personal and repeated interactions with everyday objects.
Places are free and can be booked by emailing exhibitions@dundee.ac.uk

***
Jude Browning is an artist and writer based in Glasgow and current practice based PhD candidate at Edinburgh College of Art. Her PhD Mouthwork: Staged Presentation and Laboured Expression investigates a relationship between language and professionally training the voice and body for forms of public speaking. Through acts of writing and performance she explores expectations of failure, the practice of recitation and resulting tensions between desire and requirement. By plotting a network of references from performance art, theatre studies, queer and feminist theory her research considers personas of the speaking body as a medium of persuasive communication. Recent public events include To write, to speak, to publish, to move in collaboration with Emmie McLuskey at The CCA Glasgow, Figure 4 at Baltic Project Space (curated by Kati Kärki, with Kirsty Hendry, Jake Watts and Magda Buczek), Oral Rinse 2 at Waterloo Action Centre, Squeezer Collective, SAR 2016 conference Writing as Practice, Practice as Writing and Cally Spooner's Study Week at Wysing Arts Centre. She has organised national events centered around the dissemination of writing as artistic practice at The CCA, The Cooper Gallery, The Whitechapel Gallery, X Marks the Böxship and in collaboration with Paperwork Magazine.