Preview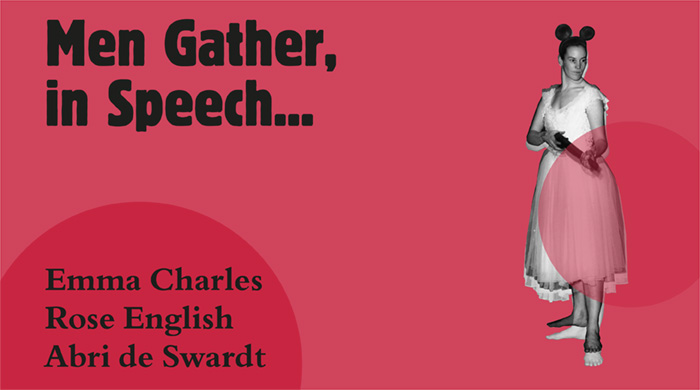 Men Gather, in Speech… Preview
Date: 22 January 2015 - 22 January 2015
Gallery: Cooper Gallery
Please join us for the Preview of:
Men Gather, in Speech...
Emma Charles, Rose English, Abri de Swardt

Thursday 22 June 2014, 5.30 – 7.30pm
In Conversation with Rose English from 4.30pm
Exhibition: 23 January - 21 February
Cooper Gallery, DJCAD are pleased to present our January 2015 exhibition Men Gather, in Speech…, an exhibition of film and moving image art works by Emma Charles, Rose English and Abri de Swardt.
I talk to you; with those few words Politics appears.
Dialogue in its Classical sense, of which Plato is an exemplar, is a spoken exchange between embodied subjects. Although much critiqued during the 20th century, it is a mode of address that underpins Western philosophy and importantly politics. HannahArendt's often quoted phrase "men gather in speech" lucidly defines the human necessity of dialogue and its role asthe quintessential medium of the political. But now in the 21st century the political efficacy of human speech is deeply troubled; overtaken by technological innovation and the emergence of 'post-political' thought, the inherent humanity of speech has become an enigma plagued by scepticism.
Bringing three film works by Emma Charles, Rose English and Abri de Swardtinto proximity, Men Gather, in Speech… is a choreographed space that re-enacts and doubts the troubled relationships between "power and the space of appearance" in our present age. Touching upon the theatrical, the fictional and the digital, the exhibitionoffers acomplexmediation upon speech, dialogue and the slow silencing of the political space that had once appeared between us.
For more information on the artists and exhibition please visit the webpage here:
www.dundee.ac.uk/djcad/exhibitions/exhibitions/men-gather-in-speech