Workshop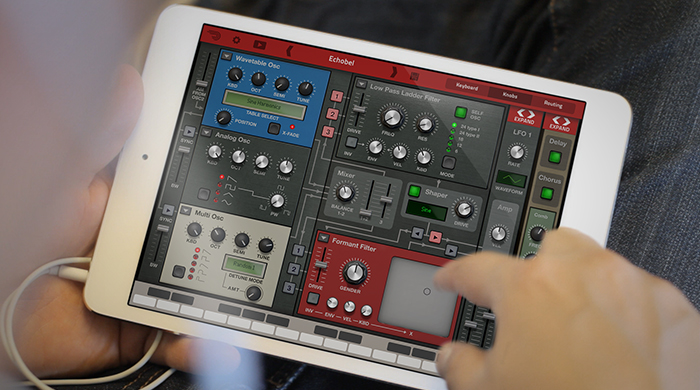 Jamie Grier. Making Music with Mobile Devices
Date: 18 July 2014 - 18 July 2014
Gallery: Cooper Gallery
Studio Jamming: Artists' Collaborations in Scotland
Full Eye Studio Jamming Hub Week


Jamie Grier. Making Music with Mobile Devices
Friday 18 July 2014, 3.30 – 6.30pm

Full Eye invite Glasgow based musician and sound engineer Jamie Grier to lead a workshop in which he teaches the use of iOS and android smart phone/ tablet applications which can be utilised in the creation of music.
Participants will learn about the kind of instruments and other musical apps available for their device, how to get them and how to connect mobile devices to other musical equipment like MIDI and audio interfaces, keyboards and guitars. There are a wide range of musical apps out there from synthesisers, loopers and drum machines to full digital audio workstations and audio effects, and a range of new touchable instruments unique to this kind of technology.
There will be opportunities to try apps, download them to your own devices and try out musical accessories and experiment with new sounds in an informal improvised music session.
If you plan to attend Making Music with Mobile Devices please RSVP to exhibitions@dundee.ac.uk.
Jamie Grier is a Glasgow based musician, sound engineer and technician based in the Glue Factory (www.thegluefactory.org) and the Green Door recording studio. When not recording bands he is taking instruments to bits and making new ones, making soundtracks for 85a.org and designing sound responsive light installations and sculptures in collaboration with visual artists
Full Eye
From 14 – 19 July, when Full Eye occupies the Cooper Gallery for their Hub week, Copestake, Dove and Porteous extend their collaborative circle and invite other artists to deliver workshops responding to their shared exploration of mantra through acts of writing, deep listening, vocal technique and percussion. These events comprise of a DIY Deep Listening Workshop with artist Katherine MacBride on 17 July, an electronic music production workshop with musician Jamie Grier on 18 July, culminating with Full Eye's debut live music performance amidst their installation in Cooper Gallery on 19 July.
Full Eye is a new collaboration formed by Anne-Marie Copestake, Katy Dove and Ariki Porteous in response to the propositions of Studio Jamming. Through a shared interest in music, moving image, vocalisation, instrument making, sound, performance and visual art, Copestake, Dove and Porteous collaborated previously as Muscles of Joy performing at Glasgow International, Stereo, Glasgow, 2010, Subject in Process: Feminism in Art, CCA, Glasgow, 2009, Moot Points, Transmission Gallery, Glasgow, 2008.
For Studio Jamming, Full Eye are creating a multimedia installation. Using sound, light and colour to evoke ideas of suggestion, memory and perception, this new work evolves in response to the temporal changes taking place across the Studio Jamming Hub.
For more information about Studio Jamming: Artists' Collaborations in Scotland, please visit the Studio Jamming webpage.
IMAGE: Thor for IPAD courtesy of Propellerhead Software.
Studio Jamming: Artist's Collaborations in Scotland
Preview (with performance by GANGHUT): 28 June 2014, 6.00 – 8.00pm
Exhibition: 30 June – 2 August 2014
Taking its cue from the live improvised excitement of musical jamming, Cooper Gallery in Dundee presents Studio Jamming: Artists' Collaborations in Scotland; the first discursive survey to foreground the grassroots character of artists' collaboration that has contributed to the remarkable achievements of contemporary art in Scotland.
Adopting a diverse curatorial approach the project is comprised of exhibitions, a dynamic event series and a Group Critical Writing Residency, culminating in a 12-hour Jamming Symposium.
Studio Jamming is set to re-search, annotate, contextualise and celebrate artists' collaboration as a particular phenomenon of artistic practice in Scotland. The key ingredient for this process is the Studio Jamming Hub, an architectural intervention constructed in and around Cooper Gallery that is to be designed by Studio Miessen led by Markus Miessen, an alumni of GSA and now a leading thinker in Critical Spatial Practice. Developing as a live critical discourse, the Studio Jamming Hub acts as a collaborative 'site' where artists, writers, architects, educators, researchers, performers, cultural thinkers and participants present, reflect upon and elaborate the possibilities and histories embedded in artists' collaborations.
Among the highlights of Studio Jamming is the presentation of new works from artists' collaborative groups including Graham Eatough & Graham Fagen, Full Eye, Ganghut and Henry VIII's Wives. The artists' collaborative groups will occupy the Studio Jamming Hub for a week each to present new works and events between 30 June – 2 August.
Studio Jamming will be annotated and collated through (LIVE) publishing, a series of free publications created, printed and disseminated in situ, edited by Sean Scott and Katie Reid.
Studio Jamming: Artists' Collaborations in Scotland is an exhibition as part of GENERATION, this summer's major, nation-wide exhibition programme showcasing some of the best and most significant art to have emerged from Scotland over a period of 25 years and part of the Glasgow 2014 Culture Programme. The preview and performance by GANGHUT on 28 June is part of the GENERATION Dundee Launch Weekend on 28 & 29 June, celebrating the opening of GENERATION exhibitions in Dundee; a weekend packed full of dynamic art events across the city.
Studio Miessen's contribution to this exhibition is kindly supported by the Goethe-Institut Glasgow. For more information on Goethe-Institut Glasgow please see: http://www.goethe.de/glasgow

This project is kindly supported by The National Lottery through Creative Scotland.‌
Studio Jamming: Artists' Collaborations in Scotland is an associate exhibition of GENERATION: 25 Years of Contemporary Art in Scotland.
GENERATION is a major, nation-wide exhibition programme showcasing some of the best and most significant art to have emerged from Scotland over a period of 25 years.
GENERATION offer access to world-class art on an unparalleled scale with over 70 venues across Scotland taking part. It's free, its exciting and it's accessible. This is a once in a generation opportunity.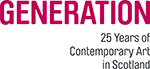 Studio Jamming: Artists' Collaborations in Scotland is part of the Glasgow 2014 Culture Programme. The Glasgow 2014 Cultural Programme is a national celebration. Culture 2014 will showcase dance, theatre, music, visual arts, comedy and much more in the run up to and after the Commonwealth Games with Festival 2014 transforming the Host City at Games Time. The Cultural Programme is a partnership between the Glasgow 2014 Organising Committee, Glasgow Life and Creative Scotland through National Lottery funding.

‌