Workshop / Reading Group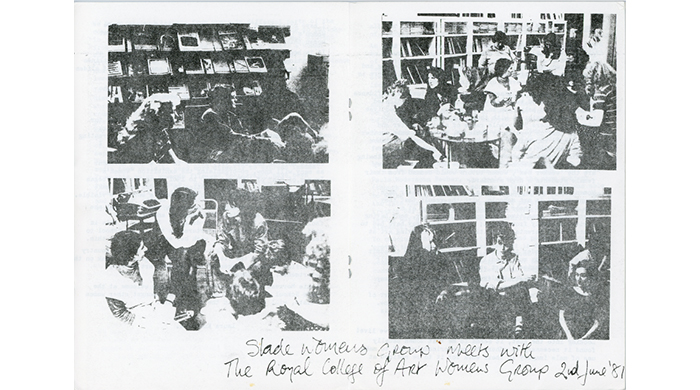 Workshop / Reading Group led by Laura Guy
Date: 25 November 2016 - 24 November 2016
Gallery: Cooper Gallery
Of Other Spaces Event Series:
"In my experience, patriarchal art education fails its female students"
Workshop / Reading Group led by Laura Guy
Friday 25 November, 6.30-8.00pm
Cooper Gallery

Taking as a point of departure the various women's groups that came together in British art schools in the 1970s and early 1980s, this workshop will explore the idea of feminist space in relation to pedagogy. Our discussions will depart from manifestos produced by groups in the 1970s, a video of women on retreat in the 1980s and examples of contemporary activism on campus, in order to consider what prohibits feminist theory and practice in the context of the art school as well as strategies for carving out feminist spaces despite sometime hostile conditions.

Laura Guy is a writer based in Glasgow. Her work particularly focuses on radical print cultures in relation to queer and feminist cultural production. She is a lecturer in Fine Art Critical Studies at Glasgow School of Art and a postdoctoral researcher at Edinburgh College of Art, University of Edinburgh.
If you'd like to participate in this event, please RSVP on the eventbrite page:
https://www.eventbrite.com/e/workshop-led-by-laura-guy-tickets-29244827065
+ + +
The Of Other Spaces Event Series is an integral part of Cooper Gallery's major project Of Other Spaces: Where Does Gesture Become Event?; a two-chapter contemporary art exhibition and rolling event programme taking place between November 2016 and March 2017, comprising live performances, screenings, collective readings, participatory dance and an International Symposium; 12-Hour Action Group. Referencing art works, artist collaborative groups and activism by women from the 1970s to the present day, the project looks at the contemporary relevance and cogency of feminist thinking on power as it is enacted through bodies, institutions and systems of representation.
Follow the link for more information on Of Other Spaces: Where Does Gesture Become Event?
Of Other Spaces: Where Does Gesture Become Event? is a project initiated and curated by Cooper Gallery DJCAD and supported by the National Lottery through Creative Scotland, Henry Moore Foundation, Scotland's Jute Museum @ Verdant Works and Kingston University.
Cooper Gallery is open: Monday – Friday 10.00-5.00pm and Sundays 11.00-5.00pm, Sunday Closed.

We aim to be accessible to everyone, therefore if you have access requirements, please email exhibitions@dundee.ac.uk or call 01382 385 330 in advance of your visit.