12-Hour Jamming Symposium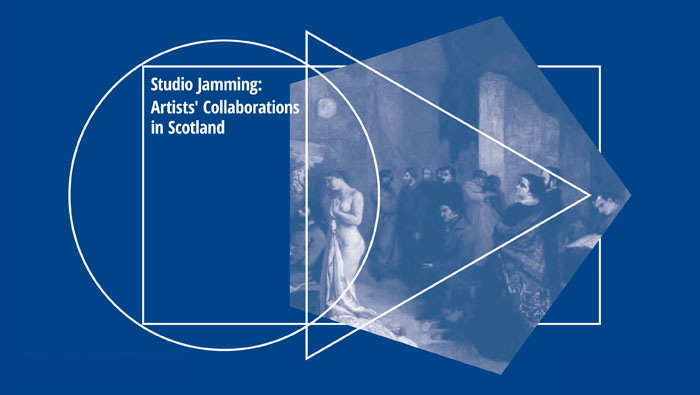 12-Hour Jamming Symposium
Date: 25 July 2014 - 25 July 2014
Gallery: Cooper Gallery
12-Hour Jamming Symposium
Friday 25 July 2014, 11.00am – 11.00pm
12-Hour Jamming Symposium is a vital platform for discursive interrogations and speculations on the phenomena of collaboration and the ideas, art works and writings constituting Studio Jamming: Artists' Collaborations in Scotland at Cooper Gallery.
Staged in the Studio Jamming Hub at Cooper Gallery on Friday 25 July, the Jamming Symposium will construct a collaborative public 'site' to present the propositions, positions, exchanges and Declarations illuminating an expanded notion of collaboration. The symposium will open up a wider critical debate that tackles and problematizes the various contexts in which collaboration is situated.
Centred on Declarations from Artists' Collaborative Groups from across Scotland the Jamming Symposium will also feature readings by writers participating in the Studio Jamming Group Critical Writing Residency and keynote talks by international and national leading thinkers whose practices invest collaboration with depth and rigour.
Keynote speakers include Stine Hebert, Maria Lind, Francis McKee and Markus Miessen. David Harding will introduce the Declarations from Artists' Collaborative Groups, the Group Critical Writing Residency readings will be led by Maria Fusco and Dominic Paterson will chair the panel discussion.
Please click the following link for more information about Studio Jamming: Artists' Collaborations in Scotland.
Video Documentation of 12-Hour Jamming Symposium.
Filming & editing: Rob Page, 2014. Filming Assistance: Lucas Battich and Neele Hruby.
Photos by Alan Hillyer 2014.
Symposium Schedule


10:45 Registration
11:00 Welcome
11:10 Introduction to Declarations by David Harding
11:25 Declarations by Artists' Collaborative Groups
11:50 Introduction to Group Critical Writing Residency & Readings by Maria Fusco
12:00 Readings by Writers
12:20 Declarations by Artists' Collaborative Groups
12:35 Lunch Break
13:20 Readings by Writers
13:35 Keynote by Francis McKee
14:10 Keynote by Stine Hebert
14:45 Keynote by Markus Miessen
15:20 Keynote by Maria Lind
15:45 Break
16:00 Panel Discussion chaired by Dominic Paterson
17:30 Declarations by Artists' Collaborative Groups
18:00 Dinner Break & Exhibition Viewing
19:20 Declarations by Artists' Collaborative Groups
19:30 Reading by Maria Fusco
19:40 Readings by Writers
20:10 Declarations by Artists' Collaborative Groups
20:50 Readings by Writers
21:25 Beer Break
21:40 REWIND Screening selected by Full Eye
22:00 Performance by GANGHUT
22:20 Declarations by Artists' Collaborative Groups
23:00 End
Speaker Biographies
David Harding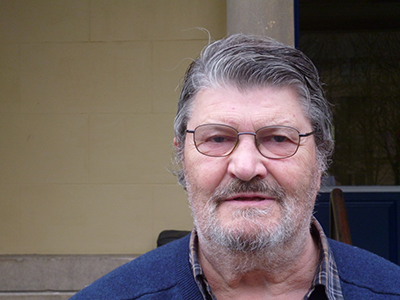 David Harding is an artist and teacher. His career has included a decade, 1968 – 78, working as Town Artist in Glenrothes in Fife where he developed the concept of the artist as planner and member of the design team building a new town. Between 1978 and 1985 he was senior lecturer in Art & Social Contexts at the Dartington College of Art in Devon. In 1985 he was appointed head of a new department, Environmental Art, at the Glasgow School of Art, becoming Head of Sculpture and Environmental Art in 1995. He retired from this position in 2001, in which year he was awarded an OBE. Through his work at Glasgow School of Art he has been credited as one of the initiators of what The Guardian recently described as a 'golden age' for the visual arts in Glasgow. He has lectured in many countries and written extensively on socio-political and public art.
From 2005 Harding has collaborated with Ross Birrell on film projects and associated art works: 'Port Bou - 18 Fragments for Walter Benjamin', first shown at the Kunsthalle Basel in 2006, Tramway, Glasgow, at the National Review of Live Art; 'Journey in Search of Malcolm Lowry' around Lowry's novel, 'Under the Volcano', first shown at Kunsthalle Basel, 2006, Bluecoat, Liverpool 2009; 'Guantanamera', 2009, exhibited Glasgow International, Swiss Institute, Rome, Kunsthalle, Basel and Valand, Gothenburg, all 2010, and at the gallery of The Americas Society, New York; Juarez, Mexico, 'Quartet', showing in the exhibition 'Olinka' at the Museo Tamayo, Mexico City, 2012/13. Recent exhibitions include 'You Like This Garden?' with Douglas Gordon, Portikus Gallery, Frankfurt. 2011/2012, 'Winter Line', Kunsthalle Basel, 2014, Artist in Residence as AHM, Ainsley Harding Moffat, at the Glasgow Sculpture Studios 2008 – 2011. (theahmblog.blogspot.com).
Stine Hebert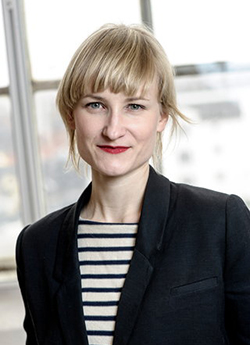 Stine Hebert is an art historian and curator based in Copenhagen, Denmark. Hebert has practiced as a freelance curator for a number of years focusing on investigations of conditions of artistic production. She has produced exhibitions for various spaces internationally and lectured at universities and art academies in the Nordic countries. Hebert was previously Acting Director of BAC -Baltic Art Center in Visby; curator at Kunsthal Charlottenborg in Copenhagen, and now holds the position as Rector of Funen Art Academy in Odense, Denmark.
Hebert's most recent curatorial projects include The Nordic Model, co-curated with Kim Einarsson & Cecilia Widenheim, Malmö Art Museum, Malmö, 2013; Leigh Ledare et.al, co-curated with Elena Filipovic, Kunsthal Charlottenborg, Copenhagen 2013 and Joachim Koester: If One Thing Moves, Everything Moves, co-curated with Mark Sladen, Kunsthal Charlottenborg, Copenhagen, 2012.
Hebert has participated in a number of curatorial residencies, including placements at the Temple Bar Gallery & Studies, Dublin, 2012; Hordaland Art Centre, Bergen, 2012; and Platform Garanti Contemporary Art Centre, Istanbul, 2010 – a six-month curatorial residency awarded by the Danish Arts Council. Hebert co-edited the international anthology 'Self-Organised' with Anne Szefer Karlsen published in 2013 by Open Editions, London in the series Occasional Table.
Maria Lind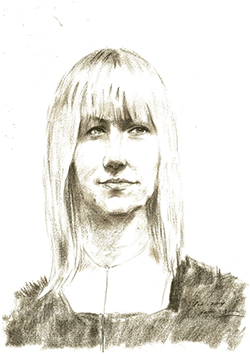 Image: MLpompidou by Yucan Goro for artservice 2014
Maria Lind is Director of the Tensta Konsthall and an independent curator and writer interested in exploring the formats and methodologies connected with the contemporary art institution. She was the director of the graduate program at the Center for Curatorial Studies, Bard College from 2008–10. Before that, she was director of lASPIS in Stockholm (2005–07) and Director of the Munich Kunstverein (2002–04). Previous to that she was curator at Moderna Museet in Stockholm (from 1997–2001) and in 1998 was co-curator of Manifesta 2, Europe's nomadic biennial of contemporary art. Lind was the 2009 recipient of the Walter Hopps Award for Curatorial Achievement. A compendium of her essays to date, Selected Maria Lind Writing, was published by Sternberg Press in 2010.
Francis McKee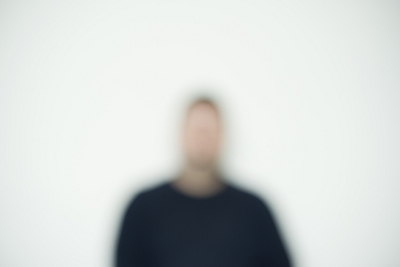 ‌
Francis McKee is a writer and curator based in Glasgow and is currently the Director of the Centre for Contemporary Arts, Glasgow.
McKee curated? the Scottish participation at the Venice Biennale with Kay Pallister in 2003 and was the Director of Glasgow International from 2005 - 2008. He has worked on the development of open source ideologies and their practical application to art spaces, specifically the Centre for Contemporary Arts in Glasgow.
Since 2011 he has been lead researcher on an AHRC research project - The Glasgow Miracle: Materials Towards Alternative Histories; indexing the archives of The Scottish Arts Council Gallery, Glasgow, the Third Eye Centre and CCA, spanning 1973 to the present.
francismckee.net
Markus Miessen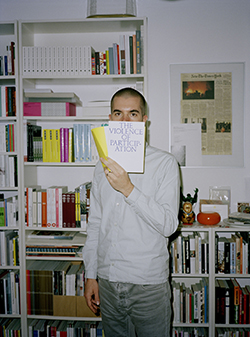 Image: Markus Miessen by Armin Linke
Markus Miessen is an architect, consultant and writer. The initiator of the Participation tetralogy, his work revolves around questions of critical spatial practice, institution building, and spatial politics. His practice, Studio Miessen, is currently working on projects for and with EACC Castellon, Artsonje Seoul, Hamburger Kunstverein, Istanbul Biennale, Künstlerhaus Stuttgart, Bergen Assembly, Performa Biennial, Witte de With, Kosovo National Gallery, and the artist Hito Steyerl. Their largest project to date is a strategic framework and new Kunsthalle building for a former NATO military site in Germany. In 2008, Miessen founded the Winter School Middle East (Kuwait). He was founding professor for Critical Spatial Practice at the Städelschule, Frankfurt, and is now professor-in-practice at HEAD, Geneva, as well as at the University of Southern California, Los Angeles. Miessen leads the collaborative design practice Studio Miessen. They are a group of international architects, designers, curators and writers currently working on projects in Europe, Asia, North America and the Middle East. Interested in the deployment of architecture & critical spatial practice as a methodology, they collaboratively work and consult on conceptualizing and implementing architectural projects on all scales as well as projects that include spatial design, strategic frameworks, research, curatorial approaches, and discursive activities. Studio Miessen work with individuals, collectives, institutions and organizations and specialize in spatially rethinking, redesigning and promoting cultural institutions. They also work closely with artists, who they assist to realize small-to-large-scale spatial ideas and support them in realizing exhibitions and large-scale institutional shows. Their work also includes self-initiated activities and projects that span from physical construction to writing and criticism.
Dr Dominic Paterson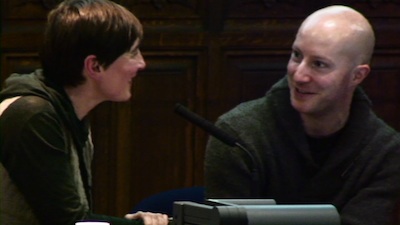 Dominic Paterson in conversation with Christine Borland
Dr Dominic Paterson is a writer and Lecturer in History of Art at the University of Glasgow. He has written widely on contemporary art, including texts on Christine Borland, Martin Soto Climent, Anne-Marie Copestake, Kate Davis, Lucy Gunning, Alex Impey, Scott Myles, Jimmy Robert, Corin Sworn, and Stina Wirfelt (amongst others). In 2012 he participated in the group exhibitions 'Adaptation' at Collective, Edinburgh; 'What We Have Done, What We Are About To Do,' CCA, Glasgow, and 'Prawn's Pee', The Old Hairdresser's, Glasgow. He has collaborated with artists including Romany Dear, Liz Greene, and Alex Impey.
Studio Jamming: Artists' Collaborations in Scotland
30 June - 2 August 2014
Studio Jamming: Artists' Collaborations in Scotland is an exhibition as part of GENERATION, this summer's major, nation-wide exhibition programme showcasing some of the best and most significant art to have emerged from Scotland over a period of 25 years and part of the Glasgow 2014 Culture Programme. The preview event is part of the GENERATION Dundee Launch Weekend on 28 & 29 June, celebrating the opening of GENERATION exhibitions in Dundee; a weekend packed full of dunamic art events across the city.
Taking its cue from the live improvised excitement of musical jamming, Cooper Gallery in Dundee presents Studio Jamming: Artists' Collaborations in Scotland; the first discursive survey to foreground the grassroots character of artists' collaboration that has contributed to the remarkable achievements of contemporary art in Scotland.
Adopting a diverse curatorial approach the project is comprised of exhibitions, a dynamic event series and a Group Critical Writing Residency, culminating in a 12-hour Jamming Symposium.
Studio Jamming is set to re-search, annotate, contextualise and celebrate artists' collaboration as a particular phenomenon of artistic practice in Scotland. The key ingredient for this process is the Studio Jamming Hub, an architectural intervention constructed in and around Cooper Gallery that is to be designed by Studio Miessen led by Markus Miessen, an alumni of GSA and now a leading thinker in Critical Spatial Practice. Developing as a live critical discourse, the Studio Jamming Hub acts as a collaborative 'site' where artists, writers, architects, educators, researchers, performers, cultural thinkers and participants present, reflect upon and elaborate the possibilities and histories embedded in artists' collaborations.
Among the highlights of Studio Jamming is the presentation of new works from artists' collaborative groups including Graham Eatough & Graham Fagen, Full Eye, Ganghut and Henry VIII's Wives. The artists' collaborative groups will occupy the Studio Jamming Hub for a week each to present new works and events between 30 June – 2 August.
Studio Jamming will be annotated and collated through (LIVE) publishing, a series of free publications created, printed and disseminated in situ, edited by Sean Scott and Katie Reid.


For more information about Studio Jamming: Artists' Collaborations in Scotland, please visit the Studio Jamming webpage.
Studio Miessen's contribution to this exhibition is kindly supported by the Goethe-Institut Glasgow. For more information on Goethe-Institut Glasgow please see: http://www.goethe.de/glasgow

This project is kindly supported by The National Lottery through Creative Scotland.‌
Studio Jamming: Artists' Collaborations in Scotland is an associate exhibition of GENERATION: 25 Years of Contemporary Art in Scotland.
GENERATION is a major, nation-wide exhibition programme showcasing some of the best and most significant art to have emerged from Scotland over a period of 25 years.
GENERATION offer access to world-class art on an unparalleled scale with over 70 venues across Scotland taking part. It's free, its exciting and it's accessible. This is a once in a generation opportunity.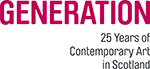 Studio Jamming: Artists' Collaborations in Scotland is part of the Glasgow 2014 Culture Programme. The Glasgow 2014 Cultural Programme is a national celebration. Culture 2014 will showcase dance, theatre, music, visual arts, comedy and much more in the run up to and after the Commonwealth Games with Festival 2014 transforming the Host City at Games Time. The Cultural Programme is a partnership between the Glasgow 2014 Organising Committee, Glasgow Life and Creative Scotland through National Lottery funding.

‌