Conversation and workshop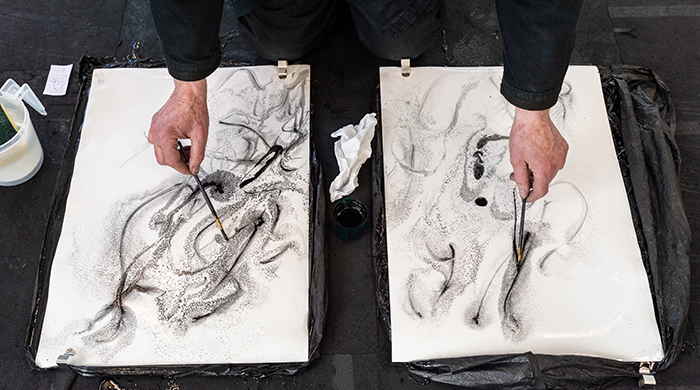 IN AND EASE  
Date: 26 November 2020 - 26 November 2020
Gallery: Off-site venue
IN AND EASE  
Colloquium
26 November 2020, 6–8pm
Zoom  

The centre of the art world's wherever you breathe
— Alastair MacLennan, 1987
A colloquium with artists Alastair MacLennan, Sandra Johnston, Roddy Hunter and Tania Kovats exploring 'interbeing' between drawing and event.
Informed by MacLennan's interest in Zen and taking the blank page as a metaphor for infinity out of which everything manifests, and into which all recedes on as a continuous flow, participants will collectively experiment with 'drawing breath' and discuss the relationship between drawing and performance, artwork and documentation and the possibilities of co-production at times of physical isolation. 

This event is curated by Dr Judit Bodor in collaboration with Adam Lockhart and hosted by Cooper Gallery to accompany the exhibition Trinity Buoy Wharf Drawing Prize 2020.

Sign-up
This event is free and open to all. No prior experience is required to participate.
Places can be booked via Eventbrite.
After booking a space participants will be sent a link to join the Zoom video call.

To participate in the drawing exercise please bring paper and any material you might want to use to experiment with the idea of 'drawing breath'. It is also possible to participate in the discussion without doing the drawing exercise. Please note: the colloquium will be recorded for research purposes and an edited version will be added to the Alastair MacLennan Digital Archive after the event.


About
The first in the series Curating Living Art Archives this colloquium is connected to LIM(I)NAL, an online exhibition of new drawings from the Alastair MacLennan Archive and drawings made by others in response to MacLennan's scores. LIM(I)NAL can be viewed from 19 November at https://amaclennan-archive.ac.uk/2020/11/05/liminal/ and submissions of drawings will be accepted up to 10 December. The Alastair MacLennan website will be accessible online from 19 November.
Curating Living Art Archives is a new research project initiated by Dr Judit Bodor at Duncan of Jordanstone College of Art & Design to explore curatorial approaches to keep archives of performance and time-based art 'alive' through co-production and user-interaction with archival material.
The Alastair MacLennan Archive is part of DJCAD Archives and is currently being digitised by Adam Lockhart and catalogued to improve accessibility with funding from ART360.


Contributors' Biographies
Alastair MacLennan is Emeritus Professor of Fine Art, University of Ulster. As one of the world's leading live art practitioners his 'actuations' are the synthesis of site and performance, often including the act of drawing and installations from found objects and materials. He presented over 600 performances in festivals and exhibitions across Europe, Asia, Canada and the North America, and represented Ireland at the Venice Biennale. An alumni of Duncan of Jordanstone School of Art & Design he donated his entire archive to the University of Dundee's Collections in 2019.
Dr Sandra Johnston is a performance artist working internationally since 1992 in the areas of site-responsive performance actions, installations and drawing. Since 2001 she has developed an extensive body of practice-led research exploring creativity in relation to the aftermath of social trauma, in particular issues of 'contested space' and empathetic communication. She is a long-term collaborator of Alastair MacLennan, the co-founder of various artist-run collectives in Belfast and works currently as Senior Lecturer in Fine Art and University of Northumbria.
Dr Roddy Hunter is artist, educator and writer. Following formative urban interventions in Glasgow in the early 1990s, exhibitions of his work have since taken place across Europe, North America and Asia. Hunter most recently works at the intersection of performance art, new media and curatorial practice. His writing includes critical articles on networked art practice and monographic essays on artists such as Alastair MacLennan, John Newling and Andre Stitt. He is presently Director of Teaching and Learning, School of Art, Design and Architecture, University of Huddersfield.
Tania Kovats is a Professor at Duncan of Jordanstone College of Art & Design at University of Dundee. Her work includes temporary and permanent sculptural works, drawing, and writing that currently consider her preoccupation with water, rivers, seas and oceans. Kovats is a long-term advocate for drawing in the expanded field and has been recently developing programs of drawing combined with meditation practices. Her works are in both public and private collections in the UK and abroad.
____________________

This project accompanies the Trinity Buoy Wharf Drawing Prize 2020, 13 November – 19 December 2020 at Cooper Gallery.
Venue Information
Zoom
Participants are not required to download any software to join. The workshop requires internet access. For access enquiries please contact exhibitions@dundee.ac.uk
*
Image credit: Alastair MacLennan, LIM(I)NAL, Belfast, 2020. Photograph by Jordan Hutchings.
Ongoing work during COVID 19 lockdown. All drawings are made in the artist studio on A2 size paper using charcoal and/or a combination of black (water based) India ink (mixed with turpentine) and diluted black oil paint.