In Conversation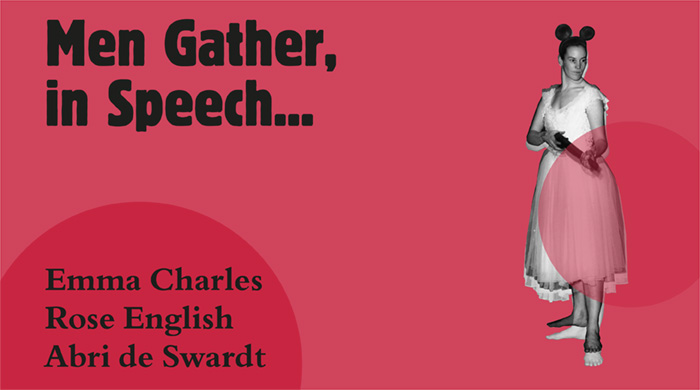 In Conversation with Rose English & Catherine Spencer
Date: 22 January 2015 - 22 January 2015
Gallery: Cooper Gallery
Please join us for an In Conversation event with Rose English & Catherine Spencer on Thursday 22 January from 4.30pm in Cooper Gallery as part of the exhibition:
Dwelling upon the presence of language in English's oeuvre, the conversation will open up the themes and concerns animating the exhibition and the role and centrality of language in the Political; an idea which underpins the exhibition.
Video documentation of Rose English In Conversation with Catherine Spencer on 22 January 2015 in Cooper Gallery.
Filming & Editing by Caitlin Delves.
Men Gather, in Speech...
Emma Charles, Rose English, Abri de Swardt
Preview: Thursday 22 June 2014, 5.30 – 7.30pm
Exhibition: 23 January - 21 February
Cooper Gallery, DJCAD are pleased to present our January 2015 exhibition Men Gather, in Speech…, an exhibition of film and moving image art works by Emma Charles, Rose English and Abri de Swardt.
I talk to you; with those few words Politics appears.
Dialogue in its Classical sense, of which Plato is an exemplar, is a spoken exchange between embodied subjects. Although much critiqued during the 20th century, it is a mode of address that underpins Western philosophy and importantly politics. Hannah Arendt's often quoted phrase "men gather in speech" lucidly defines the human necessity of dialogue and its role as the quintessential medium of the political. But now in the 21st century the political efficacy of human speech is deeply troubled; overtaken by technological innovation and the emergence of 'post-political' thought, the inherent humanity of speech has become an enigma plagued by scepticism.
Bringing three film works by Emma Charles, Rose English and Abri de Swardt into proximity, Men Gather, in Speech… is a choreographed space that re-enacts and doubts the troubled relationships between "power and the space of appearance" in our present age. Touching upon the theatrical, the fictional and the digital, the exhibition offers a complex mediation upon speech, dialogue and the slow silencing of the political space that had once appeared between us.
For more information on the artists and exhibition please visit the webpage here:
www.dundee.ac.uk/djcad/exhibitions/exhibitions/men-gather-in-speech
Rose English
A uniquely interdisciplinary artist, Rose English emerged from the conceptual art, dance and feminist scenes of 1970s to become one of the most influential performance artists working today. She has been writing, directing and performing her own work for forty years, combining elements of theatre, circus, opera and poetry to explore themes of gender politics, the identity of the performer and the metaphysics of presence.
English has mounted performances in ice rinks; at the Royal Court Theatre and Tate Britain, London and Franklin Furnace, New York; and has collaborated with horses, magicians, musicians, dancers and acrobats. Her shows range from her site-specific performances and collaborations of the 1970s includingBerlin, her acclaimed solos of the 1980s including Plato's Chair to her large-scale spectaculars of the 1990s including The Double Wedding. Her internationally celebrated solo with a horse My Mathematics, 1992 was followed by a series of vignettes with horses presented by Banff Centre, Canada and Serpentine Gallery, London.
English's performance works of the 1970's featured in the exhibition WACK! Art and the Feminist Revolutionat the Museum of Contemporary Art, Los Angeles 2007. Her installation STORYBOARD, featured in Interloqui – a group exhibition at Caterina Tognon Arte Contemporanea to coincide with the 54th Venice Biennale, 2011. She exhibited an installation composed of elements and documents relating to her 1975 performance, Quadrille at Richard Saltoun and Karsten Schubert (both galleries), London 2013. Quadrillewas shown at Freize Masters 'Spotlight', London 2013 with Karsten Schubert.
The Eros of Understanding, a solo exhibition of her performance works with horses curated by Stine Hebert was presented at Kunsthal Charlottenborg, Copenhagen in 2014.
English co-wrote and designed the feature film The Gold Diggers, 1983, directed by Sally Potter; digitally re-mastered and released on BFI DVD in 2009.
Her awards include the Time Out Performance Award, the Wingate Scholarship and the Paul Hamlyn Award for Artists. Abstract Vaudeville: the work of Rose English - a comprehensive monograph documenting her 40-year career to date was published by Ridinghouse in 2014.
www.roseenglishperformance.net
Catherine Spencer
Catherine Spencer is a Lecturer in Modern and Contemporary Art at the University of St Andrews, and has previously taught at the University of Edinburgh. Her current research project explores the intersection between performance art and sociology during the 1960s and 1970s, and her interests include re-performance, mediation, abstraction and transnational exchange.