Cooper Gallery Forum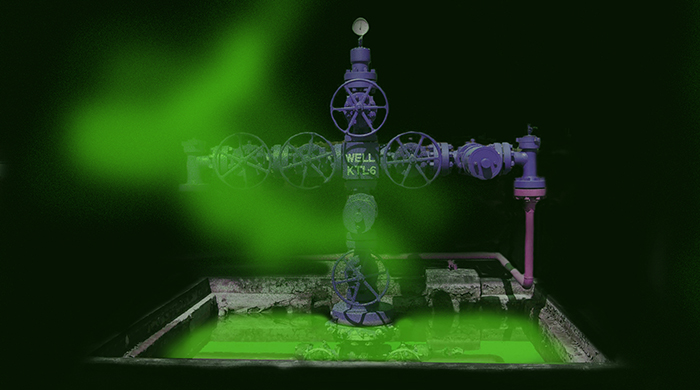 Preview & Curators Talk: When the Future Was About Fracking
Date: 21 April 2016 - 21 April 2016
Gallery: Cooper Gallery

Please join us at the Preview of When the Future Was About Fracking by artists' duo HeHe on Thursday 21 April from 5.30 - 7.30pm at Centrespace. There will be a Curators Talk by Rob La Frenais at the Preview.
Preview & Curators Talk by Rob La Frenais:

Thursday 21 April, 5.30 - 7.30pm

Closing Event: Performance-Lecture by HeHe: Wednesday 18 May, 5.00pm
Exhibition: 22 April - 18 May 2016
When the Future Was about Fracking is a sequel, specially designed for Scotland, of the Paris-based artist group HeHe's Fracking Futures, which first took place in north-west England, also a contested site for hydraulic fracking.
The Guardian wrote at the time: 'It is one of the biggest, most polarising issues there is, but artists who have created an indoor fracking installation insist they are not trying to sway opinion either way. "We want to create an emotionally engaging experience. People can then go away and come to their own conclusions," said Heiko Hansen, who with his partner, Helen Evans, has recreated the sounds, tremors and flames you would get from a fracking operation.'
This time, the group re-enact a doomed landscape after extensive fracking, with leaking hissing ghostly wellheads, in the swirling mist of a post-apocalyptic abandoned excavation site, in the middle of a city centre, in Centrespace within DJCAD's Visual Research Centre located on the lower levels of the DCA. HeHe's often mischievous yet accurate miniaturisations of potential and actual global disasters have intrigued audiences worldwide, and this is the first time their work will be seen in Scotland.
At the Preview of When the Future Was about Fracking, there will be a Curator's Talk by Rob La Frenais at Centrespace. At this talk, La Frenais will expand upon the development of this exhibition and his experience working with artists' duo HeHe.
For more information about the exhibition, please see our website.
* * *
When the Future Was about Fracking is curated by Rob La Frenais in collaboration with Cooper Gallery DJCAD and is part of the Energy Ethics project, organised by Mette M. High of St Andrews University. This installation was originally commissioned by FACT (Foundation for Art and Creative Technology) and Arts Catalyst. Funded by Creative Scotland and the British Academy.
* * *
Opening times: Monday - Saturday, 12 - 4pm.
Centrespace in the Visual Research Centre, DJCAD and is located on the lower floors of Dundee Contemporary Arts, 152 Nethergate, Dundee.

‌