Film Screening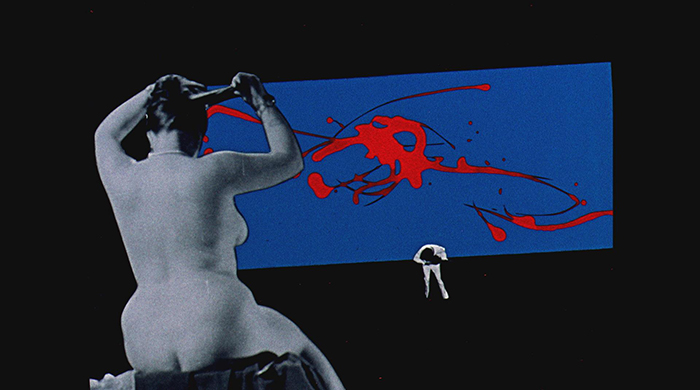 Tomorrow Was a Montage: Film screening of György Kovásznai
Date: 26 November 2015 - 26 November 2015
Gallery: Cooper Gallery
Please join us at the Film Screening of György Kovásznai on Thursday 26 November from 6-7.30pm in Cooper Gallery.


Film Screening of György Kovásznai
Thursday 26 November 2015, 6 - 7.30pm
Tomorrow Was a Montage
30 October - 18 December 2015
Painter, experimental film-maker and writer, György Kovásznai is acknowledged as a crucial representative of 20th Century Hungarian art, despite being censored and frequently sidelined during his lifetime. In the 1960s he provided one of the first visual commentaries on an emerging urban pop culture in Budapest where he was part of a hermetic group of artists, writers and film-makers that positioned themselves on the 'outside', experimenting with critical forms of writing, art and film-making. Kovásznai's films constructed innovative formal compositions, building filmic montages of stop-frame painting animations, collaged film and excerpts from live action films that critically reflected upon the social and political contexts of contemporary culture in Hungary in the 60s and 70s.
Kovásznai's uncompromising attitude to his work can be seen throughout his career; he studied Painting at the Hungarian Academy of Fine Arts, however he left early, later commenting; "I simply left because I considered the teachers untalented and its spirit witless."
In the 1960s, Kovásznai was a significant figure at Hungary's leading animation company Pannonia Film Studio where he made his first film titled Monologue in 1963 in collaboration with Dezsô Korniss and contributed significantly to the renewal of Hungarian animation film. Kovásznai and Korniss collaborated on a further five films including the experimental animation Young Man Playing the Guitar at the Old Master's Gallery (1964). This was the only film produced by the Pannonia Film Studio that was banned during the socialist regime.
Kovásznai's works recently gained new recognition and have been presented in major solo exhibitions at the Hungarian National Gallery (2010) and a screening programme titled "Revolutionary Pop Art: György Kovásznai in Hungary" at the Courtauld Institute in London, UK (2014).
The Film Screening on Thursday 26 November included his films Monologue (1963), Young Man Playing the Guitar at the Old Master's Gallery (1964), Diary (1966) and Wavelength (1971).
Films courtesy of the Kovásznai Research Center Foundation and MANDA, Hungary.
* * *
Bringing together work by Polish and Hungarian artists from three generations, Tomorrow Was a Montage in Cooper Gallery reveals a world torn asunder from the predictable and the known, the verifiable and the legitimate.
Montage, the practice of 'citing without citations'; to quote the essential exponent of literal montage Walter Benjamin, is never neutral, never indifferent. With intimate strangeness montage unsettles all depictions of the world.
Fragments, juxtapositions, sudden illuminations, jarring proximities and a suspicion of systems; this is the image of the world offered by montage. Addressing time and space as a field of discontinuities, ruptures and breakages, montage overwhelms and unsettles perception. Pioneered in the first half of the twentieth century by the Surrealists and early Soviet filmmakers, montage became a radical subversive strategy of dissonance and shock for artists, designers, writers and thinkers seeking to challenge stereotypical images of the contemporary.
Tomorrow Was a Montage is an important opportunity to view rarely seen works that epitomise the visual language and polemical politics of the Former East in the 1960s and 70s, alongside contemporary works that demonstrate the enduring cogency of montage as an artistic method. Ranging across graphic design, animation, artists' films and performance, Tomorrow Was a Montage features sixty significant poster works by the internationally celebrated Polish graphic designer and artist Roman Cie?lewicz, films by preeminent film-makers Jan Lenica and Zbigniew Rybczy?ski, and a screening event of legendary film works by Hungarian painter and experimental filmmaker György Kovásznai. Bringing the ethos of the exhibition into the contemporary is the work of the up-and-coming Polish film and sound artist Wojciech B?kowski.
Working without computer software and often within the political constraints of state Communism, Cie?lewicz, Lenica, Rybczy?ski and Kovásznai reveal an astonishing technical mastery of montage and its provocative political possibilities that are unsurpassed. Both Cie?lewicz and Lenica were part of the globally recognized Polish Poster School, an outstanding example of poster art comparable to France's La Belle Epoque of the 1890s. Bringing a double visual heritage of Constructivism and Expressionism from the Former East, Cie?lewicz transformed contemporary graphic design. Moving to France in 1963, he worked as artistic director of ELLE, frequently contributing to magazines including Vogue and Opus International and was acclaimed for his lavish catalogue designs for prestigious exhibitions at the Pompidou Centre. Lenica who also moved to France in 1963 won numerous awards for his animations including the Fipresci Prize for Labyrinth, which is featured in the exhibition. Depicting a self-consciously Kafkaesque tale of a winged lonely man literally devoured by totalitarian rule, Labyrinth is considered one of the finest political animations ever made.
The works in this exhibition cover a remarkable period in European art and design. Indelibly marked by politics, the shared passion of the artists from three different generations characterizes an age and stands witness to disquiet, shame and a pervasive horror. By literally cutting away the certainties conjured and promulgated by state backed and mainstream media, these complex and uncanny images evoke the oppositional sensibility marking the visual culture of the early 21st century.
For more information about Tomorrow Was a Montage exhibition and events, please see http://www.dundee.ac.uk/djcad/exhibitions/exhibitions/tomorrow-was-a-montage/
The galleries can be accessed via the Cooper Gallery doors at the east side of the DJCAD car park.
Opening hours: Monday - Friday: 10am - 5pm, Saturday: 11am - 5pm, Sunday: closed.

Images: All György Kovasznai [1] Young Man Playing the Guitar at the Old Master's Gallery, 1964, [2] Monologue, 1963, [3] Wavelengths, 1971.
All images courtesy of the Kovásznai Research Center Foundation and MANDA, Hungary.