Dance & Poetry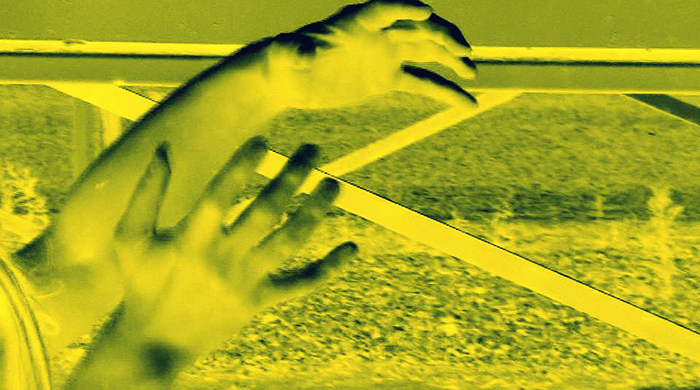 ALL SYSTEMS... go: Dance & Poetry
Date: 17 February 2016 - 17 February 2016
Gallery: Cooper Gallery
Please join us for an evening of Dance & Poetry in response to ALL SYSTEMS... go on Wednesday 17 February from 6.30 - 8.00pm in Cooper Gallery.
Experimental Dance by leading choreographer Jack Webb with Madira Gregurek
Performance poetry by JL Williams
Inserting the body, through physical and aural presence, into the mobile systems we operate within and around, Cooper Gallery presents an evening of experimental dance and performance poetry in response to ALL SYSTEMS... go. Drawing attention to the performativity of the body and speech, elements present within the three moving-image works in the exhibition, this event explores the fictionality of these systems and their institutional counter-parts.
Widely respected dancers Jack Webb and Madira Gregurek presented their new performance AN END, devised as a direct response and rebellion to the systems drawn attention to by the exhibition ALL SYSTEMS... go. Seeking to transcend the physical codes and languages expected of our bodies, Webb and Gregurek performed a reinvention of the politics of the body, its behaviour and movement.

Acting as a prelude and epilogue to the evening, JL Williams performed her new piece Opening Bracket / Closing Bracket: An Object Lesson in Levitation, vocalising her reaction to the choreography of the exhibition and the Dance, into the event. JL Williams' new text work has been published via Group Critical Writing and is available to read and hear via this link.
Photographer: Kathryn Rattray
Biographies
Dancers:
Jack Webb is one of Scotland's leading and most innovative choreographers to have emerged in the past decade. He is a dancer, choreographer and teacher who has worked with various companies and choreographers,most recently with the world renowned fasion designer Hussein Chalayan and choreographer Damien Jalet on the major production 'Gravity Fatigue' at Sadler's Well's, London. Other companies include Scottish Dance Theatre (guest artist), David Hughes Dance Scotland (works by Kylie Walters and Tanja Leidtke), the Curve Foundation (works by Hofesh Schecter, Henri Oguike, Jonathan Watkins), Croiglan Integrated Dance (work by Adam Benjamin), Dance Theatre Luxembourg, Company Chordelia Dance Theatre, Simon Vincenzi, Ben Wright and Matthew Hawkins amongst many others. He has created an qcclaimed body of choreographic work which has been presented extensively in the UK and Germany including Wilton's Music Hall. London, Tramway, Glasgow, Nottdance, Nottingham at Nottingham Contemporary, Dock 11, Berlin, New Territories, Glasgow, the Place, London, the Arches, Glasgow, All 1 Forum, Hamburg, Edinburgh Fringe at Dance Base, the Traverse, Edinburgh, Dance Live, Aberdeen amongst many others.
Madira Gregurek is a dancer, choreographer and teacher. She trained at the Scottish School of Contemporary Dance and has an MA in Dance Performance from the University of Limerick. She has worked with various choreographers including Jack Webb, Ian Spink and most recently research with Florencia Garcia Chafuen. Gregurek's practice as a choreographer spans improvisation and Butoh dance. Her work has been performed extensively in Scotland including Dance Live, Aberdeen, Edinburgh Fringe Festival as well as residencies at Dance Base, Edinburgh, City Moves Dance Agency, Aberdeen, Dance House, Glasgow. In addition to her dance practice, Gregurek is an experienced yoga teacher and has taught yoga internationally.
Poet:
JL Williams' first collection, Condition of Fire (Shearsman, 2011), was inspired by Ovid's Metamorphoses and a journey to the Aeolian Islands. Her second collection, Locust and Marlin (Shearsman, 2014), explores the idea of home and where we come from. Her poetry has been published internationally in journals including Magma, Edinburgh Review, Poetry Wales, The Wolf, Fulcrum and Stand. Our Real Red Selves (Vagabond Poets, 2015), a triptych collection featuring Williams and two other Scottish poets, considers themes of war and birth.
She is particularly interested in expanding dialogues through poetry across languages, perspectives and cultures and in cross-form work, visual art, opera and theatre. She was awarded a grant from the Scottish Arts Council for a poetry collaboration entitled chiaroscuro pentimenti and the Edwin Morgan Travel Bursary from the Scottish Arts Trust. She was selected for the 2015 Jerwood Opera Writing Programme and for the TRG3 Residency Programme at Talbot Rice Gallery in Edinburgh.
Performer in the poetry and music band Opul, Williams gives regular poetry readings and workshops and is on the Live Literature funded list of Scottish Book Trust Authors. She is the programme manager at the Scottish Poetry Library where she curates poetry events and creates workshops and professional development activities for poets.
* * *
ALL SYSTEMS... go
22 January - 27 February 2016
ALL SYSTEMS…go is a group exhibition featuring artists' films by leading international artists Liam Gillick & Anton Vidokle, esteemed film-maker Miranda Pennell and recent Glasgow School of Art MFA graduate Dominic Watson.
Taken from the US Apollo missions the title has since entered everyday use and conveys the implication of an irreversible act. Once 'all Systems go' flashes up there is no escape from its consequences and there is no turning back.
The three works presented in the exhibition hollow out moments in the unstoppable systems which underscore the inescapable conditions of contemporary power discourse. Enabling the discursive and the improbable, the compromise and the negotiation as disruptive practices, the featured works enter into the hardwired trajectories pre-loaded into the systems propelling all aspects of our world.
For more information about the ALL SYSTEMS.. go exhibition and the artists, please see the exhibition page: www.dundee.ac.uk/djcad/exhibitions/exhibitions/all-systems-go
* * *
The galleries can be accessed via the Cooper Gallery doors at the east side of the DJCAD car park.
Opening hours: Monday - Friday: 10am - 5pm, Saturday: 11am - 5pm, Sunday: closed.
Image: Courtesy of JL Williams.
Miranda Pennell's participation in ALL SYSTEMS... go is kindly supported by LUX: Artists' Moving Image.