Closing Event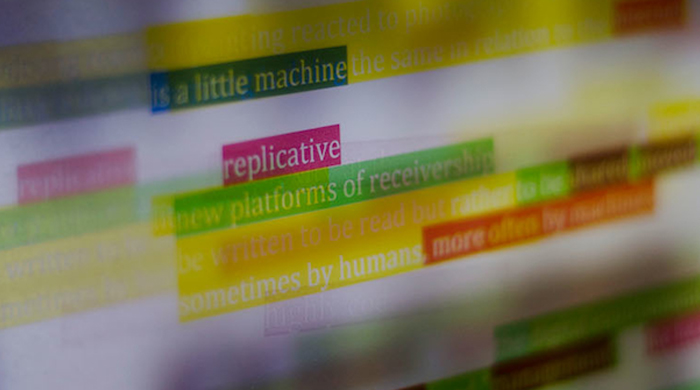 Cut and Paste: Investigating the materiality of information - Student Curatorial Team - Closing Event
Date: 26 September 2013 - 26 September 2013
Gallery: Cooper Gallery Project Space
To mark the end of the exhibition project, <Cut>and<Paste/> will be hosting a closing event, where different thematics explored through the exhibition will be adapted into a performative reprise.
Please join us for the Closing Event on Thursday 26 September, 5-6pm
Exhibition continues until 28 September
Katy Christopher, Dan Shay, Lucas Battich
Cut and Paste: Investigating the materiality of information, is an exhibition that investigates the materiality of information today.
Linked through shared interests in developing technology, Duncan of Jordanstone College of Art & Design graduate Dan Shay and final year students Katy Christopher and Lucas Battich, realize artworks derived from digital technology.
Displaying predominantly projection-based works to generate an experiential and immersive exhibition of light and video where the tangible and intangible are necessarily compared; not just exploring evolving forms but also the subsequent evolution in our experience of and interaction with information.
Cut and Paste: Investigating the materiality of information utilizes contemporary modes of exchanging resources and knowledge to analyse their aura, in comparison to those celebrated in the simultaneous Knife Edge Press: The Complete Works (so far) exhibition in the Cooper Gallery, providing an engaging platform to allow for reflection on our digital condition.
Throughout its duration this exhibition will further transcend into the digital online platform through an intervention on Cooper Gallery Notes, Cooper Gallery's online blog: http://coopergallerynotes.blogspot.co.uk/
Artists' biographies:
Katy Christopher explores immersive light and space installations, questioning our relationship with the world. Through exploring the possible effects the intangible can have on our perception and experience of the physical world, Christopher is addressing the nature of our digital culture. Christopher's work aims to distort the physical world through digital technology drawing our attention to the relationship between the digital and physical and how this interaction is altering the behaviours of society. For more information: Katychristopher.co.uk
Dan Shay investigates our Technical Immersion through a visual language where digital projection and film converse. Shay's work ranges across interactive installations, videos, and contemporary reinterpretations of both sculpture and paintings, incorporating projection throughout. For more information: Danshay.co.uk
Lucas Battich's work centres on the themes of constant mobility and liminality, the ambiguous in-between states within the increasingly blurred lines of analogue vs. virtual, real vs. fictional. A particular area of concern is our relationship with cultural debris, nostalgia and the re-appropriation of history, and how this is reflected in digital culture and technological development. For more information: lucas.battich.tumblr.com