Salon Events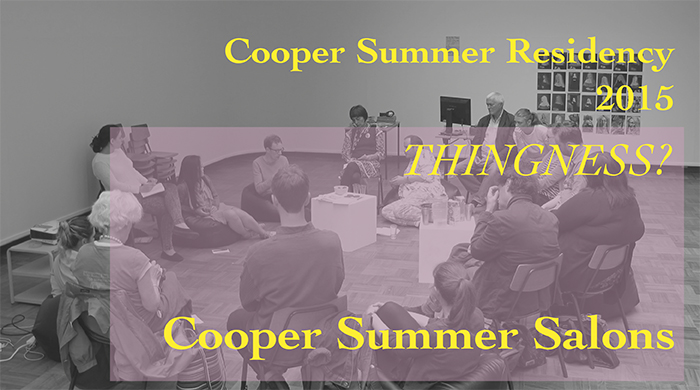 Cooper Summer Salons
Date: 6 July 2015 - 31 July 2015
Gallery: Cooper Gallery
Please join us on Wednesdays in July from 12.30-1.30pm for the Cooper Summer Salons with artists Oliver Braid, Anouchka Oler and philosopher Joseph Fletcher.
Wednesdays 8, 15, 22 & 29 July
* * *
THINGNESS?
Oliver Braid, Joseph Fletcher, Anouchka Oler
Residency: 6 – 31 July
Exhibition: 18 Sept – 10 Oct
Cooper Summer Residency is a space for artists, writers and thinkers to reflect upon and experiment with new ideas and strategies that will extend their practice. It is also a social and discursive situation for dialogues and debates to take place between residency artists, writers, thinkers? and interested publics, providing an alternative way to encounter, reflect and critique the plurality of contemporary culture.
For the 2015 edition of Cooper Summer Residency, we are delighted to host Glasgow-based artist Oliver Braid and Lyon-based artist Anouchka Oler. Both artists' practices investigate Object-Oriented Ontology and each will consider this philosophical phenomenon through the theme of thingness? during the residency.
Edinburgh based philosopher Joseph Fletcher will join the residency as a third voice to place reflexivity at the heart of the residency.
A Cooper Summer Salon will be held once a week during the residency to amplify the making and thinking through conversations with the audience.
Image Credit: Anouchka Oler, still from The Mother, the Monster and the Witch #1, (Voices will find their bodies), video, 2014. Courtesy of the artist.
Anouchka Oler's participation is kindly supported by Fluxus