Preview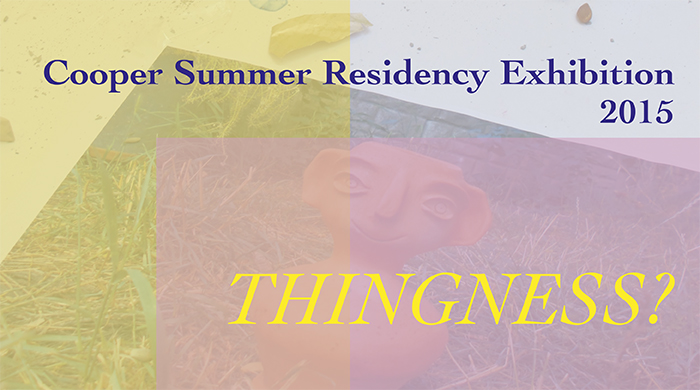 Cooper Summer Residency Exhibition 2015 : THINGNESS? Preview
Date: 17 September 2015 - 17 September 2015
Gallery: Cooper Gallery
Please join us for the Preview of...
Cooper Summer Residency Exhibition 2015
THINGNESS?
Artists: Oliver Braid, Anouchka Oler
Philosopher: Joseph Fletcher

Exhibition: 18 September – 10 October 2015
Preview: Thursday 17 September 2015, 5.30 - 7.30pm
In Conversation: Thursday 17 September 2015, 4.30 - 5.30pm
The exhibition marking the culmination of Cooper Summer Residency 2015: Thingness?. In July Cooper Gallery hosted Glasgow based artist Oliver Braid, Brussels based artist Anouchka Oler and Edinburgh/Gateshead based philosopher Joseph Fletcher. During the residency, the artists and philosopher discussed and reflected upon the possibility of Object Oriented Ontology as a mode of interpretation with which to encounter contemporary art practices. This has led to a body of new works and an online publication which will be presented in the exhibition and on the Cooper Gallery website.
Cooper Summer Residency is a space for artists, writers and thinkers to reflect upon and experiment with new ideas and strategies that will extend their practice. It is also a social and discursive situation for dialogues and debates to take place between residency artists, writers, thinkers and interested publics, providing an alternative way to encounter, reflect and critique the plurality of contemporary culture.
Prior to the Preview, there will be an In Conversation event with the artists and philosopher at 4.30pm in Cooper Gallery.
For more information about Cooper Summer Residency Exhibition 2015 please visit the exhibition page here.
For more information on Cooper Summer Residency 2015 please visit the webpage here.
Image courtesy of Anouchka Oler.
Anouchka Oler's participation is kindly supported by Fluxus