Meet the Artists event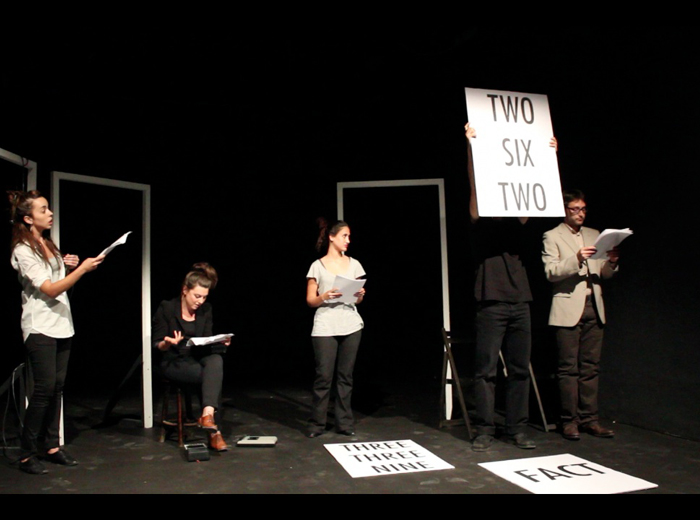 Cooper Summer Residency 2012: Meet the Artists
Date: 26 July 2012 - 26 July 2012
Gallery: Cooper Gallery
During our Cooper Summer Residency 2012 audiences will be invited to a Meet the Artists event where they will have the chance to engage with the artists' works in progress and have informal discussions with the artists.
Meet the Artists: Thursday 26 July, 2pm, Centrespace, Visual Research Centre. VRC is part of DJCAD and is located on the lower floors of Dundee Contemporary Arts, 152 Nethergate, Dundee.
Free - no need to book just come along.
Cooper Summer Residency 2012: Marking Words - Making Words
6 July - 6 August
David Bellingham, Cally Spooner, Jesper List Thomsen
Cooper Summer Residency is a space for artists to reflect upon and experiment with new ideas and strategies that will extend their practice. The residency is based on a desire to investigate the means and potential of working in an environment that supports the exchange and sharing of resources and knowledge. It also provides audiences with an alternative way to observe, encounter and engage with contemporary art.
For this year's residency, we are delighted to host artists David Bellingham, Cally Spooner, Jesper List Thomsen to be in residence at the CAB (Centre for Artists' Books), DJCAD. These three artists share a common focus on Artists' Books and text based works, with an interest in exploring expanded notions of the book, writing and reading within the contexts of space/time and performativity: Cally Spooner, has completed several ambitious solo projects and recently a residency at Cite Des Arts Paris; Jesper List Thomsen, a Danish artist living and working in London who has exhibited internationally; and David Bellingham an artist based in Scotland has also exhibited widely across the UK and abroad.
Cooper Summer Residency 2012 Exhibition: Later in the year there will be an exhibition at Cooper Gallery which opens with a preview event on 20 September and runs until 10 October 2012. Cooper Gallery is in the Crawford Building at DJCAD.
More info about the artists...
David Bellingham




A few words in the place of a few others…
David Bellingham is an artist of near total obscurity, who scratches a living making and mending. His work is occasionally to be found in the regions but it does not stay long and it is hard to spot. You will not have heard of him before and you may never hear of him again. He was born in South London and lives and works in Glasgow.
(Image credits: 1. Ideas Leave Objects Standing, Cairn Gallery, Fife; 2. Lemon Yellow Lemon, 1996 - 2010; 3. Sun Earth Moon, 2008; 4. 90°, 2010; 5. Ends, 2011; 6. Not Only Black And White, 2011; 7. Words On a Wall That's All, 2011; 8. Big Upon Little, 2011; 9. This Just This, 2011 / 12; 10. A Few Words In The Place of a Few Others, 2012.)
Cally Spooner
Cally Spooner lives and works in London. She graduated with an MFA from Goldsmiths in 2008 and has recently completed a British Council and French Cultural Institute artists' residency at Cite Des Arts Paris.
With outputs ranging from film, theatre, novellas and broadcasting, Cally Spooner stages the state and mechanisms of production, through an ongoing enquiry into the conditions necessary for the creation of a live event. Working from the notion of performance as a promise, (that progress and change will be delivered, typically in the workplace), Spooner translates existing philosophical doctrines into new live productions for public reception. Drawing on theatrical tropes, plot-less novellas, arguing characters and musical interruptions her work embodies the awkward movement between solo thought, live public activity and the social anxiety of the performance promise.
Recent solo presentations include Seven Thirty Till Nine, Shanaynay Gallery, Paris; A Six Stage Manifesto On Action, ICA, London; Collapsing In Parts, International Project Space, Birmingham (2012); It's 1957, and the Press Release Still Isn't Written, Hermes und der Pfau Project Space for Contemporary Art, Stuttgart (2011); At Five to Ten, Neue Alte Bruecke, Frankfurt; and A Solo Event For Thinking, Basso, Berlin (2009). Recent group shows include In The Belly Of The Whale (Act II), Montehermoso, Spain; The Starry Rubric Set, Wysing Arts Centre, Cambridge (2012); The Observer's guide to the Serpentine Gallery Garden Marathon - Compiled in One Voice (by Will Holder), Serpentine Gallery Garden Marathon, Serpentine Gallery, London; Events, Happenings, Performance, David Roberts Art Foundation, curated by Vincent Honore, London; Summer Show, Pilar Corrias Gallery, London; Outrageous Fortune, Curated by Andrew Hunt, Hayward Touring Exhibition; Summer Fair, Norwich Outpost, Norwich, with Am Nuden Da; Double Bill, LOOP Festival, Antic Theatre, Barcelona; Fluxus Event, French Cultural Institute, London and The Department of Wrong Answers, Wysing Arts Centre, Cambridgeshire (all 2011).
(Image credits: Almost A One Act Play)
Jesper List Thomsen
Jesper List Thomsen lives and works in London. He was born in Denmark and graduated with an MA Fine Art from The Royal College of Art in 2007.
Jesper List Thomsen's work arrives at language from a photographic perspective and background. Through writing he explores how immediate, lived experience can transform into a future event; into new form, as object/image/text. By considering the possibility of a different form of engagement with the natural and built environment he is investigating ways of dealing with time and present-ness and its future permutations.
Recent projects include At Home VI, Galerie J, Geneva (2011); It's 1957, and the Press Release Still Isn't Written, Hermes und der Pfau Project Space for Contemporary Art, Stuttgart (2011); Notes and Projects, curated by Gil Leung, Hollybush Gardens, London (2011); Search & Destroy, Galerie Mikael Andersen, Berlin (2011); Blytt & Rooney Curates Something Nice, Kunst Projects, Berlin (2009); Session_5_Local, Am Nuden Da, London (2009); Vienna Biennale, Vienna (2008).
(Image Credits: Muse, still, It's 1957, and the Press Release Still Isn't Written at WCW Gallery, Hamburg, Germany organised by Hermes and und der Pfau)