Artists' Talk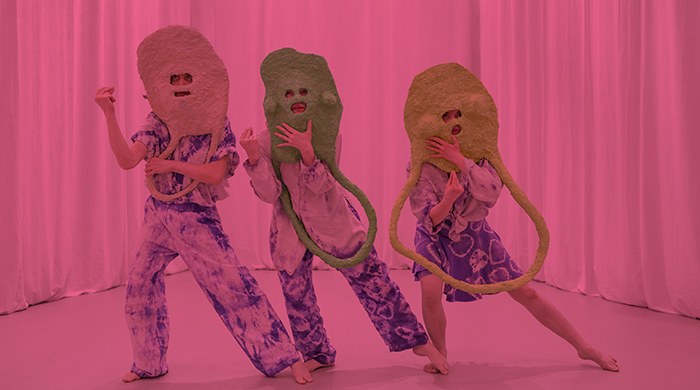 Chloë Lum & Yannick Desranleau | Artists' Talk
Date: 22 January 2020 - 22 January 2020
Gallery: Off-site venue
Chloë Lum & Yannick Desranleau
Artists' Talk
Wednesday 22 January 2020, 12noon
Medical Sciences Institute Lecture Theatre
DJCAD Contemporary Art Practice Speakers Programme presents a talk by artists Chloë Lum & Yannick Desranleau ahead of their participation in the group exhibition, Ambiguous Becoming, at Cooper Gallery.
This event is free, open to all and unticketed.

Please note the venue is in the MSI Lecture Theatre. See here for venue location.
If you would like to walk with us from Cooper Gallery to the venue, please meet at 11.45am.

For all access enquiries please contact exhibitions@dundee.ac.uk


Artists' Biography

Chloë Lum and Yannick Desranleau are multidisciplinary visual artists based in Montreal, Canada. Their work focuses on theatricality and the choreographic; in their performance work but also in their interest in staging tableaus and working with ephemeral materials that can be said to perform through re-deployment and decay. The duo's recent works investigate the agency of objects, the material condition of the body, and the transformative potential that bodies and objects exert upon each other. These interests are informed by Chloë's experience with chronic illness and its effect on their collaboration as well the duo's exploration of narrative tropes from literature, theatre and television. Lum and Desranleau are also known on the international music scene as co-founders of the avant-rock group AIDS Wolf, for whom they also produced award-winning concert posters under the name Séripop. In 2016, Desranleau was awarded the Claudine and Stephen Bronfman Fellowship in Contemporary Art, and in 2015, the duo was long-listed for the Sobey Art Award.

Their recent solo and group exhibitions include What Do Stones Smell Like In The Forest?, Gallery TPW, Toronto, 2019; What Do Stones Smell Like In The Forest?, FoFA Gallery, Montréal, 2018; Biennale d'art performatif de Rouyn-Noranda, Rouyn-Noranda, 2018; Carteles de Quebec, Centro Provincial de Artes Plasticas Y Diseño, Habana, Cuba, 2018; Realms II, Gordon Snelgrove Gallery, University of Saskatchewan, Saskatoon, 2018; Is It The Sun Or The Asphalt All I See Is Bright Black, Circa Art Actuel, Montreal, 2017; Performance via la caméra, Galerie Hugues Charbonneau, Montréal, 2017; Standing Under Mis, Katzman Contemporary, Toronto, 2017; 5 Tableaux (It Bounces Back), Or Gallery, Vancouve, 2017; Rome, Kiehle Gallery, St. Cloud State University, St. Cloud, Minnesota, 2017.

Website: lum-desranleau.com

____________________
This event accompanies Ambiguous Becoming, 24 January – 22 February 2020 at Cooper Gallery
Ambiguous Becoming is a collaboration between Cooper Gallery (Dundee, Scotland) and MOMENTA | Biennale de l'image (Montréal, Canada), with artists:
Jérôme Havre, Cauleen Smith, and Camille Turner
Chloë Lum + Yannick Desranleau
Victoria Sin

Opening hours
Monday – Friday: 10am–5pm
Saturday: 11am–5pm


*
Image credits: Chloë Lum + Yannick Desranleau, What Do Stones Smell Like in the Forest? (video still), 2018.
*
Funding support for Ambiguous Becoming comes from





‌
‌