Exhibition Preview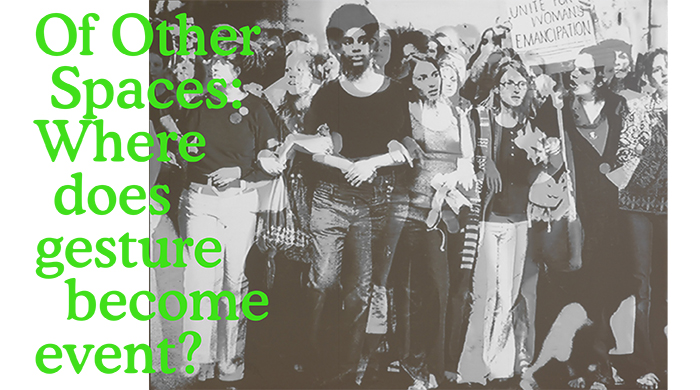 Chapter Two: Of Other Spaces: Where Does Gesture Become Event? Preview
Date: 19 January 2017 - 19 January 2017
Gallery: Cooper Gallery
Please join us at the Chapter Two Preview of Of Other Spaces: Where Does Gesture Become Event? at Cooper Gallery, from 5:30 to 7:30pm.
Chapter Two: 20 January – 4 March 2017
Exhibition Preview: Thursday 19 January 2017, 5:30 – 7:30pm
Screening of The Gold Diggers (1983): Wednesday 8 February, 6:30 - 8:30pm
We Dance Ourselves! Re:Rosas! Participatory Dance Workshop #3:
Friday 10 February, 5:30 – 7.00pm led by Melanie Forbes Broomes
Screening of Nightcleaners (1975): Wednesday 15 February, 5:30 – 7:30pm
Workshop & Screening: Wednesday 22 February, 6:00 - 8:00pm led by Dr. Catherine Spencer
Closing Performance Event: Saturday 4 March 2017, 2:00 – 6:00pm
Artists featured in Chapter Two of Of Other Spaces: Where Does Gesture Become Event? include Anne Bean, Cullinan Richards, Rose English, He Chengyao, Mary Kelly, Linder, Annabel Nicolson, Siôn Parkinson, Georgina Starr and Hanna Tuulikki.
* * *
Of Other Spaces: Where Does Gesture Become Event? is a two-chapter contemporary art exhibition and event programme at Cooper Gallery and off site venues in "She Town" Dundee. Having accomplished Chapter One on the high note of the 12-Hour Action Group in the winter of 2016, Of Other Spaces: Where Does Gesture Become Event? continues its dialogue through word and deed in Chapter Two.
The title of the programme acknowledges the work of Hannah Arendt who understood politics as a 'space of appearance'; a process of being seen and heard by others. Deprived of this, gestures whether artistic, social or political, cannot herald in new alternatives. To do this, gestures must be provoked into becoming an event. Always without precedence an event ruptures and shatters how ourselves and the world appear. Transgressing prejudices and assumptions an event is a moment that declares another world is possible. Summoning the spirit of Arendt's 'space of appearance', Chapter Two proposes the body itself as an event.
Standing among and between others, the body is a resistant otherness, queering and questioning its own appearance. Protesting and speaking, confronting and mythologising, this questioning body utters its answer in performance. Immersed in a depth of meaning and dissonance, the artists' films and live performances, two practices intertwined with feminist thought and action since the 1970s. Chapter Two of Of Other Spaces: Where Does Gesture Become Event? elaborates necessarily complex answers to the otherness of a questioning and critical body.
Reiterating the necessity of political action, the films Stock Exchange by Annabel Nicolson and WLM Demo Remix by Mary Kelly offer different mediations on historical presence, posing the question of what is left and what can be passed on. Questioning the appearance of the body, Rose English's seminal work Quadrilledelves deeply into the aesthetics and political connotations of choreographed bodies. Linder's recent film work The Ultimate Form collages Northern Soul, Ballet and the Gothic fairy-tale to revel in the inherent dissonance and subversiveness of otherness. In the work of Georgina Starr The Lesson & The Birth of Sculpture, the body becomes an infinitely pliable medium; a bubble latent with uncountable events ripe with potential. Resisting dogmatisation Starr's film reinvents and reimagines female identity as a transformative and lucid 'voice'. Striking a different tone to Starr, Hanna Tuulikki's new film cloud-cuckoo-island captures the variability of the texture, weight and voice of a performed body possessed by the notes of a radically other language. Glowering at the camera with an inscrutable and captivating presence, Anne Bean and her co-conspirators in Moody and the Menstruators evoke a politics that contests gender, androgyny and sexuality. Disregarding the norms and conventions of high and low culture, Moody and the Menstruators is an exquisite event that definitively situates the body as the only event on show. Once more, art works and archival ephemera in Chapter Two are choreographed in and amongst Cullinan Richards' 'support structure' A Modular Infrastructure Acting in Concert with Cooper Gallery.
Qualifying the essential liveness of the body and appropriating it as both medium and content, the programme will conclude with live performances from the legendary Anne Bean, preeminent Chinese performance artist He Chengyao and the "She Town" based artist Siôn Parkinson.
In keeping with Chapter One, Chapter Two will feature archival material selected from the Women's Art Library (Goldsmiths College, University of London), the Archive Collection of Lynda Morris and from the participating artists' archives. Alongside the exhibition there will be an event programme of screenings, workshops and reading groups.
Of Other Spaces: Where Does Gesture Become Event? is a project initiated and curated by Cooper Gallery DJCAD University of Dundee and is supported by The National Lottery through Creative Scotland, Henry Moore Foundation, Kingston University and Scotland's Jute Museum @ Verdant Works.
For their input and discussions during the research period for the project Cooper Gallery would like to thank: Lynda Morris, Amy Tobin, Alexandra Kokoli, Helena Goldwater, Gavin Wade and Ruth Claxton (Eastside Projects), Live Art Develoment Agency (LADA) and Althea Greenan (Women's Art Library, Goldsmiths University of London).
For more information on the exhibition please visit the exhibition page for Chapter Two of Of Other Spaces.