Book Launch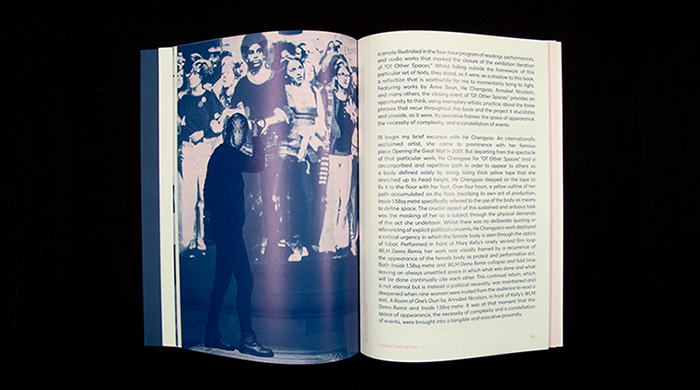 Book Launch | Of Other Spaces
Date: 12 September 2019 - 12 September 2019
Gallery: Off-site venue
Of Other Spaces: Where Does Gesture Become Event?
Book Launch
Thursday 12 September, 5.30–7.30pm
Glasgow Women's Library


Resonating with the ethos of open dialogue and the experimentation of women artists' collectives in the 1970s and 1980s, the book launch for Sternberg Press's new title Of Other Spaces: Where Does Gesture Become Event? will construct a dynamic, open, and collaborative arena that foregrounds ideas of resistance, collectivity, and self-organisation. Sophia Yadong Hao, the book's editor, will talk with Caroline Gausden and Adele Patrick from GWL and the event will include performances from Laura Edbrook & Sarah Forrest and 12: Women Poets' Collective.

Of Other Spaces: Where Does Gesture Become Event? is an annotation and reflection on the two-chapter eponymous exhibition and event project that took place at Cooper Gallery (2016–17). Highlighting the inherent seditiousness that animates feminist thinking, the book seeks out the lodestone of a volatile politics that calls for and instigates urgent alternatives to the cultural, political, and economic machineries of power that haunt this world.
Contributors include seminal women thinkers, writers, and artists such as Anne Bean, Rose English, Rebecca Gordon-Nesbitt, Margaret Harrison, Susan Hiller, Amelia Jones, Mary Kelly, Linder, Kirsty Logan, Lynda Morris, Laura Mulvey, Annabel Nicolson, Adele Patrick, Georgina Starr, Marina Vishmidt, et al.

This event takes place at Glasgow Women's Library and is programmed in collaboration with Cooper Gallery.
Books will be sold at the discounted price of £15.

Endorsements for the book
The book Of Other Spaces: Where Does Gesture Become Event? commemorates and continues two events that brought together women's voices in art and thought through an exhibition and a symposium. Radical time and radical space meet here. Citing the spirit of feminist collectives in the 1970s, the 12-Hour Action Group International Symposium celebrated a fluid, shifting, and nonchronological present tense that could engage with the public space of exhibition making as a site for critical inquiry and political contestation. This collection of ideas makes an invaluable contribution to feminist aesthetics while also documenting important but ephemeral moments of performance and dialogue between women. – Laura Mulvey
I would say, without doubt, 'Of Other Spaces' was the most important exhibition of art informed by feminism that I have participated in since the 1980s. Thoughtfully curated with a focus on women artists in the UK, who were also activists in the 1970s, the exhibition traced the reappearance of the past in the present in a way I found extremely timely. – Mary Kelly

For information on the eponymous Two-Chapter Exhibition and Event programme that the book departs from and extends a dialogue with, see Of Other Spaces Chapter 1.
________

Booking
Tickets are £2/Free and can be booked on Glasgow Women's Library's website.
If a ticket price of £2 is in any way a barrier to you attending this event please choose a Free ticket.
Venue
Glasgow Women's Library
23 Landressy St
Glasgow
G40 1BP

Find information on Accessibility at GWL or contact the Library who will be very happy to offer assistance.



*
Image credit: Of Other Spaces: Where Does Gesture Become Event?, Sternberg Press, 2019.
‌‌
‌