Talk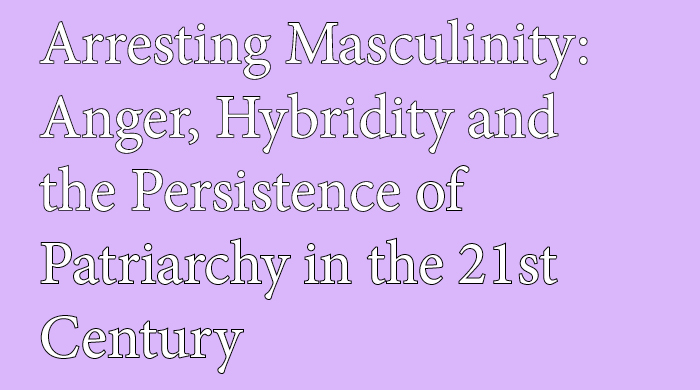 Arresting Masculinity
Date: 12 February 2020 - 12 February 2020
Gallery: Cooper Gallery
Arresting Masculinity: Anger, Hybridity and the Persistence of Patriarchy in the 21st Century
A talk by Prof. Dany Nobus
Wednesday 12 February, 5.30–7pm
Cooper Gallery

Within the context of Cooper Gallery's current exhibition Ambiguous Becoming, we are delighted to host a talk by Professor Dany Nobus as part of the Philosophy Seminar Series organised by Scottish Centre for Continental Philosophy.
In this talk professor Nobus will analyse the almost omnipresent talk about "toxic masculinity" which is often credited as being the cause of all contemporary 'evils' in a social world that is inhabited by men and women. Nobus will also explore that branding particularly dominant versions of masculinity as "toxic" is less an answer to a question, than itself an attempt to escape the real problems at hand: namely why does patriarchy continue to exist and how it impacts the world.
Professor Dany Nobus is a Clinical Psychologist, Psychoanalytic Psychotherapist and Chair of the Freud Museum London. Main research interests include the history, theory and practice of psychoanalysis, the history of psychiatry, and the intersections between psychoanalysis, philosophy and the arts. In 2017, Nobus was awarded the Sarton medal of the University of Ghent for his outstanding contributions to the history of psychoanalysis.

This event is free and unticketed.
____________________
This event has been rescheduled from December 2019 and now accompanies Ambiguous Becoming, 24 January – 22 February 2020 at Cooper Gallery
Ambiguous Becoming is a collaboration between Cooper Gallery (Dundee, Scotland) and MOMENTA | Biennale de l'image (Montréal, Canada), with artists:
Jérôme Havre, Cauleen Smith, and Camille Turner
Chloë Lum + Yannick Desranleau
Victoria Sin


Venue Information

Address
Duncan of Jordanstone College of Art & Design
University of Dundee
13 Perth Road
Dundee DD1 4HT
The gallery is on two floors. First floor has ramped access and disabled toilet.
Second floor is accessible via lift and for wheelchair access via a stairclimber.
Large print versions of the exhibition information handout are available, please ask our Guides.

For access enquiries please contact: exhibitions@dundee.ac.uk

Opening hours
Monday – Friday: 10am–5pm
Saturday: 11am–5pm


*
Funding support for Ambiguous Becoming comes from