Reading group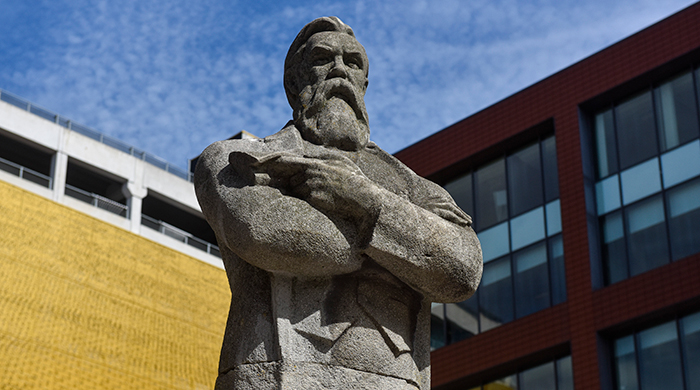 All That Is Solid Melts | Reading group
Date: 30 January 2019 - 6 February 2019
Gallery: Cooper Gallery
All That Is Solid Melts
Reading Group

Session 1: Wednesday 30 January, 6–7:30pm
Session 2: Wednesday 6 February, 6–7:30pm
All That Is Solid Melts is a reading group conceived by Cooper Gallery in collaboration with philosopher and writer Frank Ruda. To coincide with Phil Collins' solo exhibition Ceremony at Cooper Gallery, the reading group will launch with two special events looking at contemporary writers' works including Capitalist Realism by Mark Fisher and Planet of Slums by Mike Davis and discuss the notion of the working class, labour conditions today, the ongoing impact of austerity many of us are facing and the potentiality of an alternative.
The Reading group is free and open to all. If you wish to take part please email exhibitions@dundee.ac.uk where you can obtain a digital or paper copy of the texts for prior reading. Come along and join the group at Cooper Gallery for one or both sessions.


Session 1
Wednesday 30 January, 6–7:30pm
Readings:
Mark Fisher, Capitalist Realism: Is There No Alternative?, Zero Books, 2009
Chapter 1: It's easy to imagine the end of the world than the end of Capitalism
Chapter 2: What if you held a protest and everyone came?
Chapter 3: Capitalism and the Real


Session 2
Wednesday 6 February, 6–7:30pm
Readings:
Mike Davies, Planet of Slums, Verso, 2007
Chapter 4: The Illusion of Self-Help
Chapter 8: A Surplus Humanity?
About Frank Ruda
Frank Ruda was born, thinks and will die. For now, he is Senior Lecturer for Philosophy at the University of Dundee and published inter alia the following books: Reading Marx (with Agon Hamza and Slavoj Zizek), Polity Press 2018; The Dash - The Other Side of Absolute Knowing (with Rebecca Comay), MIT Press 2018 and Abolishing Freedom: A Plea for A Contemporary Use of Fatalism, Nebraska University Press 2016.

Image credit: Phil Collins, Ceremony, 2018
Production still, Manchester International Festival, 2017.
Courtesy Shady Lane Productions.
Photo: Joel Fildes.
*
This event accompanies Ceremony by Phil Collins, at Cooper Gallery from 18 January – 16 Feburary 2019.
Opening hours
Monday – Friday: 10am–5pm
Saturday: 11am–5pm
Ceremony at Cooper Gallery, DJCAD is supported by the Goethe-Institut Glasgow