Preview & Performance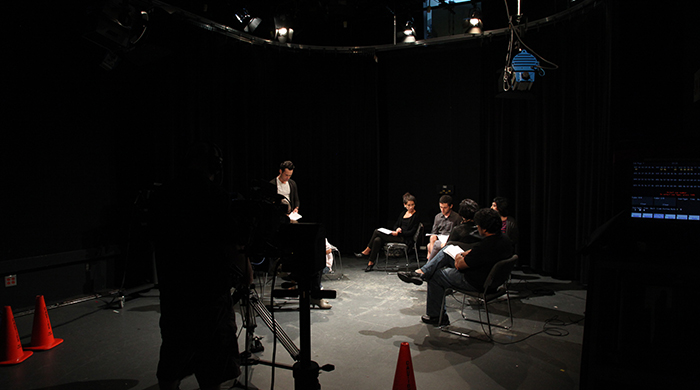 ALL SYSTEMS... go: Preview & Performance
Date: 21 January 2016 - 21 January 2016
Gallery: Cooper Gallery
Please join us at the Preview of ALL SYSTEMS... go on Thursday 21 January from 5.30 - 7.30pm in Cooper Gallery. A new performance conceived by Liam Gillick & Anton Vidokle will be presented by respected Scottish actor Billy Mack at the Preview.
Preview & Performance
Thursday 21 January 2016, 5.30 - 7.30pm
ALL SYSTEMS... go
22 January - 27 February 2016

ALL SYSTEMS…go is a group exhibition featuring artists' films by leading international artists Liam Gillick & Anton Vidokle, esteemed film-maker Miranda Pennell and recent Glasgow School of Art MFA graduate Dominic Watson.
Taken from the US Apollo missions the title has since entered everyday use and conveys the implication of an irreversible act. Once 'all Systems go' flashes up there is no escape from its consequences and there is no turning back.
The three works presented in the exhibition hollow out moments in the unstoppable systems which underscore the inescapable conditions of contemporary power discourse. Enabling the discursive and the improbable, the compromise and the negotiation as disruptive practices, the featured works enter into the hardwired trajectories pre-loaded into the systems propelling all aspects of our world.
For more information about the ALL SYSTEMS.. go exhibition and the artists, please see the exhibition page: http://www.dundee.ac.uk/djcad/exhibitions/exhibitions/all-systems-go/
* * *
Leading international artists Liam Gillick & Anton Vidokle collaborated in 2010 to develop the film-work A Guiding Light for the 8th Shanghai Biennale which is exhibited in Cooper Gallery as part of ALL SYSTEMS... go. Gillick deploys multiple forms to expose the new ideological control systems that emerged at the beginning of the 1990's. Extending his work into structural rethinking of the exhibition as form, Gillick's work exposes the dysfunctional aspects of a modernist legacy in terms of abstraction and architecture when framed within a globalized, neo-liberal consensus.
Gillick's work has been included in numerous important exhibitions including documenta, and the Venice, Berlin and Istanbul Biennales - representing Germany in 2009 in Venice. Solo museum exhibitions have taken place at the Museum of Contemporary Art in Chicago, the Museum of Modern Art in New York and Tate in London. Gillick has also been a prolific writer and critic of contemporary art and is the author of a number of books including a volume of his selected critical writing.
Anton Vidokle is an artist based between New York and Berlin. His work has been exhibited internationally, at Documenta 13, the Venice Biennale, Lyon Biennial and the Tate Modern. As a founder of e-flux he has produced Do it, Utopia Station Poster Project, and organized An Image Bank for Everyday Revolutionary Life and the Martha Rosler Library. Vidokle is co-editor of e-flux journal along with Julieta Aranda and Brian Kuan Wood. Vidokle was a resident professor at Ashkal Alwan's Home Workspace Program (2013-14). Most recently, Vidokle has exhibited films in the Montreal Biennale and the Istanbul Biennial. His recent film, This is Cosmos (2014), has been shown at the Berlinale International Film Festival in Berlin, Witte de With Center for Contemporary Art in Rotterdam and the Shanghai Biennale.
Billy Mack is an actor who is currently part of The Rep Theatre ensemble in Dundee. Graduating from the Royal Conservatoire of Scotland (formerly known as the Royal Scottish Academy of Music and Drama) in 1995, Mack has since featured in major TV shows such as Taggart and Still Game, in addition to numerous theatre productions such as Hamlet and The Winter's Tale. Nominated for Best Actor in the CATS Award in 2009 for his role as Morris Magellan in The Sound of My Voice, Mack is further the only actor to have won The Stage Award for Acting Excellence twice, both in 2009 and 2011.
At the preview of ALL SYSTEMS... go there will be a new performance event conceived by Liam Gillick & Anton Vidokle and presented by respected Scottish actor Billy Mack.
* * *
The galleries can be accessed via the Cooper Gallery doors at the east side of the DJCAD car park.
Opening hours: Monday - Friday: 10am - 5pm, Saturday: 11am - 5pm, Sunday: closed.
‌

Image: Liam Gillick & Anton Vidokle, A Guiding Light, 2010. Image courtesy of the artists.
Miranda Pennell's participation in ALL SYSTEMS... go is kindly supported by LUX.