Symposium and Workshop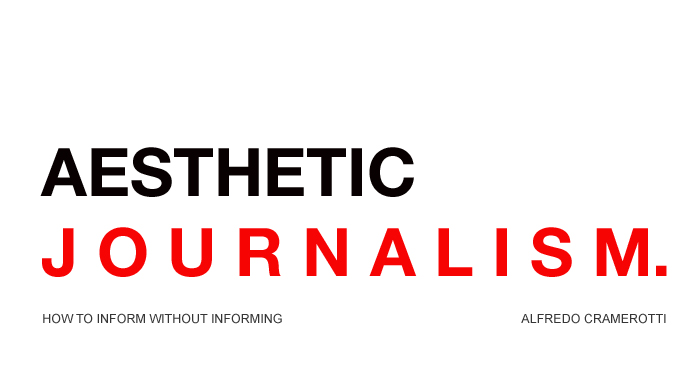 Aesthetic Journalism: How to Inform without Informing Alfredo Cramerotti
Date: 27 February 2014 - 27 February 2014
Gallery: Centrespace
…They're stories. Facts, chronicles, charts, drawings, statistics, voices, faces. They're maps in a sense. The monitors and headphones, the projections floor-to ceiling, the bench, the cables, the panels. They're all maps. We're not in a hurry, are we? You whisper, half smiling. No, I say, we're not.
This is the reflection on the very first page of Alfredo Cramerotti's Aesthetic Journalism (intellect, 2009). But what is Aesthetic Journalism? As Cramerotti says: "the concept provocatively tries to advance the idea that art and journalism are not separate forms of communication, but rather two sides of a unique activity, which is the production and distribution of images and information. As visual regimes, both the journalistic and the artistic make claims for the truth, albeit of a different kind. The former is a coded system that speaks for the truth (or so it claims), the latter a set of activities that questions itself at every step (or so it claims), thus 'making' truth. Whereas journalism traditionally provides a view on the world 'out there,' as it 'really' is, art often presents a view on the view, positing truth through critical acts of (self)reflection and auto-critique of how images are produced, and what they say."
In this presentation the discussion will attempt to unravel how time is involved in producing images in which Cramerotti will consider the time needed for the creation, production, curation and reflection on aesthetics.
The talk invites, artists, anthropologists, philosophers, curators, program producers, journalists, writers, and interested people to join the discussion. The format of the event will introduce the main concepts of Aesthetic Journalism by Alfredo Cramerotti followed by a participatory dialogue and discussion on the above themes.
Valentina Bonizzi, artist and PhD (AHRC) at the Visual Research Centre (DJCAD, Dundee) will moderate the event.
Alfredo Cramerotti is a writer, curator and artist. His cultural practice explores the relationship between reality and representation across a variety of media and collaborations such as TV, radio, media, festivals and curation.
http://www.alcramer.net
When: Thursday 27 Feb 2014, 12.30 to 14:30.
This is a lunchtime lecture so please bring your lunch if you would like to.
Where: Centrespace, Visual Research Centre, DJCAD is located on the lower floors of Dundee Contemporary Arts, 152 Nethergate, Dundee