Online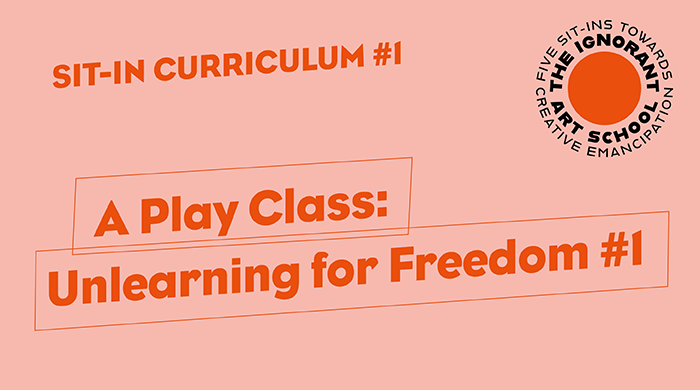 A Play Class: Unlearning for Freedom #1
Date: 3 March 2021 - 3 March 2021
Gallery: Off-site venue
A Play Class: Unlearning for Freedom #1
Workshop in association with SCRIEVE
Wed 3 March 6.00 –7.30pm
The first of two script writing workshops facilitated by playwright and community theatre director John McCann, informed by An A-Z of Dundonian Dissent co-authored by artist Ruth Ewan, storyteller Erin Farley and historian Siobhan Tolland. The material generated from these workshops will contribute to the development of an audio drama to be shared at a later date.
Free tickets are available on Eventbrite. A second workshop, Unlearning for Freedom #2, will take place on Wed 17 March, 6.00 – 7.30pm. Participants are welcome for either or both of the workshops.
This event forms part of The Ignorant Art School, Sit-in Curriculum #1.
___________________
Facilitator Biography
John McCann is a two-time Scotsman Fringe First Award winning playwright, performer, community theatre artist and director who lives in Tayport, Fife. Since May 2018 John has hosted Dundee's only playwriting scratch night: SCRIEVE. SCRIEVE contributed to Cooper Gallery DJCAD's 12 Hour Non-State Parade | International Symposium (2019) and Ambiguous Becoming (2020). John's recent productions include COME OUT FROM AMONG THEM, Edinburgh Festival Fringe, (Ambergris); DUPed (Ambergris); SPOILING (Traverse Theatre); FAMLA (Tinderbox Theatre Company); DANCING AT THE DISCO AT THE END OF THE WORLD (Replay Theatre Company).
___________________
All enquiries please contact: exhibitions@dundee.ac.uk
Funding support:
The Ignorant Art School at Cooper Gallery, DJCAD is supported by the National Lottery through Creative Scotland and the Henry Moore Foundation.