Student Event: Zine Launch, Workshop and Exhibition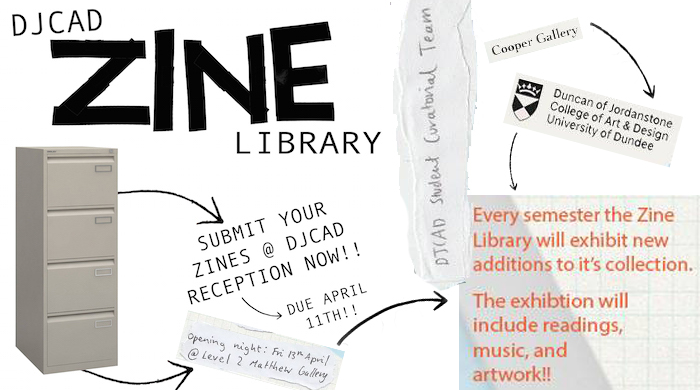 Student Curatorial Team: DJCAD Zine Library
Date: 13 April 2018 - 13 April 2018
Gallery: Matthew Entrance Gallery
The Student Curatorial team is pleased to present the opening of the DJCAD Zine Library.
Zines are a prominent part of the practices of students and staff across the art school, yet often go unnoticed. The DJCAD Zine Library aims to bring light to zine making at DJCAD, and provide a space dedicated to zines which can be used to browse and inspire ideas.
The Artists Book Collection as part of the Visual Research Centre at Dundee Contemporary Arts (DCA) is an established collection of artist made books stored and categorised in drawers. The DJCAD Zine Library is a similar form, with a focus on student made zines. The aim is to build a collection as varied and vast as the Artist Book Collection, and for it to become a permanent, ever-growing archive of student work in the art school.
This first exhibition of The Zine Library is to highlight the practice of zine making within the art school, and so features all zines submitted. Following this, future Zine Library exhibitions will be held once a semester, featuring zines that are curated to work within a theme or idea. Once we have a growing collection of zines in the library, smaller projects and workshops will be held that are related to these.
The Zine Library is currently undergoing consideration by the DJCAD library as whether to make it a permanent feature and, if accepted, will function as a reference only section of the library. Much like other features of the library the Zine Library will be a valuable resource held within the art school that can be used by staff and students to engage with zines who are unfamiliar with zine making as well as those to whom zine making is an integral part of their practice. Whilst this is under discussion, the Cooper Gallery office will be the temporary home for the Zine Library. This will work on an appointment basis by email for the remainder of this semester; by the start of the new semester the Zine Library will have permanent holdings. For updates on this, please sign up to the DJCAD Zine Library Newsletter.