Student Curatorial Team Exhibition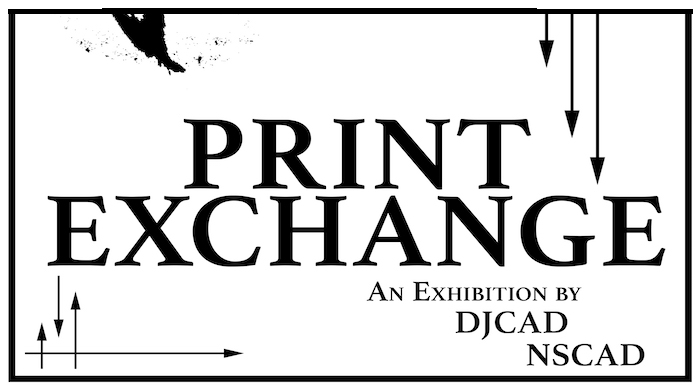 Student Curatorial Team | DJCAD NSCAD Print Exchange
Date: 30 March 2018 - 5 April 2018
Gallery: Matthew Entrance Gallery
DJCAD NSCAD
Print Exchange
Exhibition Opening: Friday 30 March 5 - 7:30pm
Exhibition Dates: 30 March - 5 April
Print Exchange is a collaborative project between students at Duncan of Jordanstone College of Art and Design (Dundee, Scotland) and Nova Scotia College of Art and Design (Halifax, Nova Scotia, Canada) who shared an interest in the medium of print. The series of works display a wide variety of techniques ranging from screen printing, lithography, etching, monoprinting and chine-nolle. The exhibition is programmed by Student Curatorial Team members.
The ideas explored across the prints are concerned with observing and interacting with the world around us. For many the focus is the natural world and celebrating all its beautiful subtleties such as those found in weeds, wild flowers and microscopic worlds. While at the opposite spectrum inspiration is further found in the alluring darkness and mystery of vast landscapes. Others, however, choose to comment on our impact on these environments, particularly focusing on our throw-away attitude towards plastics and cloth.
The urban environment serves as inspiration too. The architecture of the built environment is explored through imagery taken from derelict factory buildings or deserted bomb shelters. On a more ephemeral note, many are inspired by how we navigate and interact with urban areas and how this creates moments of drama or quiet meditation.
The collection of prints reflects each artists' contemplation and immersion with their surroundings, creating a diverse set of imagery.
(Text by Jen Lightbody)

*

The exhibition is organised by DJCAD Student Curatorial Team.
The Matthew Entrance Galleries are located at the main entrance of Duncan of Jordanstone College of Art & Design over Level 1 & 2.