Archived exhibition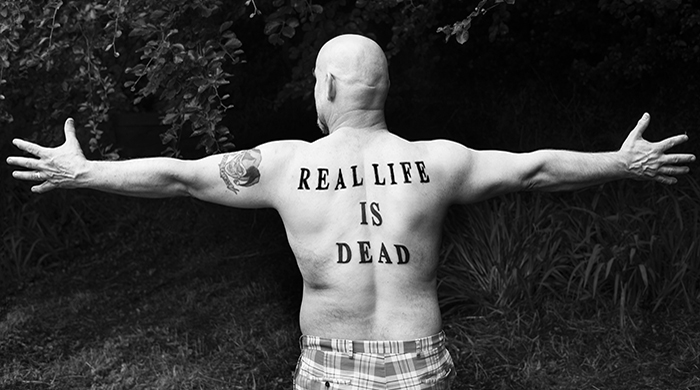 Phase Three | Ross Sinclair: Real Life Is Dead/Long Live Real Life
Date: 22 September 2017 - 10 November 2017
Gallery: Cooper Gallery
CURRENT |????: Contemporary Art from Scotland
PHASE THREE
Shanghai Himalayas Museum
Ross Sinclair: Real Life is Dead/Long Live Real Life
Real Life is Dead/Long Live Real Life sees 'Realifer' Sinclair bring his 'Real Life' to China. Heralding a new phase in Sinclair's expansive ongoing project, the CURRENT exhibition will mark the days, weeks, months and years that comprise the first 23 years of Sinclair's 'Real Life'.
A leading figure in contemporary art in Scotland, Sinclair began the Real Life project in 1994 with the words 'Real Life' tattooed on his back. Following this definitive act Sinclair developed Real Life as a series of exhibitions, performances and installations internationally. Acting as a protagonist the tattoo provides a visual and conceptual paradigm with which Sinclair explores the problems and tensions of being in the world.
For the exhibition at Shanghai Himalayas Museum Sinclair will add the text "is Dead" to the 'Real Life' tattoo, propelling the project into a decisive new stage. This next phase in the character of the Realifer summons a need for a renewed sense of purpose and determination for individual and collective voices to be heard. Appearing against a global context in which it is impossible to discern what is 'real' whether politically, historically or economically, Real Life is Dead is a statement of commitment. Echoing the traditional phraseology of 'the king is dead, long live the king' Sinclair's Real Life is Dead/Long Live Real Life is an affirmative call to the future.
For the exhibition in Shanghai Himalayas Museum, the artist will create a new installation work consists of multiple editions, banners, music and videos that represent the years, months and days of the 23 years since Sinclair initiated the Real Life project. Sound-tracked by two new songs produced with a band of Sinclair's students from Glasgow School of Art, Real Life is Dead/Long Live Real Life measures and marks the passage of time with an implicit ethos of collaboration; the essential condition and quality of 'Real Life'.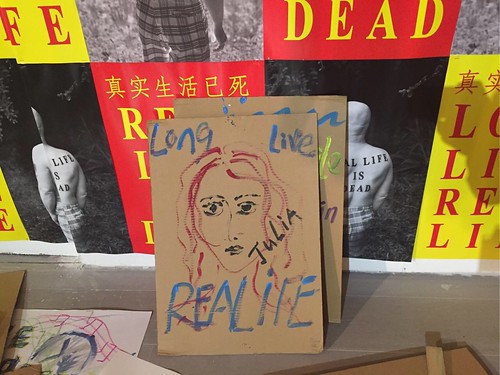 Installation views courtesy Shanghai Himalayas Museum
Ross Sinclair inviting audiences to Paint What You Think. Images courtesy Shanghai Himalayas Museum
Biography
Ross Sinclair is an artist, writer and musician and is currently Reader in Contemporary Art Practice in the School of Fine Art at The Glasgow School of Art. He is best known for his Real Life project, initiated when he had the words REAL LIFE tattooed in black ink across his back at Terry's Tattoo parlour in Glasgow in 1994. The Real Life project has been disseminated across a range of exhibition and publication contexts, positioned against a critical framework of contested models of audience participation. This has built a 23-year 'durational performance project' that connects with the public at a dynamic intersection of ideas, context, performance and art-practice.
Sinclair was one of the key figures in the boom of Glasgow contemporary art in the 1990s when contemporary artists from Scotland made a provocative stir in the international art scene, which was dubbed by curator Hans-Ulrich Obrist as "the Glasgow miracle". Having utilised music throughout his practice since the 1980s, when he was a founding member of one of Glasgow's most popular indie bands, The Soup Dragons, Sinclair has been a leading artist in the collaboration between art and music in Scotland. In 2015 he released a gatefold vinyl album with booklet documenting a 3-year project with Collective Gallery in Edinburgh 20 Years of Real Life: Free Instruments for Teenagers where he worked with young people developing, recording and releasing music made on instruments given away for free during his exhibition of the same name at The City Dome, on Calton Hill in Summer 2014.
Ross has exhibited widely internationally. In 2016 Sinclair was a Visiting Fellow at St Johns College, Oxford University, where he undertook a 3-month Artist in Residence programme making a series of site-specific works. In 2015, he was commissioned by UK Parliament to contribute to a year-long project in Westminster Hall, Palace of Westminster. Sinclair has also published many essays and texts in books, journals and magazines and has written extensively on the generation of Scottish artists emerging from the 1990's onwards, recently contributing an essay on (2010 Turner Prize winner) Susan Phillipsz, entitled Socialism in Her Heart, to the Artangel/Konig monograph 'You Are Not Alone.', 2014.
Recent exhibitions include: We Love Real Life Scotland, as part of the nationwide survey, Generation: 25 Years of Contemporary Art in Scotland, GOMA, Glasgow, 2015-16; OVER OVER OVER, Simone de Souza Gallery, Detroit, 2015; Real Life Rocky Mountain, Scottish National Gallery of Modern Art, National Galleries, Edinburgh, 2014-2015; 20 Years of Real Life, Collective, Edinburgh, 2014; Real Life Top Ten Songs of Wales, Locws International, Swansea 2014; I Tried to Give Up Drinking with Guitars instead of God, The Duchy, Glasgow, 2013; and Real Civic Life, Angelika Knäpper Gallery, Stockholm, 2010.
Images courtesy the artist.


* * *
CURRENT | Contemporary Art from Scotland (Phase Three) is a collaborative project between Cooper Gallery DJCAD, University of Dundee in Scotland and Shanghai Himalayas Museum, in partnership with British Council. It is one of the programmes in the Spirit of Youth campaign in 2017, brought by the UK government including the British Council and Visit Britian.

CURRENT | Contemporary Art from Scotland is kindly supported by the British Council, China-UK Connections through Culture, The National Lottery through Creative Scotland, Scottish Government, and is part of the Spirit of Youth programme. CURRENT is a direct result of the Research and Development Trip (January 2014) funded by Creative Scotland.