Archived exhibition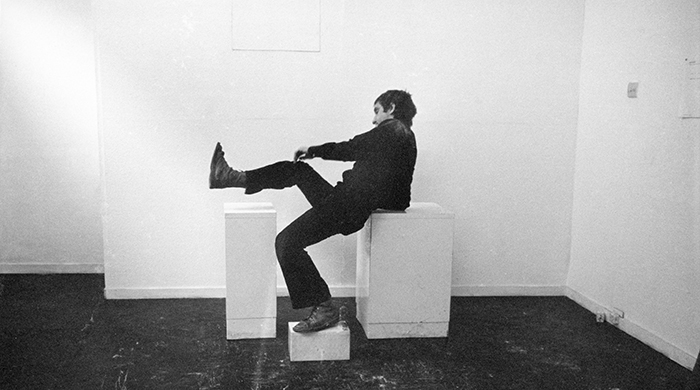 Phase Three | Bruce McLean: I Want My Crown
Date: 22 September 2017 - 10 November 2017
Gallery: Cooper Gallery
CURRENT |????: Contemporary Art from Scotland
Shanghai Himalayas Museum
Bruce McLean: I Want My Crown
Spanning over forty years of his work, I Want My Crown is the first major exhibition in China of the preeminent British artist Bruce McLean, capturing the artist's subversive wit at its most posed and incisive.
At the forefront of Conceptual Art in Britain in the 1960s, McLean's work embodies a playful and critical stance on the formalities and hierarchies that haunt the condition of sculpture. Not content to let it rest on a plinth, McLean levers sculpture onto the screen and into the photograph, opening up a subtle and complex mediation on sculptors and their medium.
Emboldened by McLean's deft sure footedness, the exhibition orchestrates his video and photographic works into a single expansive visual field, opening up the innumerable references, quotes and reversals of expectation that give McLean's work its bravura essence. Choreographing dining, dancing, chest freezers and ladders, the works in the exhibition performs a perfect pose, rich with an allusive critique of contemporary times.
Embodying McLean's consistent moves to upend the conventions and limits of what sculpture could be and critique the fashion-oriented, social climbing of the contemporary art world, the exhibition at Shanghai Himalayas Museum will present the artist's earlier films, video and photographic documentation of actions alongside newly created work. This includes rarely-seen video recordings of actions by the collective group Nice Style: The World's First Pose Band established by McLean and his collaborators in 1971. High on a Baroque Palazzo (1974) captures the group performing synchronized actions in their effort to attain the 'perfect pose' and Deep Freeze (1973) sees the 'playing' freezer doors in orchestrated gestures. In Urban Turban (1997) McLean returns to 'gesture' in a work that uses positioning, posturing and non-verbal communication to confront the nature of bureaucracy, institutional politics and the pretensions of the art world. This latter point is virtuously elaborated in Soup: A Concept Consommé, which depicts a hard-to-please couple dining in an upmarket restaurant, while an aloof waiter serves different modernist sculptures to the table in soup bowls. Lending its title to the exhibition, the video work, I Want My Crown (2013) has McLean looking slightly awkward and repeatedly pointing to a sculpture of a crown above his head as he dances to British rock singer Kevin Coyne's 1973 song 'I Want My Crown'. For the exhibition in Shanghai McLean has made a new film in which he dances to another Kevin Coyne song 'Chicken Wing', a work that alludes to a seemingly absurd yet illuminating message "What you're doing there? I'm only doing my thing."
Acting as a counterpoint to the video works McLean's exhibition includes a selection of photographic works and documentation of actions from 1969 to 1971. Including the iconic Pose Work for Plinths (1971) and Fallen Warrior (1969) these key works encapsulate the abiding ability of McLean's practice to trouble the often pretentious narratives that mark sculpture and the art world itself.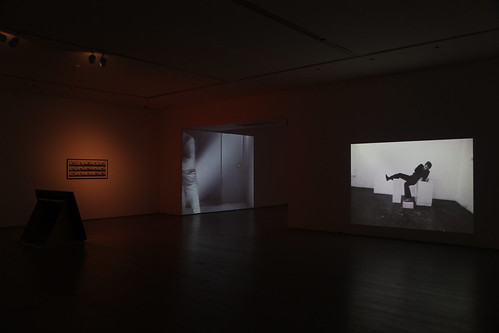 Installation images courtesy Shanghai Himalayas Museum.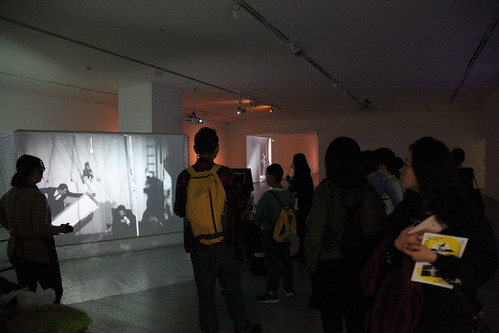 Pose and Gesture workshop devised by Shanghai Himalayas Museum. Photography courtesy Shanghai Himalayas Museum


Biography
Bruce McLean (born 1944 in Scotland) is one of the major figures of British contemporary art. McLean studied at Glasgow School of Art and at Central Saint Martins in London, where he was taught by British sculpture masters Anthony Caro and Philip King. McLean came to prominence in the late 1960s interrogating the hierarchies, values and assumptions of sculpture, while working at the forefront of the development of Conceptual art in Britain. In 1971 McLean and his collaborators Ron Carr, Garry Chitty, Robin Fletcher and Paul Richards established 'the World's First Pose Band: Nice Style', presenting 'live sculptures' in various venues. Behind the obvious humour was a desire to break with the establishment, something that he has continued to do throughout his life and work. With characteristic wit McLean has worked across a wide range of media including, performance, photography, film, dance, painting, ceramics and artist books to confront the pretensions of the art world, the nature of bureaucracy and institutional politics.

Bruce McLean's work is in private and public collections world-wide and he has had numerous one man shows in both Europe and North America. He participated in the highly regarded, When Attitudes Become Form, curated by Harald Szeemann in 1967; Op Losse Schroeven, Stedelijk Museum, Amsterdam 1969; Information, curated by Kynaston L. McShine at the Museum of Modern Art New York 1970, and The British Avant Garde, New York Cultural Centre 1970. In the 1980's he participated in important shows including, A New Spirit in Painting, Royal Academy 1981; Zeitgeist, The Martin Gropius Bau, Berlin 1982; and documenta 6, 7 & 8, Kassel.
Recent exhibitions include: Bruce McLean: A HOT SUNSET and SHADE PAINTINGS, Bernard Jacobsen Gallery, London, 2017; Bruce McLean - Out Of Stoke, Contemporary Ceramics Center, London, 2016; Urban Turban: A Moving Picture + A Well and Carefully Peeled Potato: A Still Painting, Tanya Leighton Gallery, Berlin, 2015, Bruce McLean: Sculpture, Painting, Photography, Film, firstsite, Colchester, 2014 and A CUT A SCRATCH A SCORE: A Comic Opera in Three Parts, Cooper Gallery, Dundee, 2013.

McLean was awarded the John Moore's prize for painting in 1985, and was the Head of Graduate Painting at the Slade until 2010. He lives and works in London.
Images courtesy of Tanya Leighton Gallery, Berlin.
* * *
CURRENT | Contemporary Art from Scotland (Phase Three) is a collaborative project between Cooper Gallery DJCAD, University of Dundee in Scotland and Shanghai Himalayas Museum, in partnership with British Council. It is one of the programmes in the Spirit of Youth campaign in 2017, brought by the UK government including the British Council and Visit Britian.
CURRENT | Contemporary Art from Scotland is kindly supported by the British Council, China-UK Connections through Culture, The National Lottery through Creative Scotland, Scottish Government, and is part of the Spirit of Youth programme. CURRENT is a direct result of the Research and Development Trip (January 2014) funded by Creative Scotland.