Archived exhibition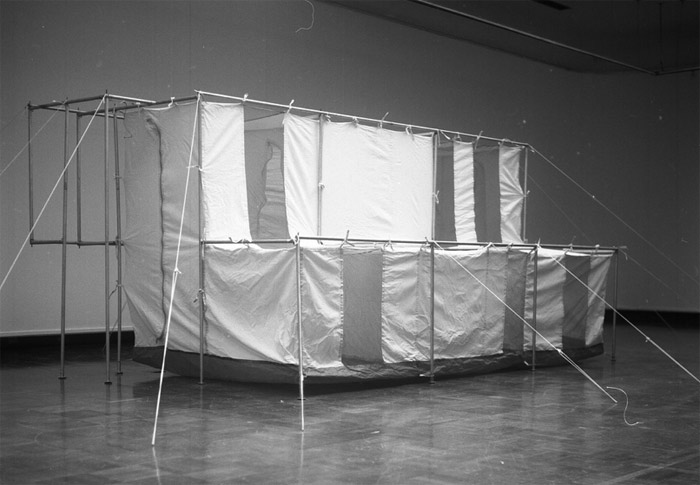 Paul Noble
Date: 19 March 2011 - 16 April 2011
Gallery: Cooper Gallery
"There is a clearing in a wooded area on the edge of town that is a quiet place for those people who find even the unpopulated Nobson Newtown too crowded".
Internationally celebrated British artist Paul Noble breaks new ground for his Nobson Newtown with TENT at Cooper Gallery, through re-locating a pictorial space into the dynamics of a real place.
Under a stationary sun Paul Noble's Nobson Newtown works words into literal places. This ongoing portraiture of an impossible landscape, described as 'a cross between Robert Crumb and Hieronymus Bosch' (The Guardian, 2008), draws in a wreckage of architecture and philosophy. The edge of this landscape of tree stumps, amorphous monuments and untenanted architectural fantasies is redrawn in Cooper Gallery through an installation of drawings, photography, ceramics and a tent.
TENT is a critical work that marks a departure in Noble's practice. Conceptually faithful to Nobson Newtown, this new body of work is a stage set for "a play without acts". Placing the viewer directly inside Noble's space of language, TENT is the physical and architectural realisation of Nobfont; Noble's own invention for a place that makes stories.
Paul Noble's epic yet bleakly humorous works first came to prominence during his time as one of the founder members of the influential artists run venue: the City Racing gallery in London (1988–98). Since then Noble has produced an extraordinary range of works that combine meticulous craft with an ethical and political vision. Noble gained international recognition in the 1990s for his monumental ongoing project – the imaginative depiction of a fictional place called Nobson Newtown, of which his new exhibition TENT at Cooper Gallery is a part.
His synthesis of drawing, architecture, philosophy and satire has been exhibited at numerous internationally significant venues including Tate Gallery, the Whitechapel Gallery and Gagosian Gallery New York. His works are also held in the collections of Tate Modern, the Museum of Modern Art, New York and Middlesbrough Institute of Modern Art.
http://www.gagosian.com/artists/paul-noble/
To extend our work with Paul Noble, in 2012, we commissioned him to make a limited edition artists' book, entitled TENT, for cabin:codex, the Centre for Artists' Books relaunch project and exhibition.
We have sold out of the main production run of this publication but are hoping to release the final copies for sale to individuals and collections very soon. Please contact Exhibitions by email with any enquiries.