Exhibition & Events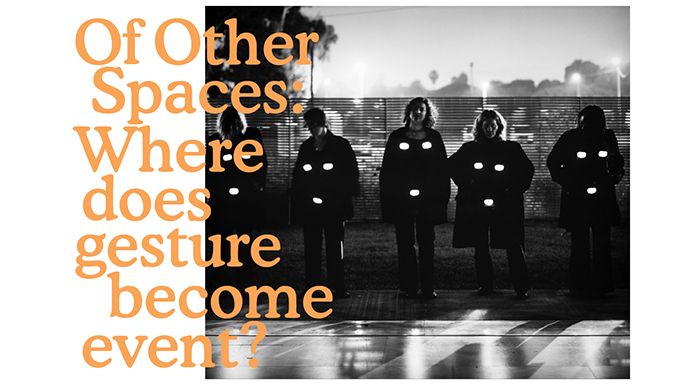 Of Other Spaces: Where Does Gesture Become Event?
Date: 28 October 2016 - 16 December 2016
Gallery: Cooper Gallery
Chapter One: 28 October – 16 December 2016
Exhibition Preview: Thursday 27 October 2016, 5:30 – 7:30pm
International Symposium:
12 Hour Action Group Saturday 3 December 2016, 11am – 11pm
Upcoming Events:
We Dance Ourselves! Re: Rosas! Participatory Dance Workshop #2 (at the Jute Museum @ Verdant Works): Thursday 8 December, 5.30 – 7.00pm
Chapter Two: 20 January – 4 March 2017

Exhibition Preview: Thursday 19 January 2017, 5:30 – 7:30pm
Closing Performance Event: Saturday 4 March 2017, 2:00 – 6:00pm
Artists featured in Of Other Spaces: Where Does Gesture Become Event? include Conrad Atkinson, Anne Bean, Cullinan Richards, Rose English, Rose Finn-Kelcey, Margaret Harrison, He Chengyao, Susan Hiller, Alexis Hunter, Mary Kelly, Lucy McKenzie, Annabel Nicolson, Hannah O'Shea, Siôn Parkinson, Su Richardson, Monica Ross, Jo Spence, Georgina Starr and Linder Sterling.
* * *
Of Other Spaces: Where Does Gesture Become Event? is a two-chapter contemporary art exhibition and event programme at Cooper Gallery and off site venues in Dundee.
Inherently radical, dissonant and often luxuriantly subversive, the artists, writers and thinkers featured in Of Other Spaces: Where Does Gesture Become Event? situate feminist thinking as a provocative and cogent mode of creative and critical inquiry.
Referencing art works, artist collaborative groups and activism from the 1970's to the present day, Of Other Spaces: Where Does Gesture Become Event? evokes the collaborative and political ethos of feminism as a discursive ground to reveal the urgency and necessity of self-organisation and alternative politics in culture, society and above all in everyday life.
Thinking 'otherwise', the artworks and archives presented in the programme subvert the mundane and the predictable to embody a desire to act against the normative, the conventional and the assumed. Erring on the side of undecidability and disavowing the 'soundness' of all boundaries, Of Other Spaces: Where Does Gesture Become Event? parades radical strategies of dissonance inviting the possibility of heterogeneous and unclassifiable apparitions of otherness.
The title of the programme is a homage to Hannah Arendt who considered politics as a 'space of appearance'; a process of being seen and heard. Deprived of this, gestures whether artistic, social or political, cannot become events that usher in new alternatives. By summoning Arendt's transgressive and rupturing 'space of appearance', Of Other Spaces: Where Does Gesture Become Event? reignites Feminist insights as a means to provoke gestures into events.
Informed by the proud history of a strong working women's culture in Dundee's jute mills of the early 20th century, which led to the nickname of 'She Town' for Dundee, the programme presents artworks by significant artists from different generations, archival material selected from the Women's Art Library (London) and the Archive Collection of Lynda Morris, live performances, screenings, collective readings and a collaborative dance project We Dance Ourselves in response to the influential feminist dance piece Rosas danst Rosas by Anne Theresa De Keersmaeker.
Artists featured in the programme include Conrad Atkinson, Anne Bean, Cullinan Richards, Rose English, Rose Finn-Kelcey, Margaret Harrison, He Chengyao, Susan Hiller, Alexis Hunter, Mary Kelly, Lucy McKenzie, Annabel Nicholson, Hannah O'Shea, Siôn Parkinson, Su Richardson, Monica Ross, Jo Spence, Georgina Starr and Linder Sterling.
Of Other Spaces: Where Does Gesture Become Event? culminates in 12 Hour Action Group; an international symposium galvanised by keynote talks, collective readings, performances, screening and a round table discussion. Juxtaposing historical and contemporary positions inscribed in art practices, 12 Hour Action Group will examine the insights of feminism as one of the most volatile and motivated political movements that critiques cultural, political and economic iterations of power. Keynote speakers include Art historian and theorist Amelia Jones, curator and art historian Lynda Morris, film theorist Laura Mulvey, Adele Patrick from Glasgow Women's Library and writer and critic Marina Vishmidt.
Of Other Spaces: Where Does Gesture Become Event? is a project initiated and curated by Cooper Gallery DJCAD University of Dundee and is supported by The National Lottery through Creative Scotland, Henry Moore Foundation, Kingston University and Scotland's Jute Museum @ Verdant Works.
For their input and discussions during the research period for the project Cooper Gallery would like to thank: Lynda Morris, Amy Tobin, Alexandra Kokoli, Helena Goldwater, Gavin Wade and Ruth Claxton (Eastside Projects), Live Art Develoment Agency (LADA) and Althea Greenan (Women's Art Library, Goldsmiths University of London).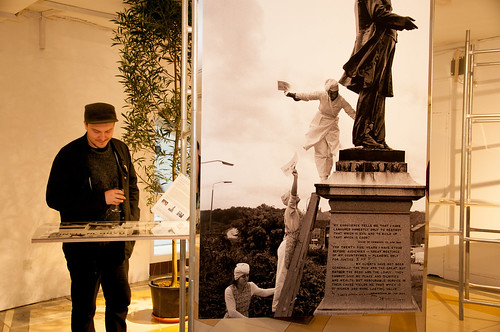 Photos from the Preview of Chapter One of Of Other Spaces. Photographer: Jacquetta Clark 2016.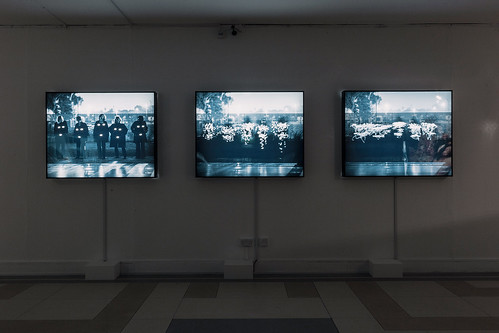 Installation Photos of Chapter One of Of Other Spaces. Photographer: Ross Fraser McLean 2016.
Artists' Biographies
Conrad Atkinson
Conrad Atkinson (born 1940, Cumbria) is a British artist whose sculptures, paintings, drawings, and public artworks are explicitly political, addressing the suffering of everyday people: miners, AIDS victims, and people poisoned by asbestos contamination, among others.
Featured inOf Other Spaces isa silk screen print/poster created by Atkinson for his 1972 installation STRIKE at the ICA, a documentation of a year-long women's strike about hazardous working conditions at Brannan's thermometer factory in Cambria. The exhibition brought together May Hobbs, the leader of Night Cleaners and Muriel Hillon, the leader of the Brannans Strike in a talk at the gallery where they both spoke. The exhibition is considered by Margaret Harrison to have 'paved the way for Women and Work and made it possible for the group to get funding as the Arts Council then approved video and documentation as an art form'.
Atkinson gained degrees from Carlisle College of Art, Liverpool College of Art and the Royal Academy Schools between 1957 and 1965, later winning a Granada Fellowship. Since 1992 he has been Professor of Art and Chair Department of Art and Art History, University of California at Davis. In 2002 Atkinson was Distinguished Visiting Professor/Artist in Residence at Courtauld Institute, London University. He is currently Professor Emeritus and Honorary Fellow Cumbria University UK.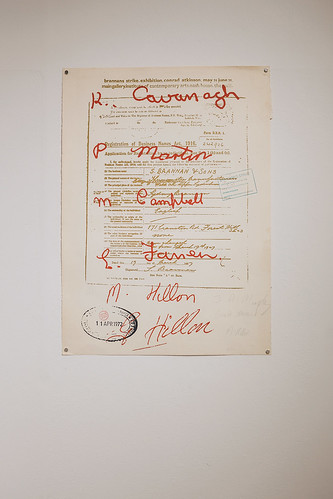 Anne Bean
A central and inspirational figure in Performance Art over 45 years, Anne Bean, born in Zambia, is intentionally a difficult artist to categorize. Since the 1970s, this 'uncatchability' has been a purposefully created strategy to question style, consistency, career and categorization itself. Morphing between numerous contexts, materials, media, collaborations, ideologies and manifestations she challenged herself to follow a trajectory that allowed for fluid, direct and dynamic response, resulting in a huge range of solo and collaborative projects as well as curatorial enterprises worldwide.
For the Of Other Spaces Chapter One exhibition, Bean will present three new works from her ongoing series of works exploring her relationships with five of her artist contemporaries who recently passed away. Bean intends for these works to be a 'femage,' with rather than for these five women, with whom, over time, she had discussed art/life strategies and negotiations. Three of these artists, Alexis Hunter, Rose Finn-Kelcey and Monica Ross are featured in Of Other Spaces and their works will be in dialogue with Bean's new sculptural installations. In addition, Bean will premiere a new live performance at the 12-Hour Action Group on Saturday 3 December and will perform with Moody and the Menstuators on Saturday 4 March, both in Cooper Gallery.
Bean has exhibited in numerous solo and has initiated/participated in numerous collaborative projects, travelling through Britain, Europe, America, Mexico, Southern Africa and Japan, at venues including Palais Des Beaux Arts, Brussels; Museum of Modern Art, Oxford; Creative Time Inc., New York; America Centre, Paris; Whitechapel Gallery, London. Bean has represented British Performance Art in Imports, The Kitchen Gallery, New York; British Radical Theatre at a banquet for Chancellor Schmidt and Henry Kissinger in Bonn; has twice participated in the Hayward Annual. Her British Council Creative Collaborations award, 2009, led to ongoing worldwide work with women from countries of conflict. She received a Legacy: Thinker in Residence Award, resulting in a major work, TAPS, 2010 including over 80 artists, engaged in improvisatory experimental practice and later inspired A Transpective, shown in Venice 2013 and The ABCD ness of it all, an Acme Artists Now commission, 2014. In 2015, she was artist in residence at Whitechapel Gallery and presented a major commission at London Contemporary Music Festival.
Between 1971-74, Bean was part of the successful cover-band Moody & the Menstruators.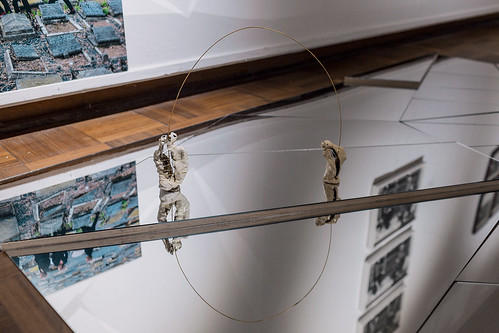 Cullinan Richards
Artist duo Cullinan Richards initially collaborated as artlab and began operating as Cullinan Richards in 2006. Their multi-faceted practice involves many different layers and elements with painting central to their art making.
For Of Other Spaces, Cullinan Richards have responded to Cooper Gallery's invitation to create a bespoke exhibition design that provides a supporting structure for the works, archives and ideas featured in the exhibition. The artists will also show specific paintings from their studio. Both the supporting structure and the paintings activate a new feminine approach to material, a central overarching interest within their practice.
In addition to their works in the exhibition Cullinan Richards are the 2016 Cooper Summer Residency artists for which Cooper Gallery have collaborated with Scotland's Jute Museum @ Verdant Works. Responding to the context of Verdant Works and the proud history of strong working women's culture in Dundee's jute mills of the early 20th century, the artists devised workshops in this spirit for local Brownie groups including a screening, rope making using Jute from Verdant Works, choreographing a 'Mushroom Dance', and outdoor activities to explore ideas of collaboration, creativity, self-reliance and expressiveness. In September, the artists presented the one off staged event Tales from Europe at Cooper Gallery as a prelude to the Of Other Spaces project.
Recent exhibitions include: Paradigm Store, Howick Place, London (2014); STAG, Dispari&Dispari project, Reggio Emilia, Italy (2014); The Ultimate Materiality of Women Part 111, Visual Art Centre, Scunthorpe (2012); Display Show, Eastside Projects (2015) Stroom den Haag (2016); DORA (2015) and The Occupants (2012), Stanley Picker Gallery, London; Cooper gallery, Dundee (2011); The Lab, Dublin (2010); The Laing Gallery, Newcastle (2010); Mead Gallery, Warwick Arts Centre (2008) and Charles H Scott Gallery, Vancouver (2008). They were included in British Art Show 7 (2010/11) and the Whitstable Biennale in 2006. In 2006 they established the Savage School Window Gallery using the window of their studio on Vyner Street, London, as a platform to display texts by writers, artists and curators. In 2014 this space became 4COSE, a social art project as Italian grocery store and exhibition space. Cullinan Richards run the MA Fine Art programme at Kingston University.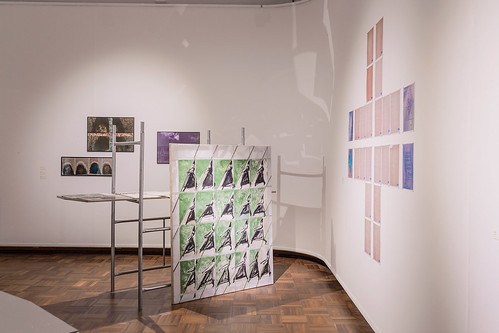 Rose English
A uniquely interdisciplinary artist, Rose English emerged from the conceptual art, dance and feminist scenes of 1970s to become one of the most influential performance artists working today. As a writer, director and performance artist, English combines elements of theatre, circus, opera and poetry to explore themes of gender politics, the identity of the performer and the metaphysics of presence.
English's legendary collaborative performances Berlin (1976) and Mounting (1977) will feature in the Of Other Spaces chapter one exhibition through ephemeral art works documenting the performances and a new audio visual composition by the artist. Made in collaboration with Sally Potter and performed in four parts between a squatted regency house, an ice rink and an Olympic swimming pool, Berlin is one of their most celebrated works, enacting a reflexive critique on the spectacle of the 'event' itself. Mounting, an interdisciplinary performance of theatre, dance, text and visual art by Rose English, Sally Potter and Jacky Lansley took place at Modern Art Oxford and parodied through political irony and subversive wit a Frank Stella exhibition on display at the time.
Ranging from site-specific performances and collaborations, her recent exhibitions include Keywords: Art, Culture and Society in 1980's Britain (Tate Liverpool, Liverpool, 2014), The Eros of Understanding (Kunsthal Charlottenburg, Copenhagen, 2014), Test Run: Performance in Public (Modern Art Oxford, Oxford, 2015), Liberties (Collyer Bristow Gallery, London, 2015), A Premonition of the Act (Camden Arts Centre, London, 2015) and Rose English (The Harley Gallery, Nottinghamshire as part of The Grand Tour, 2016). English has received numerous awards for her performances including the Time Out Performance Award, the Wingate Scholarship and the Paul Hamlyn Award for Artists. Her publications include Abstract Vaudeville: the work of Rose English which is a comprehensive monograph documenting her 40-year career to date and was published by Ridinghouse in 2014.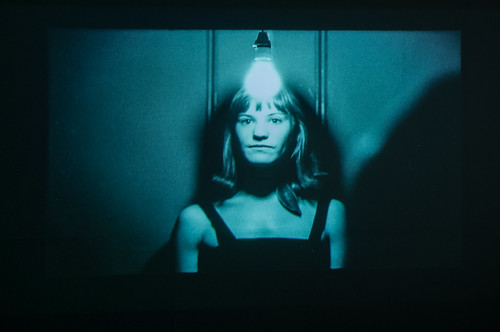 Rose Finn-Kelcey
Rose Finn-Kelcey (1945-2014, UK) was one of the most imaginative and inventive artists of her generation, influenced by the feminist movement and whose work combined ironic humour with deep seriousness. Her work spans across performance, sculpture and installation.
Featured in Of Other Spaces are Finn-Kelcey's iconic works Conversation Piece (Divided Self) (1974) and The Restless Image - a discrepancy between the felt posi­tion and the seen position (1975-2011). Inspired by psychiatrist RD Laing's seminal 1969 book The Divided Self: An Existential Study in Sanity and Madness, the photographic series Conversation Piece (Divided Self) depicts the artist in a casual conversation with herself on a park bench, creating a relaxed image of a taboo experience of the mind. For Finn-Kelcey, feminist empowerment did not preclude the feelings of vulnerability and lack of confidence to which everyone is prone. The Restless Image shows a celebratory view of the artist creating an exuberant gesture while the title reveals a comment on the divide between her internal experience and its external observation.
Solo exhibitions include: Black and Blue - The Button Pusher's View of Paradise (Matts Gallery, London, 1984), Bureau de Change (Irish version), (The Irish Museum of Modern Art, Dublin, 2003) and Rose Finn-Kelcey (Milton Keyes Gallery, Milton Keynes, 2006). Group exhibitions include Live in your Head: Concept and Experiment in Britain 1965-75 (Whitechapel Art Gallery, London and Museo de Chiado, Lisbon, 2000), A Century of Artists' Film in Britain (Tate Britain, London, 2003), How to Improve the World: 60 years of British Art, Arts Council exhibition (Hayward Gallery, London, 2006) and Modern British Sculpture (The Royal Academy of Art, London, 2011).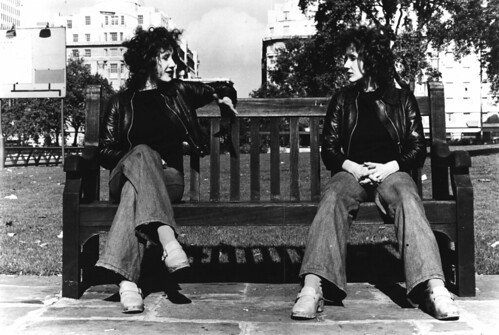 Margaret Harrison
Margaret Harrison (b. 1940, Yorkshire) is considered to be one of the pioneers of feminist art. She was one of founders of the London Women's Liberation Art Group in 1970.
Between 1973 and 1975 artists Margaret Harrison, Kay Hunt and Mary Kelly undertook rigorous research into the working conditions of women in a metal box factory in Bermondsey in London – this study resulted in the ambitious installation work Women and Work: A Document on the Division of Labour in Industry 1973-1975 currently exhibited at the Tate Modern in London. For Of Other Spaces, Harrison has contributed early materials relating to this project including a series of original photographs of the research she carried out for Women and Work.
Harrison's 2013 drawing and photographic collage These Boots Are Made for Walkingcontrasts the glamour of male and female figures of popular culture, Mick Jagger and the fictional Wonder Woman, with the urban experience and the 1980s reality of state brutality in society epitomised by the 'archetypal' female figure; Margaret Thatcher, all watched over by the stoic Ena Sharples of Coronation Street.
Since the 1970s she has shown continuously both nationally and internationally. In 2016, Harrison's work has appeared in major exhibitions at Tate Britain and Tate Modern and her work will be presented by Silberkuppe Gallery at Frieze Art Fair 2016. In 2017, Harrison will have a solo-exhibition at Azkuna Zentroa in Bilbao curated by Zabier Arakistain. Majors solo exhibitions have taken place at Ronald Feldman Gallery (New York, 2015); MIMA (UK, 2015), Whitworth Art Gallery (Manchester, 2003), Hatton Gallery (Newcastle, 2001). In 2014 Harrison was awarded the Paul Hamlyn Foundation Visual Arts Award, London and the 2013 Northern Art Prize, Leeds. Her work was included in the exhibition ''Issue: Social Strategies by Women Artists'', curated by Lucy R. Lippard, at the Institute of Contemporary Arts, London in 1980. Her work is in several museum collections including the, the Victoria and Albert Museum, Kunsthaus Zurich, Middleborough Institute of Modern Art, and many private collections.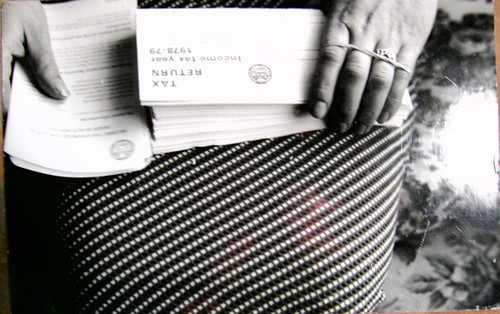 He Chengyao
He Chengyao (b. 1964, China) is an internationally established Chinese artist whose work has been widely exhibited in China, Asia, Europe, and the United States.
He Chengyao's work often draws on her mother's experiences and pain of living in China in the 1960s and 70s as a young woman who became pregnant out of wedlock and subsequently suffered a metal breakdown and ran shouting through the streets naked day and night. Her work is both an intensely powerful form of self-expression and a challenge against social stigmas surrounding mental illness and the power structure in social and institutional systems.
Of Other Spaces will feature the photographic work of He Chengyao's infamous piece Opening the Great Wall in 2001 in which He spontaneously enacted a performance by taking off her top and walking partially nude among German artist H. A. Schult's installation of one thousand 'Trash People' on the Great Wall. In this piece He reconstructed the living space of her childhood under the spatial pressure of both the Great Wall and the 'Trash People', seeing them as symbols of a patriarchal society. The ceremonial act of imitating the insanity of her mother was also a comment on the modern myth that has ruined the lives of Chinese women and their identities.
He Chengyao will present a live performance at Cooper Gallery as part of Chapter Two Of other Spaces.
Recent exhibitions include Pain in Soul: Performance Art and Video Works by He ChengYao (Shanghai Zendai Museum of Modern Art, Shanghai, 2007), THIS IS IT (Alice Chilton Gallery, New York, 2011), ART OF ENCOUNTERING VI (Kologne, 2015) and Half the Sky: Chinese Women Artists (Red Gate Gallery, Beijing, 2016). She has previously participated in exhibitions at Tate Britain, Hayward Gallery, V&A Museum, BALTIC Centre for Contemporary Art, Brooklyn Museum, Centre for Contemporary Art Ujazdowski Castle (Poland) and the Busan Biennial (South Korea).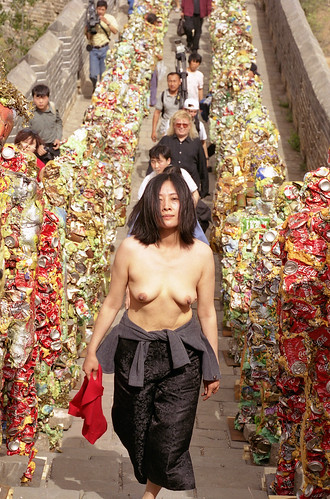 Susan Hiller
With a multimedia practice extending over 40 years, Susan Hiller (b.1940) is considered one of the most influential artists of her generation. Since first making innovative use of audio and visual technology in the early 1980s, her groundbreaking multi-screen video installations and audio works have achieved international recognition. Each of Susan Hiller's works is based on specific cultural artefacts from our society, which she uses as basic materials. Many of her works explore phenomena and ideas that are marginalised, ridiculed, patronised or simply ignored, including the practice of automatic writing (Sisters of Menon, 1972/79; Homage to Gertrude Stein, 2010), near death experiences (Channels, 2013), and collective experiences of unconscious, subconscious and paranormal activity (Dream Mapping, 1974; Belshazzar's Feast, 1983-4; Dream Screens, 1996;Psi Girls, 1999; Witness, 2000).
A selection of Hiller's Midnight Self-Portraits(1980-1989) will be exhibited alongside the replicas of Sisters of Menon(1972-79). In Midnight Self-Portraits, Hiller tackles the question of how to give substance to a feminine subject, without assuming the centrality and identity of a subject, simply designated female instead of male. The artist has developed a self-image as process and activity, which becomes Sometimes I Think I'm a Verb Instead of a Pronoun. The automatic-writing installation, Sister of Menon deals with voices, automatism and the culturally repressed. For Hiller it is not so much that automatic writing might free us all from the tyranny of our rational waking life, but that its unintelligibility and as such its marginality in our culture, is a potent symbol of female speech.
Hiller's career has been recognised by survey exhibitions at the ICA, London (1986); ICA, Philadelphia (1998); Museu Serralves, Porto (2004); Castello di Rivoli, Turin (2006); Moderna Museet, Stockholm (2007) and, most recently by, a major retrospective exhibition at Tate Britain (2011). Her work features in numerous international private and public collections including the Centre Pompidou, Paris; Ludwig Museum, Cologne; Museum of Modern Art, New York; Tate Gallery, London and the Centro de Arte Contemporanea Inhotim, Brumadinho, Brazil.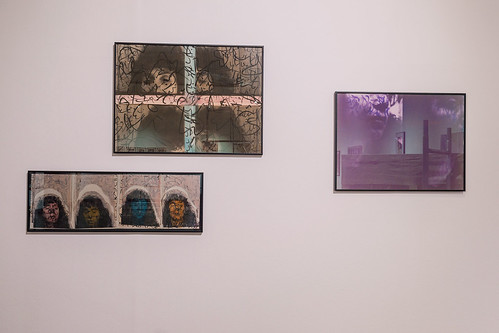 Alexis Hunter
Alexis Hunter (1945-2014) was an important figure in the feminist art movement in Britain and a proclaimed feminist. She organised and participated in numerous exhibitions in the 1970s including a Women Artists Slide Evening at the Hayward Gallery (1978) and was a member of the Women's Free Art Alliance and the Women's Workshop of the Artists Union (1972–1975).
Her three photographic works in Chapter One of Of Other Spaces:Sexual Warfare(1975), Dialogue with a Rapist (1978) and Approach to Fear XVII: Masculinisation of Society – exorcise(1977) use photography and text in a distinctly powerful way to convey a set of complex problems or emotions faced by women.
The critic Lucy Lippard noted: "Fetishism and a hint of S&M lurk just beneath the surfaces of Hunter's photographs … Her rage at capitalism is focused upon the mass media which have, as Judith Williamson puts it, been 'selling us ourselves' for profit.
Hunter's international importance is evidenced through her inclusion in international exhibitions such as WACK! Art and the Feminist Revolution (Museum of Contemporary Art, Los Angeles, 2007), Live in Your Head: Concept and Experiment in Britain 1965 - 1975, (Whitechapel Gallery, London, 2000) and the Sydney Biennale: Vision in Disbelief, (Sydney, 1982).Her works are part of respected international collections including Arts Council England, Scottish National Gallery of Modern Art, Verbund Collection Vienna, the Imperial War Museum and many others museums worldwide.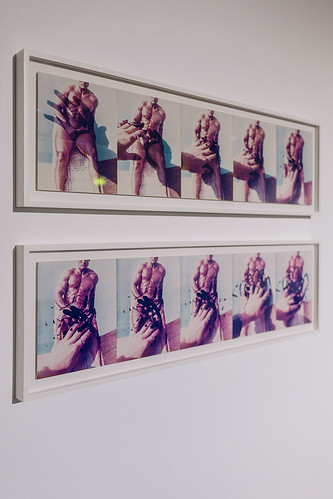 Mary Kelly
American artist Mary Kelly (b. 1941, USA) is an internationally recognized artist based in the USA and is considered among the most influential contemporary artists working today. Mary Kelly has had a profound influence on postmodernism and cultural politics, as well as the development and critique of conceptual art. Predominantly interested in the way language mediates between the social and the psychic, Kelly's working process blurs the boundaries between the personal and the political in order to address the impact of historical events on everyday life. Mary Kelly is Professor in Art and Critical Theory Art at the University of California.
Featured in Of Other Spaces Chapter One is Mary Kelly's light box installation Flashing Nipple Remix (2005-2007) on loan from the collection of the Whitworth Gallery in Manchester. Flashing Nipple Remix uses time-exposed photographs to capture moments from a choreographed re-enactment by performers of the 1971 Anti Miss World Contest protest at the Albert Hall in London where women wore flashing lights over their nipples and crotches in protest of the exploitative, commercial representation of women in the mass media of the time. Mary Kelly participated in the 1971 demonstrations and wrote a pamphlet on the history of the Miss World contest in the UK. Kelly's film WLM Demo Remix will be shown in Of Other Spaces Chapter Two in January - March 2017. The 90-second film loop uses a slow dissolve to bridge past and present representations of the 1970 Women's Liberation demonstration, marking the 50th anniversary of the 19th Amendment, in New York City. Archival material provided by the artist reflecting on her earlier practice will also be shown in the exhibition.
Kelly's work has been the subject of major solo exhibitions at the ICA, London (1976 and 1993); New Museum of Contemporary Art, New York (1990); Generali Foundation, Vienna (1998); Santa Monica Museum of Art (2001); Center for Contemporary Art, Ujazdowski Castle, Warsaw (2008); Moderna Museet, Stockholm (2010); Mary Kelly: Projects, 1973-2010, Whitworth Art Gallery, Manchester (2011) and Pippy Houldsworth Gallery, London (2014). Kelly was represented in the 1991 and 2004 Whitney Biennials, Whitney Museum, New York; Documenta 12, Kassel, 2007 and the 2008 Biennale of Sydney. In 2016, the new extension at Tate Modern has dedicated a room to Kelly's collaborative installation with Margaret Harrison and Kay Hunt, Women and Work (1973-75). Post-Partum Document: Documentation III (1975), part of Tate's permanent collection, was also featured in Tate Britain's 2016 exhibition Conceptual Art in Britain: 1964-1979. Mary Kelly is represented by Pippy Houldsworth Gallery, London and Susanne Vielmetter Los Angeles Projects.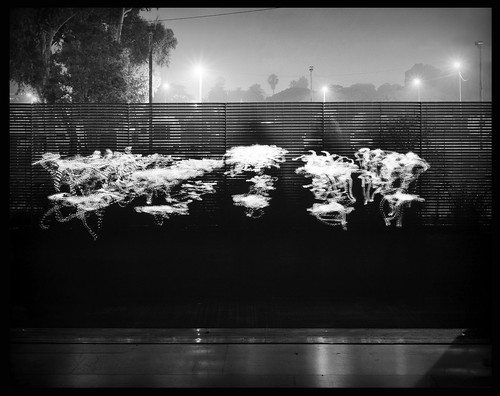 Linder
Linder (b. 1954, Liverpool) is a widely celebrated artist whose work brings together languages of graphic design, popular culture, high fashion and fine art in the production of photomontage, performance and installation. Questioning roles of gender identity and commodification in society, Linder's feminist imagery has received world-wide recognition.
Exhibited in Of Other Spaces are Linder's gothic fairytale inspired photomontages. Featuring 1950s ballet dancers counter-posed with creatures of the natural world, the works offer a window into the inherent dissonance and subversion of the fairytale. Costumes from her performance The Ultimate Form(2013) designed by the fashion designer Richard Nicoll and printed with her photomontage works, will be poised, as if to be activated once more through dance. The exhibition also features film documentation of Linder's infamous performance wearing a dress with a meat bodice at the Hacienda Manchester in 1982. This performance was a trifecta protest against the club's showing of pornographic films, the hamburgers sold at the club and the recent Bucks Fizz trope of the 'skirt rip' during the 1981 Eurovision Song Contest, revealing Linder's sustained collaborations with music and performance communities as well as a visceral references to the visual consumption of the female body.
Recent exhibitions include British Art Show 8 (Leeds Art Gallery, 2015; Scottish National Gallery of Modern Art, 2016), Performing for the Camera (Tate Modern, 2016) and Pure Romance (The Redfern Gallery, 2016). She has had solo exhibitions and retrospectives at major institutions at Tate St Ives, Hepworth Wakefield and Musée d'Art Moderne de la Ville Paris. Her major performance work The Dark Town Cakewalk: Celebrated at the House of FAME premiered at the Arches in Glasgow and Chisenhale Gallery in London. Recent she presented Destination Moon. You must not look at her! a five hour performance as part of the London's inaugural Art Night hosted by the ICA this summer. Linder played a key part in the late 1970s punk and post-punk scene in Manchester, creating the photomontage used for the Buzzcocks' debut single Orgasm Addict in 1977. Linder is represented by Stuart Shave / Modern Art, London and Blum & Poe Los Angeles.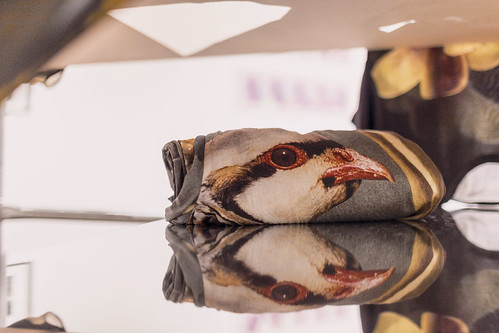 Lucy McKenzie
Lucy McKenzie (b.1977, Glasgow) graduated from Duncan of Jordanstone School of Art & Design in Dundee in 1999. Her practice blurs the boundaries between art and design, intertwining painting, craft, fashion, and architecture. She is involved in curating, fiction writing, illustration, decorative and trompe-l'oeil painting, sculpture, installation, fashion design and interior design.
Exhibited in Of Other Spaces are McKenzie's posters that are associated with the artist's 2003 'women only' soirée, part of a series of music, art and performance events called Flourish Nights that ran from 2001 to 2003 at the studio McKenzie shared on Robertson Street. McKenzie describes her curatorial rationale for this event thus: 'I thought it would be an interesting proposition for the invited artists to think about what effect a women only audience might have on the reading of their work on that night.' Another piece featured in the exhibition is the artist's poster work Olympic Dames (2003), a project conceived as a centerfold for the British journal Make: The Magazine of Women's Art, McKenzie combines imagery from Soviet gymnasts of the 1970s with pornographic images from Mayfair magazine, generating complex dialogues between the female subjects and the objectification of the athletic, female body.
McKenzie's solo exhibitions include: Ten Years of Robotic Mayhem (Talbot Rice Gallery, Edinburgh, 2006), New Work: Lucy McKenzie (San Fransisco Museum of Modern Art, San Fransisco, 2007), Projects 88 (San Fransisco Museum of Modern Art, San Fransisco, 2008), Lucy McKenzie (Museum Ludwig, Cologne, 2009) and Slender Means (Galerie Daniel Buchholz, Cologne, 2010). Group exhibitions include Foundation Contemporary Drawings Collection (MoMa, New York, 2009), Schere - Stein - Papier (Kunsthaus Graz, Graz, 2009), and Compass - Drawings from the Museum of Modern Art New York (Martin-Gropius-Bau, Berlin, 2011) and Something They Have to Live With, (Stedelijk Museum, Amsterdam, 2013).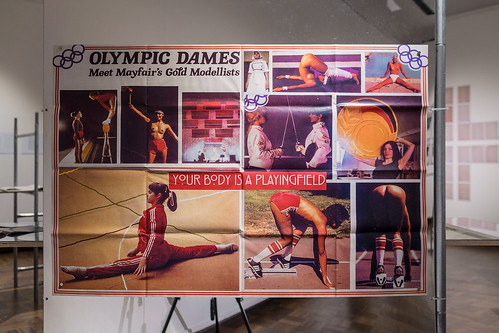 Annabel Nicolson
Annabel Nicolson (b.1946) is an artist film maker and performer based in the Highlands. She is widely celebrated for her film performance works. She was one of the few women members of the London Film-makers co-op.
For Of Other Spaces, Annabel Nicolson will show visual and textual documentation of Reel Time (1973) a performance with sewing machine, two projectors, a long loop of 16mm film and two readers. Her live works were not recorded and documentation for this exhibition will include photos and her own recollections of performing Reel Time. There will also be documentation of the Menstrual Hut, a communal space created with other women as part of the exhibition at the end of her residency at Norwich School of Art in 1981. Material from this exhibition, Concerning Ourselves, will be also be included in Of Other Spaces. Her super 8mm films Firefilm (1981) and Stock Exchange (1983) will be shown at a special screening.
Annabel Nicolson studied at Hornsey College of Art before moving to Edinburgh College of Art studying Drawing and Painting. In 1970 she attended St Martins School of Art as a post-graduate student in the Fine Art Department, specialising in film-making. She ran the gallery at New Arts Lab from 1969-70 and was later cinema programmer at the London Film Maker's Co-op. She was a founding member of Circles - Women's Film in Distribution.
She co-edited and published Readings magazine with Parul Burwell and was an editorial contributor for Musics magazine. Early collaborative exhibitions included A Room of One's Own in 1984 at South Hill Park in Bracknell. Her drawings and works in cloth were shown at Of The Cloth in 1988 at Chelsea School of Art. Recent group shows have included Film in Space at Camden Art Centre in 2012/13, Filmaktion at Tate Modern in 2012 and Winter Garden at Flat Time House in 2015. The most recent show was The Sun Went In, The Fire Went Out at Chelsea Space in 2016.
Her work is in the collection of the Belgian National Film Archive, British Film Institute and the Women Artists slide Library. Copies of her artist's books are in the V&A Museum, Tate Library and the British Library. She has taught at many art colleges including Wimbledon and Falmouth and devised the Women in Art course at Chelsea College of Art (1987-88).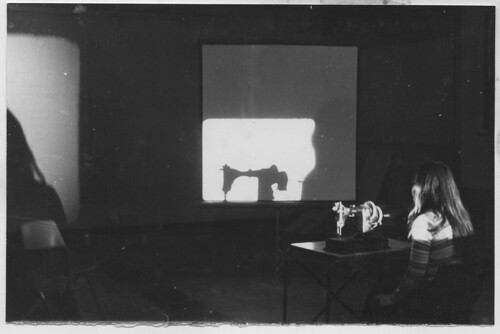 Hannah O' Shea
Hannah O' Shea originally trained in the 1960s as a sculptor at Goldsmiths, later exhibiting and teaching, under her middle name Mary. In the 1970s, while studying at the Slade, O'Shea began to work in time-based media. An active feminist, she was, with Tina Keane and Sonia Knox, one of the founder members of the Women Artists' Collective, which later included Rose Finn-Kelcey.
For Of Other Spaces O' Shea will develop a new collaborative iteration of her acclaimed durational performance work: A Litany for Women Artist's (1977), which will form part of the 12 Hour Action Symposium on Saturday 3 December.
A Litany for Women Artist's offers a means of celebrating the lives and work of women artists, as well as highlighting their erasure from historical record. O'Shea subverts the liturgical form of a litany,which is usually only sung by monks or led by a male clergy. But also refers back to the plain chant works composed by the early 11th century polymath Prioress Hidegard of Bingen, and those sung by many enclosed orders of nuns. This work was widely performed in the 1970s at Tate Britain, The Hayward Gallery and Acme Gallery in London; The Charlottenberg Palace, Berlin; MoMA, Frankfurt; The Gemeenta Museum, The Hague; Franklin Furnace, New York and in the Republic of Ireland and Northern Ireland.
Alongside Litany for Women Artists O'Shea's work has played with Catholic iconography and critiqued the Patriarchal underpinnings of theocracy. In 1985 Litany and a mixed media installation titled Upon a Marion Theme were performed at Tate Gallery (now Tate Britain). This presentation was followed by a new performance titled Hannah's At Home, which drew on the artist's experience of motherhood and attempts to combine home life with a professional creative practice. This work was also performed at Tate. O' Shea' s early work A Visual Time Span – A Visual Diary (1974,76), which compriseda collage of her early performances juxtaposed with documentation of Women's Liberation and Gay Rights demonstrations was exhibited at The ICA, London; The Third Eye Centre, Glasgow; The Arnolfini, Bristol and Franklin Furnace, New York between 1978 and 1981.
Siôn Parkinson
Siôn Parkinson (b.1978, Dundee, Scotland) Studied Fine Art at Slade School of Art, London (2007-2009), Central Saint Martins, London (2002-2005) & Die Universität der Kunste, Berlin (2004). Parkinson is an artist and singer. His performances often see him appearing in costume to invoke the voice of an animal, variously a burning elephant, a stuffed walrus, a lovelorn worm, and most recently a seal who talks and vomits.
In Chapter Two of Of Other Spaces, Parkinson will present a new performance at the closing event on Saturday 4 March 2017.
Recent exhibitions and preformances include HEY!, Glasgow International (2016), Out of the Cradle, Endlessly Rocking, CCA Glasgow (2016) – both collaborations with artist Richard Whitby and Organo Humano (The Post-Human Gospel) with Lawrence Lek as part of Syndrome Liverpool (2014). Previous events have taken place at David Roberts Art Foundation (2013), ICA London, Limoncello London (2012), Autolitalia London (2010) and Café Oto (2010). In 2012 Parkinson participated in the 48 Hour Splash residency at Dundee Contemporary Arts and in February 2011 he participated in the Live Art Residency at Chisenhale Gallery.
Su Richardson
Su Richardson is an artist whose practice has played a key role in the revaluation of craft since the 1970s. Richardson was one of the key participants in Feministo (1975-77/78), a collaborative postal art event that evolved into a travelling exhibition, most famously shown as Portrait of the Artist as a Housewife at the ICA, 1977. She is also part of Fenix (1977- 80), a collaborative project following on from Feministo, with Kate Walker, Monica Ross and Suzy Varty.
Simultaneously celebrating, exploiting and subverting the connotations of feminine craft skills such as crocheting and embroidery, Richardson's self-reflectively home-made objects stir the unconscious of domesticity, femininity and their mutual implications from a distinctly feminist point of view.
Of Other Spaces features crocheted and knitted works of Richardson's from the 1970s and 80s including her Feministo crochet which was shown as part of the seminal exhibition Portrait of the Artist as a Housewife (ICA London, 1977) and her wearable knitted body works Underwear Skinsale (1979), which references the feminist demonstrations against the Miss World Contest. Underwear Skinsale comes with a hanging price tag, epitomising discourses of resistance against sexual objectification but also rendering the designation of sexual object provisional, if not entirely avoidable.
Recently Richardson's work was presented in the internationally recognized solo-exhibition Burnt Breakfast (Women's Art Library, Goldsmiths College, London, 2012) which was curated by art historian Alexander Kokoli.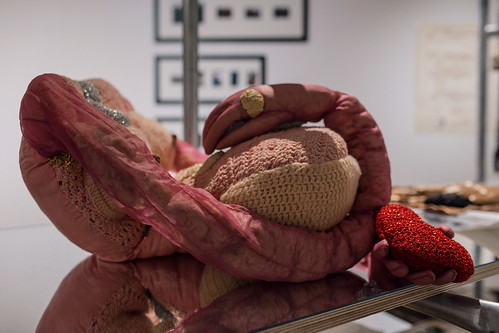 Monica Ross
Monica Ross (1950-2013, UK) was an artist working with video, drawing, installation, text and performance who first came to prominence as a Feminist artist and organizer in the early 1970s. Ross was co-responsible for collective initiatives such as Feministo (1975-77/78), a collaborative postal art event that evolved into a travelling exhibition, most famously shown as Portrait of the Artist as a Housewife at the ICA, 1977, Kunstlerinnen International 1877-1977, Schloss Charlottenberg, Berlin, 1977, and the touring project Fenix with Kate Walker and Su Richardson. Both projects made visible the conditions and constraints of the working class female artist with Fenix (1978-80) making studio practice public by appropriating galleries as workspaces.
Exhibited through documentation of an action, in Monument to Working Women (1985), we see the artists Shirley Cameron, Monica Ross and Evelyn Silver dressed as working women, intervening in a public site where History – in the monument of John Bright, an influential industrialist – misrepresents the living memories of workers, specifically women workers, and their experience of the relations between labour and capital. Her much admired text History or Not(2000), reflecting on the art, activism and relations of her women artist peers in the 70s & 80s, will be featured in the exhibition through an audio recording of her daughter Alice Ross reading the piece. A film of Monica Ross' iconic work acts of memory, a performance series in 60 Acts will be featured in Chapter Two of the project.
Her works have been presented in numerous exhibitions at esteemed art spaces since the 1970s including ICA, London (1977 & 1979), Bonner Kunstverein (1981), Ikon Gallery, Birmingham (1983), John Hansard Gallery, Southampton (1990), Kunsthalle Bregen (2001), Hatton Gallery, Newcastle (2004) and Beaconsfield, London (2009). Her seminal work Anniversary—an act of memory was performed at sixty venues in the UK and abroad and concluded with the final performance taking place at the Human Rights Council of United Nations in Geneva on 14 June 2013. Two major survey exhibitions of Ross' work are forthcoming at Chelsea Space, London (2016) and Gallery North at Northumbria University in Newcastle (early 2017).
www.monicaross.org www.actsofmemory.net www.youtube.com/user/actofmemory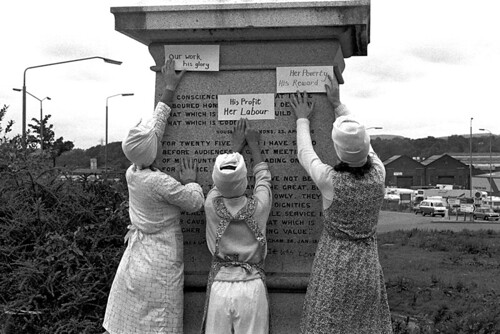 Jo Spence
Jo Spence (1934 – 1992, UK) is an artist who has been an integral figure within photographic discourse from the 1970s onwards. She is well known for her highly politicized approach to photography and the representation of her own struggles with cancer. Spence had a lifelong collaboration with the photographer Terry Dennett. She worked collaboratively throughout her career going on to co-establish the Hackney Flashers (1974 - early 80's) and Polysnappers (1980 - 82). Spence often sought alternative distribution models, laminating work for durability and renting out her photography to conferences, libraries, universities and public spaces to broaden its audience.
Exhibited in Of Other Spaces is the twelve-part series Remodelling Photohistory (1980-82), made in collaboration with Terry Dennett. In a reworking of genre photography with lessons learnt from director Augusto Boal, Spence attempted ways of working that made the image 'strange' through conflating disparate and opposing iconography including landscape, portraiture and ethnographic traditions. This was also the first time that Spence questioned the assumption of naturalism within photography through role-play and performance.
She participated in many key photographic surveys, including the seminal 'Three Perspectives on Photography' at the Hayward Gallery in 1979. Recent exhibitions of her work have taken place at Stills, Edinburgh (2016), Tate Britain (2015), Studio Voltaire, London (2012) and Gallery of Modern Art, Glasgow (2008). Jo Spence's estate is represented by Richard Saltoun Gallery in London.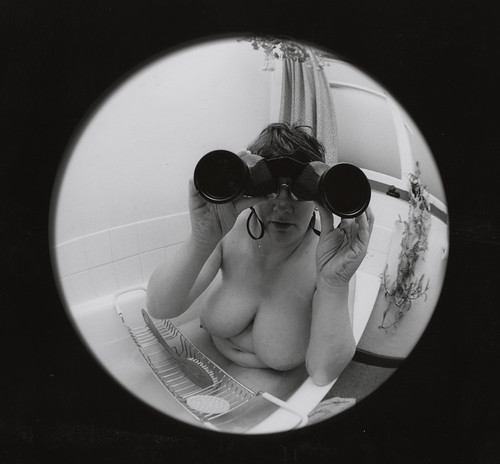 Georgina Starr
Georgina Starr (b. 1968, Leeds) is an artist who rose to prominence in the early 1990s as a YBA (Young British Artist) for her magically complex and multi-layered works, since then she has exhibited her work in numerous iconic international exhibitions. Originally studying Ceramics and Sculpture, Starr went on to make large-scale installations incorporating video, sound, painting, sculpture and performance. Her preoccupations have always been the exploration of future possible worlds. These are worlds in which she often develops her own language, characters, settings and actions, which weave together elements of fiction, philosophy, mythology and theology.
The works by Starr featured in Of Other Spaces play out these concerns through the medium and materiality of the female voice. Starr's film The Joyful Mysteries of Junior (1994-2012), in which she engages in a discussion with a miniature replica of herself named 'Junior'. Questioning the psychological anxieties around motherhood, madness and 'the double', a breakdown between self and its other is uncannily made manifest. Whilst in her new three-dimensional collage work Exorcism of the Luna Milk Orb (Study for the Birth of Sculpture) (2015) and her Cooper Gallery commissioned artists book The History of Sculpture (2013), using the form of a bubble, Starr articulates a loss of distinction between subject and object and positions the breath of the female body as a history and inherent material of sculpture. The bubble, 'an invention from nothing, a thought, a miraculous birth, the captured sculptured voice' resonates with and embodies multiple dissolutions of meaning. In Starr's work the female voice is the intrinsic channel of otherness. Starr's new film The Birth of Sculpture (2015) will be shown in the Chapter Two Of Other Spaces.
Over the last 20 years her works have been shown at Tate, MOMA New York, Museum of Contemporary Art Sydney, Kunsthalle Zurich, Kunsthalle Vienna, Venice Biennale. Recent exhibitions include FLESH (Royal Academy of Arts, London, 2009), The Joyful Mysteries of Junior (Pinksummer, Genova, 2012) and I, CAVE (Middlesborough Institute of Modern Art, 2015). There are three monographs published on her work Georgina Starr, Ikon Gallery (1998), The Bunny Lakes, Emily Tsingou (2002) and I am a Record, le Confort Moderne (2010). Starr has also produced many artist editions, vinyl records and books. In 2013, Cooper Gallery commissioned Starr's critically acclaimed exhibition and performance work titled Before Le Cerveau Affamé.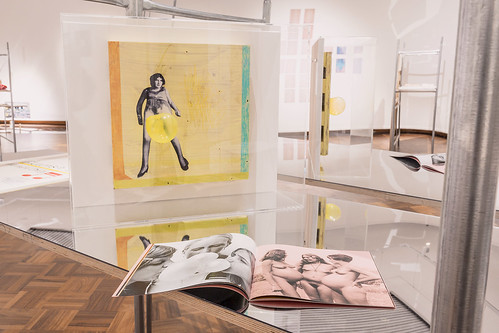 Archive Display
Women's Art Library at Goldsmiths College, University of London
The Women's Art Library began as an artists' initiative that developed into an arts organization publishing catalogues and books as well as a magazine from the early 1980s to 2002. The main purpose however was to provide a place for women artists to deposit unique documentation of their work. WAL collected personal files that functioned together as an alternative public space to view and experience women's art. Thousands of artists from around the world are represented in some form in this collection.
As part of Goldsmiths Library Special Collections, the Women's Art Library continues to collect slides, artist statements, exhibition ephemera, catalogues, and press material in addition to audio and videotapes, photographs and CD-Roms. They welcome donations from women artists to help to continue to develop this collection.
The Archive Collection of Lynda Morris
Lynda Morris is Professor of Curation and Art History at Norwich University of the Arts NUA. From 1980 to 2009 she curated the Norwich Gallery and EASTinternational, working with Mary Kelly, Alexis Hunter and Annabel Nicolson as well as Peter Doig, Neo Rauch, Jeff Wall, Lawrence Weiner, Richard Long, Marian Goodman, Peter Kennard, Gustav Metzger and Konrad Fischer. Her research for Picasso Peace and Freedom 1945-73 for Tate Liverpool 2010 led her to a re-assessment of Picasso's involvement with African Art, rejecting the primitive and asserting Modern Africa. She curated Barbara Walker's exhibition Shock and Awe of life size drawings of Black Soldiers in the two world wars, and three exhibition in Manchester for CVAN on the theme of Modern History.
Morris frequently contributes to international art journals and writes and edits publications including Unconcealed: The International Network of Conceptual Artists 1967-77: Dealers, Exhibitions and Public Collections in 2009 and Conception, Conceptual Documents 1968 to 1972 with Catherine Moseley in 2000. Recently she has written for the Herbert Foundation in Ghent and the Konrad Fischer Collection exhibition at K20 in Dusseldorf. Her archive exhibition Dear Lynda… organised by White Columns in New York was show in Dundee 2013. She has worked with and supported many women artists' practices and has provided significant support and valuable advice during the research of Of Other Spaces.
Morris holds degrees from Canterbury University (BA) and a research degree from the Royal College of Art (MA) where her thesis was on the future of Art Education, based on Art & Language in Coventry, Joseph Beuys in Düsseldorf and The Projects Class at Nova Scotia College of Art and Design in Canada. She previously worked at the ICA (1969-1972) on exhibitions including When Attitudes Become Form and Ed Kienholz 10 Tableaux and as Richard Hamilton's assistant for his Guggenheim retrospective 1973. Between 1976 and 1980, Morris organised exhibitions at the Midland Group in Nottingham including the first UK shows of Gerhard Richter, Bernd & Hilla Becher (ACGB), and Open Photography 1979 selected by R. B. Kitaj and John Szarkowski that included the first showing of Robert Mapplethorpe in the UK.
Of Other Spaces Contributing Researcher
Amy Tobin is an art historian based in London. Her PhD thesis focused on feminism, art and collaboration in Britain and the United States in the 1970s. Other research has been published in the journals MIRAJ, Tate Papers, British Art Studies and Feminist Review. Amy is associate lecturer at Goldsmiths, University of London and City and Guilds Art School. She was also a co-organiser of the Now You Can Go programme, as well as a member of the Litany Reading Group and Channels writing group.