Archived exhibition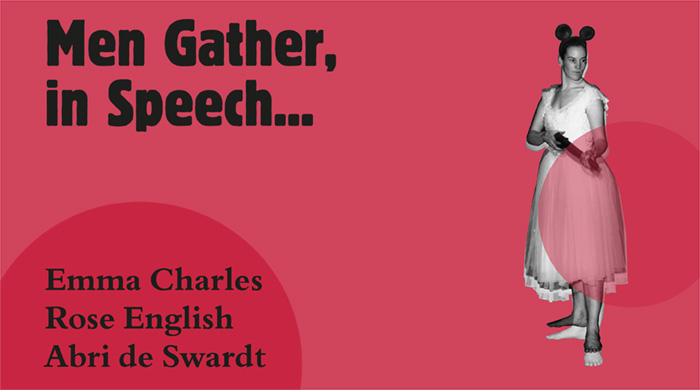 Men Gather, in Speech…
Date: 22 January 2015 - 21 February 2015
Gallery: Cooper Gallery
Preview: Thursday 22 January, 5.30-7.30pm
In Conversation: Thursday 22 January, 4.30pm
Exhibition: 23 January - 21 February.
Opening hours: Mon-Fri, 10am-5pm, Sat 11am-5pm
Cooper Gallery, DJCAD are pleased to present our January 2015 exhibition Men Gather, in Speech…, an exhibition of film and moving image art works by Emma Charles, Rose English and Abri de Swardt.
I talk to you; with those few words Politics appears.
Dialogue in its Classical sense, of which Plato is an exemplar, is a spoken exchange between embodied subjects. Although much critiqued during the 20th century, it is a mode of address that underpins Western philosophy and importantly politics. Hannah Arendt's often quoted phrase "men gather in speech" lucidly defines the human necessity of dialogue and its role as the quintessential medium of the political. But now in the 21st century the political efficacy of human speech is deeply troubled; overtaken by technological innovation and the emergence of 'post-political' thought, the inherent humanity of speech has become an enigma plagued by scepticism.
Bringing three film works by Emma Charles, Rose English and Abri de Swardt into proximity, Men Gather, in Speech… is a choreographed space that re-enacts and doubts the troubled relationships between "power and the space of appearance" in our present age. Touching upon the theatrical, the fictional and the digital, the exhibition offers a complex mediation upon speech, dialogue and the slow silencing of the political space that had once appeared between us.
Rose English is internationally recognised as one of the key artists working in performance since the 1970s. Her performance Plato's Chair was a captivating eighty-minute monologue in which English opened up key philosophical questions and submitted them to her incisive and illuminating intelligence. By turns dramatic and comedic but always startling in its use of dialogue, Plato's Chair is one of the definitive performance works of the 1980's. Recently included in the exhibition Keywords: Art, Culture and Society in 1980s Britain at Tate Liverpool (2014), this video documentation of the performance critically appropriates speech as a surprising and eloquent artistic medium.
Devised as an imagined conversation between Paul Thek, Derek Jarman and Felix Gonzalez-Torres, Abri de Swardt's I'll never wear sunglasses again approaches dialogue as a fictional and virtual medium. Conversing in an empty white void, the naked human forms in De Swardt's work are eerie symbols of the contemporary. Stripped of context, the voice and body in the cool virtual light of I'll never wear sunglasses again become bare technical devices of history, uttering a dialogue that reprises the fragmentation of knowledge in a post-internet epoch whilst lamenting voices now exhumed.
Finding its title in Karl Marx's monumental work Grundrisse, Emma Charles' Fragments on Machines unmasks the physical framework of the Internet. Omnipotently pervasive, the data centre sits at the heart of the global digital infrastructure. Codifying speech and the means of dialogue in the 21st Century, these highly elusive machines are cornered by Charles in their silent and splendid isolation behind the facades of skyscrapers in New York's Financial District. In this cogent act of revealing, Fragments on Machines underscores the final disappearance of the ancient Greek Agora, that original 'space of appearance' in which dialogue and politics for the Western world first took root.
Each of us, according to Aristotle is "by nature a political animal"; the three works in the exhibition reiterate this ancient but still crucial observation. Whilst our capacity for speech is enhanced and accelerated by the technologies pervading the contemporary world, the possibility for our speech to be heard by others is paradoxically in danger of being lost. It is from this point that Men Gather, in Speech… sets in motion a dialogue questioning how we speak to others.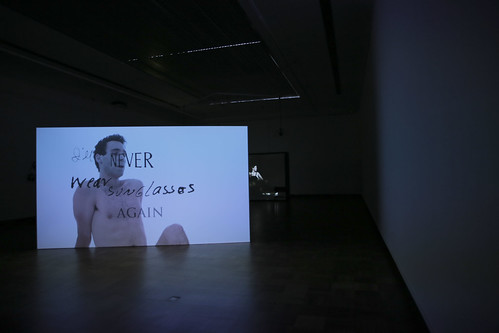 Men Gather, in Speech..., Cooper Gallery, 2015. Photos: Kathryn Rattray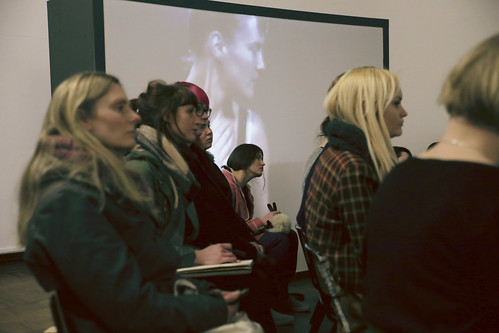 In Conversation with Rose English & Catherine Spencer and Men Gather, in Speech... exhibition Preview. Photos: Kathryn Rattray.
Video documentation of Rose English In Conversation with Catherine Spencer on 22 January 2015 in Cooper Gallery.
Filming & Editing by Caitlin Delves.
Art in Scotland TV featured an interview with Rose English and curator Sophia Hao on their channel.
The List featured a preview written by Alex Hetherington in their latest edition published on 29 January 2015.
https://list.co.uk/news/13287/men-gather-in-speech-studies-artists-complex-relationship-with-dialogue-and-the-voice
The Courier featured a preview written by David Pollock on 22 January 2015.
David Pollock The Courier 21 January 2015
The Skinny featured the exhibition in This Week in Scottish Art on 20 January 2015 and featured Abri de Swardt's I'll never wear sunglasses again as their Video of the Week.
www.theskinny.co.uk/art/news/star-boys-academicians-and-the-drouth-this-week-in-scottish-art
this is tomorrow published a review of the exhibition by Valerie Norris on 19 February 2015:
thisistomorrow.info/articles/men-gather-in-speech
Dundee University Review of the Arts published a review of the exhibition by Claire Inglis on 16 February 2015:
dura-dundee.org.uk/2015/02/16/men-gather-in-speech-2
Artists
Emma Charles
Emma Charles is a London based artist. She studied MA Photography at the Royal College of Art (2011-2013) and BA (Hons) in Editorial Photography from the University of Brighton (2006-2009).
Working with both photography and moving image, her work explores metropolitan spaces of productivity that are hidden from the public eye, primarily focusing on the more ethereal and abstract elements of industry and corporate environments.
Charles was recently commissioned for her solo show Surfaces of Exchange, Jerwood Visual Arts Project Space, London (2014). Recent Group exhibitions and screenings include Kassel Dokfest, Kassel; Marl Media Art Award, Marl Museum of Sculpture, Marl; Celeste Prize, ASSAB-ONE, Milan; Neither Here Nor There, FotoFocus Biennial, Cincinnati; Centralia, South Kiosk, London (2014); Aesthetica Short Film Festival, York; Night Contact, Contact Editions, London (2013); CAPITAL, George and Jorgen Gallery, London and London Calling: Tehran, 7Samar Gallery, Tehran (2012).
Her work has been discussed as part of the 2012 Brighton Photo Biennale symposium Visible Economies: Photography, Economic Conditions and Urban Experiences and published in collaboration with Photoworks and University of Brighton.
Charles was recently awarded a Jerwood Visual Arts Project Space commission, RCA Travel Bursary, Villiers David Bursary Award and Christopherson Foundation Grant.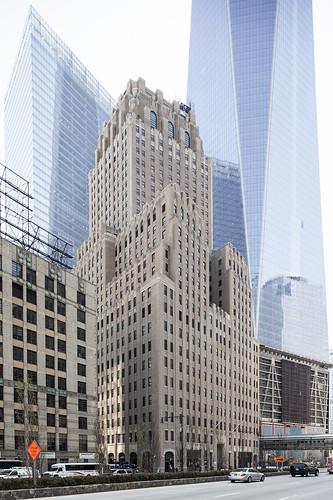 Fragments on Machines, C-type prints and film stills, 2013. Courtesy of Emma Charles.
Rose English
A uniquely interdisciplinary artist, Rose English emerged from the conceptual art, dance and feminist scenes of 1970s to become one of the most influential performance artists working today. She has been writing, directing and performing her own work for forty years, combining elements of theatre, circus, opera and poetry to explore themes of gender politics, the identity of the performer and the metaphysics of presence.
English has mounted performances in ice rinks; at the Royal Court Theatre and Tate Britain, London and Franklin Furnace, New York; and has collaborated with horses, magicians, musicians, dancers and acrobats. Her shows range from her site-specific performances and collaborations of the 1970s including Berlin, her acclaimed solos of the 1980s including Plato's Chair to her large-scale spectaculars of the 1990s including The Double Wedding. Her internationally celebrated solo with a horse My Mathematics, 1992 was followed by a series of vignettes with horses presented by Banff Centre, Canada and Serpentine Gallery, London.
English's performance works of the 1970's featured in the exhibition WACK! Art and the Feminist Revolution at the Museum of Contemporary Art, Los Angeles 2007. Her installation STORYBOARD, featured in Interloqui – a group exhibition at Caterina Tognon Arte Contemporanea to coincide with the 54th Venice Biennale, 2011. She exhibited an installation composed of elements and documents relating to her 1975 performance, Quadrille at Richard Saltoun and Karsten Schubert (both galleries), London 2013. Quadrille was shown at Freize Masters 'Spotlight', London 2013 with Karsten Schubert.
The Eros of Understanding, a solo exhibition of her performance works with horses curated by Stine Hebert was presented at Kunsthal Charlottenborg, Copenhagen in 2014.
English co-wrote and designed the feature film The Gold Diggers, 1983, directed by Sally Potter; digitally re-mastered and released on BFI DVD in 2009.
Her awards include the Time Out Performance Award, the Wingate Scholarship and the Paul Hamlyn Award for Artists. Abstract Vaudeville: the work of Rose English - a comprehensive monograph documenting her 40-year career to date was published by Ridinghouse in 2014.
www.roseenglishperformance.net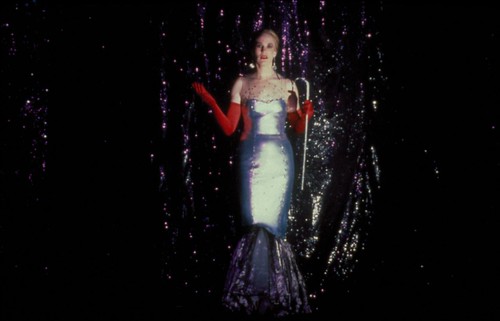 Images courtesy of Rose English.
Abri de Swardt
Abri de Swardt (born Johannesburg) is an artist based in London. He received a BA in Visual Arts (Fine Art) and a BA Hons in Visual Studies both cum laude at Stellenbosch University, where he taught part-time in Visual Studies between 2011-2012, and in 2014 an MFA in Fine Art with distinction at Goldsmiths, University of London, as a Skye Foundation Scholar.
Through various modes of collage, his work explores fantasies of digitization and forms of amnesia in relation to the figure of the ghost, the tumblrification of knowledge and erotohistiography in ways at once occult and baroque. Acts of citation and camouflage occur within a logic of the swarm, as an aesthetics of drowning.
In 2011 De Swardt held his debut solo exhibition To Walk on Water at blank projects in Cape Town, and in 2013 had a solo exhibition Catapult Screensaver at MOTInternational Projects, London. Group exhibitions include Man Magnet Melancholy at Ffrigidaire, London; Field Work, IV Moscow International Biennale for Young Art, Moscow (both 2014); Unseen Photo Fair with Cokkie Snoei Gallery, Westergasfabriek, Amsterdam; and An Experiment to Test the Destiny of the World, Ithuba Arts Centre, Johannesburg (both 2013). He has published reviews in Art South Africa and curated a performance evening Pick-me-ups & Pick-ups at the Institute of Contemporary Art, London. During January 2015 he will be artist-in-residence at the Sober and Lonely Institute of Contemporary Art.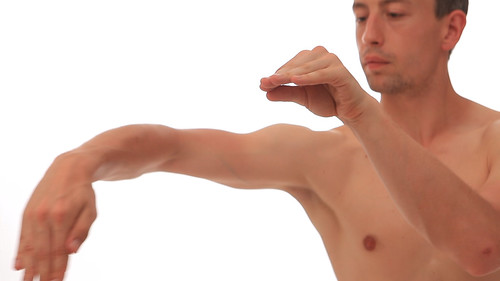 Stills from I'll never wear sunglasses again, and earlier works, courtesy of Abri de Swardt.
Image: Rose English, Plato's Chair, Laing Art Gallery, 1985. Courtesy of the artist and Locus+