Archived exhibition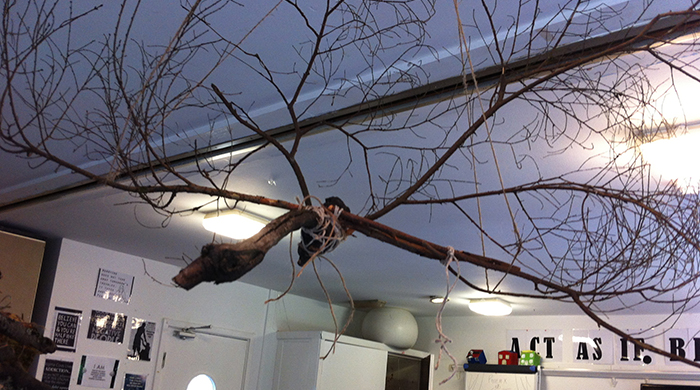 Drew Walker : Conversations of Addiction
Date: 3 October 2015 - 16 October 2015
Gallery: Matthew Entrance Gallery
Part of ISAM DUNDEE 2015 Culture and Arts Festival at Duncan of Jordanstone College of Art & Design
Conversations of Addiction
Drew Walker
Level 2, Matthew Entrance Galleries
Exhibition: 3 - 16 October 2015


Conversations of Addiction is an exhibition by artist and recent graduate of the MFA Art, Society & Publics, Drew Walker developed in collaboration with residents of Phoenix Futures Residential Centre. Walker is a patient of Professor Keith Matthews of the Advanced Intervention Unit at Ninewells Hospital in Dundee.

"These artworks reflect my experience over a period of several months in collaboration with the residents of Phoenix Futures Residential Centre, through the media of soundscape, drawing and construction, informed by the theme of conversations about substance misuse. My own experience of mental illness helped me understand the real lived-stories of substance misuse. The artistic conversations I have with nature through my installation work correlate with the reconstruction of residents' lives, as well as my own. Existing in that space between illness and wellness shaped the process of residents talking to me, answering four questions relating to their illness, recovery and art. The questions and answers are separated into four interrelated soundscapes representing community-healing and communal experience. Residents also made drawings of what they thought their addictions would look like as objects. The preconceptions I had about substance misuse, what addicts* look like and sounded like, were immediately challenged when embarking upon this project; meeting Phoenix residents made me realise that addicts are people just like you and I, coming from all walks of life and that addiction could overtake any one of us. Between this frame of mind and the misconceptions of what a mentally ill person looks like and sounds like, I found the resonance to be compelling. I should have known better. Understand and forgive. Working with the residents, their spirit and honesty inspires me and has greatly informed my practice. Professor Keith Matthews of Ninewells hospital saved my life and he asked me to contribute to ISAM.
*the residents at Phoenix Futures are never referred to as 'addicts' but as 'residents who have drug and alcohol problems'."
Conversations of Addiction is open in the Matthew Entrance Galleries, Monday - Saturday, 10am-5pm.

ISAM DUNDEE 2015 Culture and Arts Festival Duncan of Jordanstone College of Art & Design, University of Dundee
Unique to ISAM DUNDEE 2015 World Congress, Duncan of Jordanstone College of Art & Design (DJCAD) launched a programme of exhibitions, artists' talks and workshops to engage delegates attending the ISAM DUNDEE 2015 World Congress, and the local community with a variety of design and art work relating to issues surrounding substance misuse. The intention of this programme is to engage the local community with ISAM DUNDEE 2015, promoting a legacy of work that will endeavour to change the lives of people, locally, nationally and internationally and enrich the scientific programme of the congress.
The ISAM DUNDEE 2015 Culture and Arts Festival promotes a synthesis of art and design thinking through a partnership of science, design and art. There is a growing culture whereby art and design is used to facilitate the communication between communities and groups within our cities, through social engagement. Although the focus of ISAM DUNDEE 2015 World Congress is clinical and scientific, the art and design projects facilitated wider community engagement for before, during and after the Congress.


Find out more about:
ISAM Dundee Culture and Arts Festival
ISAM Dundee 2015
Hashtags: #makinghumanconnections #isam2015
Twitter: @DJCAD @ISAMDundee2015
The ISAM Culture & Art Festival has been sponsored by D.C. Thomson Ltd. and Dundee Alcohol and Drug Partnership.