Archived exhibition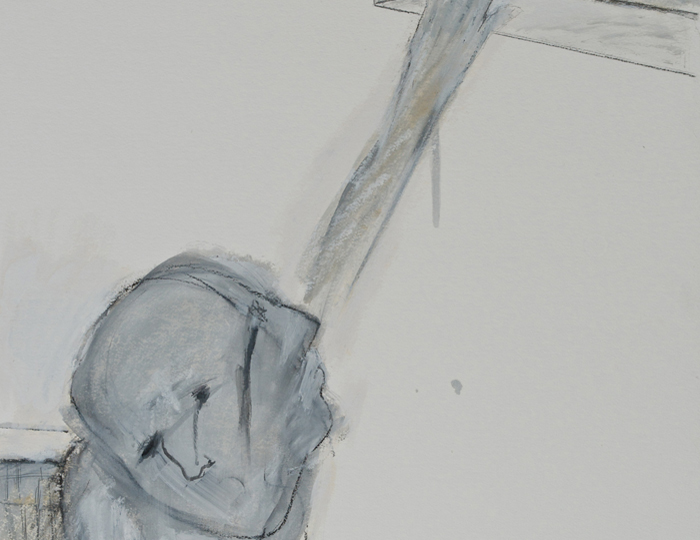 Lys Hansen & Kraig Wilson - Drawing Breath
Date: 2 March 2012 - 30 March 2012
Gallery: Cooper Gallery
Lys Hansen & Kraig Wilson
Preview: 1 March 2012, 6 - 8pm
Exhibition: 2 - 30 March 2012
In-Conversation Event: 14 March, 11am - 12.30pm, D'Arcy Thompson Lecture Theatre, Tower Building, University of Dundee, Perth Road, Dundee. All Welcome - no need to book.

The Cooper Gallery will present a special In-Conversation Event in connection with the exhibition Drawing Breath and DJCAD Art & Media Lecture series.The In-Conversation Event will be chaired by Dr. Lisa Otty of the School of Humanities, University of Dundee.
Read an article about Drawing Breath in The Herald The Herald Drawing Breath 03-03-12
For it is the shape that is the end, and something is only complete if it has an end.
Aristotle, The Metaphysics
What is a breath, and what must a weaving be, so as to come into being again as a breath?
Harold Bloom,Sticky Sublime
Drawing Breath, the second phase of Cooper Gallery's Materiality & Metaphysics Series, presents drawings, photographs and video works by the influential Scottish painter Lys Hansen and the up-and-coming Teesside based artist Kraig Wilson, whose works draw attention to the haunting encounter between the mind and the world.
The exhibition choreographs a body of raw, potent and astonishing works from two generations. Interrogating what appears abstract, but which is the root of daily experience; the reflection upon materiality and metaphysics present in Hansen and Wilson's artistic explorations, echoes the conversations generated in the juxtaposition of their works.

Created with Admarket's flickrSLiDR.
Materiality, the immediate space of emotion exists without end, pause or conclusion. It is the place of hope, terror and loss and it is in this tide of experience that the work of Lys Hansen and Kraig Wilson is situated. The images composed by the two artists capture an illusive breathing space, a moment of clarity where urgent emotions can be held under hand and eye. Hovering at the edge of materiality, Lys Hansen's drawings push against forgetting and indelibly restate what is continually felt. In Wilson's photographs and video, brief moments are brought to an intimate stillness, revealing the finality of each and every experienced moment.
Drawing a major part of Lys Hansen's practice is "a statement of the human condition" and Hansen describes the "exact marks, strokes, slashes and washes" of her drawings as being akin to "the succinct words of a poet". Since 1985 Hansen has made repeated journeys to the city of Berlin, and it is in the history and fabric of this city that Hansen finds an archetypical metaphor for the "divided self". Berlin has historically been symbolic of war and conflict, for Hansen this symbolic nature is not only political but is also directly psychological and personal. The drawings selected for Drawing Breath, all of which were made during her visits to Berlin, are a material "confrontation with the reality of life and its inherent Beauty and Truth".
The photographic and video work of Kraig Wilson embodies a "romanticism of listening and waiting" that draws deeply upon the nature of a contemporary melancholia. For Wilson the melancholic is someone that opts out of the "collective rituals in society" and his work brings into the space of images "something beautiful and unspoiled and something that could be forever". In his resistance to the material boundaries of the real world, Wilson has developed a rich body of imagery that depicts a "sense of self and purpose rooted in location". This location is not just described by place, but it is also inscribed and comes out of, the quiet solitude of the "innocent gaze and the intimate moment".
Both Hansen and Wilson, in their respective practices acknowledge the importance of language and the possibility of the pictorial space as a site of visual poetry. Kraig Wilson expresses a kinship with the literary works of Franz Kafka, but where Kafka used words, Wilson uses visual allegories in the creation of stories and myths. Correspondingly for Hansen the condition of drawing occupies the same space of representation as that of poetry, but in lieu of words Hansen offers an economy of line that embodies the emotional resonance of poetic language.
In this exhibition it is the practice of art that is on show, its limitless possibility to give shape and form to emotion and experience. This is the essence of the discourse that shadows the century old fascination of Materiality & Metaphysics.
Artists' Biographies
Lys Hansen
Born in Falkirk, Stirlingshire in Scotland to part-Danish and part-Scots parents, Lys Hansen is one of the most distinctive and prolific artists in Scotland whose work engages primarily with drawing and painting. Her main interest lies in the human condition and in the challenges of human relationships.
After graduating at Edinburgh College of Art, where Hansen was highly commended and awarded a post-graduate scholarship, she studied fine art at the University of Edinburgh. Since the 1960s to the present Hansen has exhibited both in the UK and abroad, particularly in Germany, Ireland, France and Denmark. Many of her works are in public and private collections. Hansen has also worked extensively abroad on study tours and residencies, and has maintained since the early 1980s, a practice of working for lengthy spells in Berlin.
Noted as a supporter of fellow artists, Lys is a former President of the Society of Scottish Artists and an active member of artists' societies and groups.
The major publication of Hansen's work and life is Passionate Paint: The Art of Lys Hansen. (edited by Giles Sutherland, Mainstream. ISBN 1 84018 095 1)
Entitled Behind the Lines, a new publication of Hansen's recent drawings concerning her researches and experiences in Berlin since 1985 will be published soon along with critical material.
Kraig Wilson
Kraig Wilson (b.1984) is an artist working predominantly with Lens-based media. Wilson studied for his BA (Hons First Class) in Fine Art at Teesside University (2004-07) then moved to London to take up Post-Graduate study at the Royal Academy Schools (2007-10).
Wilson's work has been exhibited both nationally and internationally and collected by both private and public collections. Wilson has also been the recipient of numerous awards and grants including the Hines LTD Photography scholarship 2010.
Recent projects include time spent in Texas living with a Baptist Christian family in pursuit of spiritual truth through conflict, what was gathered on this pilgrimage – video, photographs and sound remain largely unedited and the project considered futile.
Based in Teesside Northeast England the small coastal location provides both historical interest and access to vast landscapes which are crucial to Wilson's process. Platform, a gallery in Middlesbrough currently represents Wilson's work.
*This exhibition is phase two in the Cooper Gallery's Materiality & Metaphysics series.
The In-Conversation event will take place at D'Arcy Thompson Lecture Theatre, Tower Building, University of Dundee, Perth Road, Dundee.
The opening hours for this exhibition are: Mon - Fri 9.30am - 5pm, Sat 10.30am - 4.30pm
Image Credits:
Lys Hansen, Reach_Berlin, (detail), 2002, mixed media
Lys Hansen, Naked City II, mixed media
Kraig Wilson, Embassy Court TX, 2011, photograph
Kraig Wilson, Still Life (Mother), 2010, photograph