Archived exhibition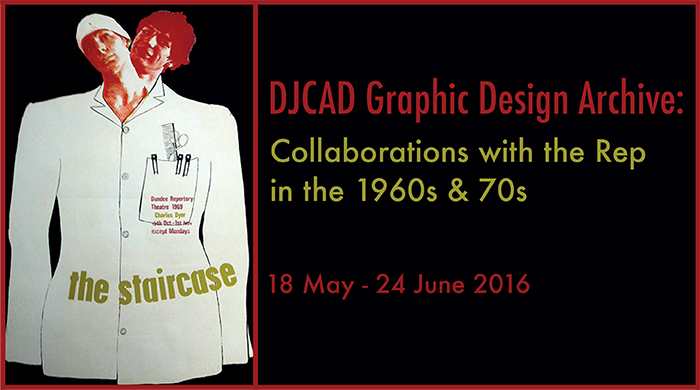 DJCAD Graphic Design Archive: Collaborations with the Rep in the 1960s & 70s
Date: 18 May 2016 - 24 June 2016
Gallery: Matthew Entrance Gallery
We are delighted to present to you a DJCAD Graphic Design Archive exhibition Collaborations with the Rep in the 1960s and 70s which coincides with the 2016 Undergraduate Art, Design & Architecture Degree Show in addition to the Dundee Design Festival.
Exhibition: 18 May - 24 June 2016
Opening Times: Monday – Friday 10am–8pm, Saturday & Sunday 10am–4pm
Free admission
Coinciding with the 2016 Degree Show and the Dundee Design Festival, we are delighted to present an exhibition of posters designed by final year students from the department of Graphic Design at Duncan of Jordanstone College of Art & Design between the 1960s & 70s especially for productions at the Dundee Repertory Theatre.
The Dundee Repertory Theatre Posters on display represent a fraction of the earliest historical work contained within what is hoped will form a Visual Communications Archive here at DJCAD. As seen in the works that form this exhibition, screen printing was the chosen medium, and stylistically the design approach is very evocative of those years, long before the advent of the Apple Mac.
The exhibition includes the posters used for productions at the Rep during that period including The Rivals, The Haunted Major, Mary Rose and The Shadow of a Gunman and amongst the designers are works by DJCAD graduates including the likes of Walter Simms, Moira Mclean, Ronald Wilson and Albert Watson OBE.
* * *
For more information about this years Degree Show, visit: http://www.dundee.ac.uk/degreeshow/
Duncan of Jordanstone College of Art & Design is located at 13 Perth Road, Dundee, DD1 4HT.