Archived exhibition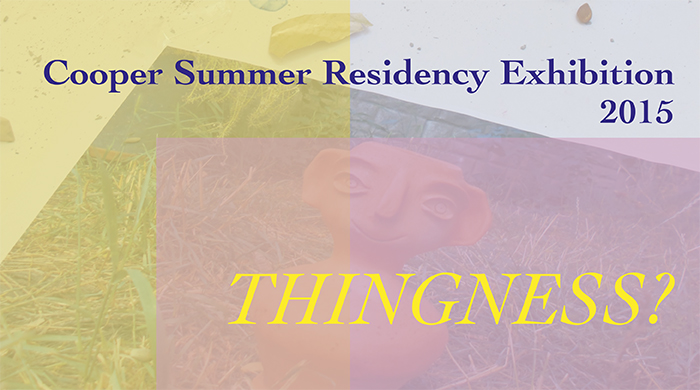 Cooper Summer Residency Exhibition 2015 : THINGNESS?
Date: 18 September 2015 - 10 October 2015
Gallery: Cooper Gallery
Artists: Oliver Braid, Anouchka Oler
Philosopher: Joseph Fletcher

Exhibition: 18 September – 10 October 2015
Preview: Thursday 17 September 2015, 5.30 - 7.30pm
In Conversation: Thursday 17 September 2015, 4.30 - 5.30pm

In July 2015, Cooper Gallery hosted Glasgow based artist Oliver Braid, Brussels based artist Anouchka Oler and Edinburgh/Gateshead based philosopher Joseph Fletcher. During the residency, the artists and philosopher discussed and reflected upon the possibility of Object Oriented Ontology as a mode of interpretation with which to encounter contemporary art practices. This has led to a body of new works and an online publication which will be presented in the exhibition at Cooper Gallery and on the Cooper Gallery website.
For their exhibition in Cooper Gallery, artists Braid and Oler will present their divergent new works which were developed while on residency. Both artists' sculptural installations dominate the gallery whilst creating purposeful withdrawals from their shared space of cultural production.
Anouchka Oler's installation investigates the precept of the performing and functional thing –object/body/mind – in contemporary society. Through multiple voices and several scenarios, her sculptural situation builds a multi-faceted hub comprising a moving-image installation, ceramic sculptures molded by the artist while in residence and at the top, a clay pot made on a pottery-wheel by the artist's mother. By mimicking a living system, the work manipulates, ingests and observes.
The recurrent motif of destruction in this body of work displays the contrived obsolescence of these objects: by loosing their sensitive qualities, they are only left with the display of time invested in them. The inclination to disappear echoes the moving-image work in its the attempt to remain opaque and inoperative. Moreover it questions the economy of an artistic practice and the life of an artist that is supposed to adapt and react efficiently to the possibilities cultural production offers.
A laptop, a white power cable, the Phew website, ten door handles, white tack dots and a distant sound; Oliver Braid has attempted to work as covertly as possible to construct an atmosphere which both withdraws from and fully dominates the gallery. Braid's work seeks to answer a question first posed by Quentin Crisp in 1981; "how, if at all, an object may express its maker to a stranger". Opposed to tackling Crisp's question directly, Braid is committed to utilizing oblique approaches in order to generate new modes of understanding.
In September 2015 Braid expatriated himself to Phew, "an island off the coast of Glasgow" and the Cooper Gallery Summer Residency has been spent developing indirect portals of promotion for Phew's first seasonal events programme, Tell Me Less & Tell Me More. This work included designing a new 'difficult-to-read' font for Phew related promotion, poetic texts for Phew's 'hard-to-access' online manifestation and exploring new ways of alerting audiences to Phew.
For the first time, this year Cooper Summer Residency invited the third resident to operate as a philosopher; Joseph Fletcher's role as this reflexive voice was confounding precisely because of the liberties that could be taken. Discussions unfurled the position of philosophical thinking in art practice and how to work across contexts, bodies of thought and models of practice. Fletcher's work during the residency was grounded in his ongoing research into community, opening up shared interests between the residency artists and creating a potential dialogue between debates around Object Oriented Ontology and the potential for a 'community of objects'. Fletcher's reflections have found their physical form through the Thingness? Online publication and via Cooper Gallery's online platforms.
Installation photos from Cooper Summer Residency Exhibition 2015: Thingness?. Photographer: Ross Fraser McLean.


During the residency, Cooper Summer Salons were held once a week to amplify the making and thinking through conversations with the audience and to enrich the thoughts of the participants. True to the informality of the events, they weren't recorded, creating an open public discussion that withdrew from the publicness of online conversational platforms.
Cooper Summer Residency is a space for artists, writers and thinkers to reflect upon and experiment with new ideas and strategies that will extend their practice. It is also a social and discursive situation for dialogues and debates to take place between residency artists, writers, thinkers and interested publics, providing an alternative way to encounter, reflect and critique the plurality of contemporary culture.
For more information about the Residency and to see photos, please visit the webpage here.

Notes on Thingness?
by Joseph Fletcher
'Thingness', posed as a question, serves as the heading under which these reflections take place. Drawn from public salons and conversations shared, extemporaneity becomes here a more patient concern. Speaking around questions of the object and of the shared experience of the demand of saying something, these remarks unfold concerns of working adjunctly with philosophy.
Week 2
How the practices might tell us something about the objects…
Week 3
Ambivalency of a use binary: use or not-use…
Week 4
Thus the question: how to work without making a work?…
Read Fletcher's notes via the Cooper Gallery Group Critical Writing website.
Visit the Thingness? online publication through the collaboratively devised and designed website here.

Photos from Preview and In Conversation for Cooper Summer Residency Exhibition 2015: Thingness?. Photographer: Ross Fraser McLean.
Cooper Summer Residency received press from local and national publications.
Residency artist Anouchka Oler wrote a piece for Central Station: The Creative Social Network titled My Process, published on 30 September 2015. Read Oler's piece here.
Dundee Review of the Arts published a review of the exhibition by Cooper Gallery Student Curatorial Team member Emma Nellies on 9 October 2015. You can read the review here.
The Scotsman included the exhibition in their Whats On in Scotland: Five things to do round-up on Thursday 29 September. You can see the article here.
The Courier and the Evening Telepgraph in Dundee both published articles announcing the beginning of the residency in July 2015.
Philosopher's Biography:
Joseph Fletcher (Gateshead, UK) is a practice-based PhD candidate at the University of Edinburgh. His work is concerned with writing and developing an ontological reading of community.
Artists' Biographies:
Oliver Braid (b.1984, Birmingham, UK) is an artist living and working in Glasgow. Braid has presented solo exhibitions and projects throughout the UK, these include: I'll Look Forward To It, Collective Gallery, Edinburgh, part of New Work Scotland (2011), My Five New Friends, The Royal Standard, Liverpool (2012), Snorlax Beanbag, Intermediary Gallery, CCA Glasgow (2013) and Communal Dolphin Snouting at Transmission Gallery Glasgow for Book Week Scotland (2013). In 2013, Braid undertook a 4-month residency at Triangle France, Marseille sponsored by Patricia Fleming Projects, Glasgow City Council International Office and Creative Scotland and in 2014 was awarded a Creative Scotland Artist Bursary. Braid holds a BA from Falmouth College of Arts and MFA from Glasgow School of Art.
Braid frequently collaborates with artist Ellie Harrison to present the Ellie & Oliver Show, a radio project which has been presented with CultureLab Radio (2012), Newcastle, the Edinburgh Art Festival (2012) and the radio mini-festival Glasgay (2012).

Braid's practice explores definitions of objects, from their objecthood to their subsequent social application, through experimental collaborative and curatorial compositions. His art works and curated projects are influenced by an aleatoric sensibility uncovered under popular 21st century thinking; observations of Objects wandering with Well-being.


Images courtesy of Oliver Braid.
Anouchka Oler (b.1988, Saint Malo, France) is an artist based in Lyon, France. Oler has shown her work throughout Europe and Internationally. Recent solo exhibitions include, IRMA, Wisconsin, Present Works, Milwaukee, USA, I smoked a Cigarette, Wondered About the Colour and Looked at You Once More, AiR-Jakobstad, Finland (2014), It is Forbidden To Feed Sculptures, Kolnischer Kunstverein/OG2, Cologne, Germany (2013) and Two Things in a Bar, BAR, Rotterdam (2011).
Oler received her BFA from École Supérieure des Beaux Arts Montpellier Agglomération in 2009, and received her MFA from the Piet Zwart Institute in 2012. She recently completed the Post-Graduate programme at the École Nationale des Beaux-Arts de Lyon, and is a 2015 resident artist at the Calcutta Art Research Foundation in India.
Oler's work often starts with materiality; the thingness of functionless forms, the materiality of language. With the help of objects and sculptures that she produces or selects, she leads a live investigation of what forms communicate in a non-linguistic manner, and what makes us sensitive to them. Oler's role is frequently made visible in relation to these forms; within her time-based pieces she performs characters that set into narratives, sculptures and objects, be it her own material production, or ones that have entered a history of cultural production.
‌Images courtesy of Anouchka Oler.
Anouchka Oler's participation in the exhibition is kindly supported by Fluxus Art Projects.

Lead image courtesy of Anouchka Oler.