Residency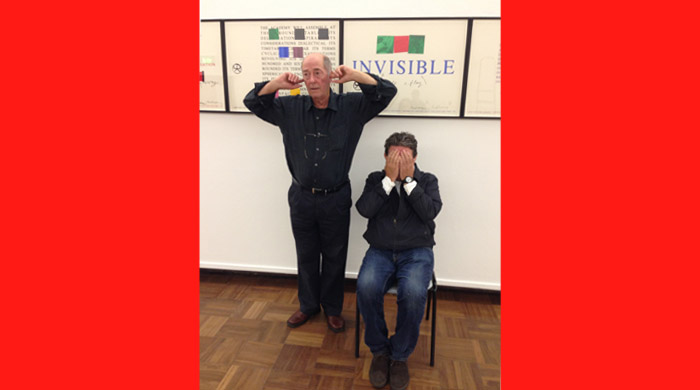 Cooper Summer Residency 2013: Invisible Residency with Mel Gooding and Bruce McLean
Date: 29 August 2013 - 21 September 2013
Gallery: Cooper Gallery
Mel Gooding and Bruce McLean
29 August – 21 September 2013
The annual Cooper Summer Residency invites artists to reflect upon and experiment with new ideas and strategies that extend or further explore their practice. For this year's Residency we are delighted that writer Mel Gooding and artist Bruce McLean will undertake an Invisible Residency to coincide with their Cooper Gallery exhibition Knife Edge Press: The Complete Works (so far).
Based on a desire to investigate the means and potential of exchanging resources and knowledge, this year's Cooper Summer Residency invites Gooding and McLean to undertake a daily visual and textual dialogue reflecting on the works in the exhibition. This will be presented for viewers in the Cooper Gallery.
Knife Edge Press: The Complete Works (so far) will showcase the critically celebrated artists' books produced to date by Knife Edge Press, the creative partnership of Mel Gooding and Bruce McLean. Alongside the artists' books the exhibition will also present for the first time, prints, posters, correspondences, photographic documentations and other ephemera generated during the twenty-eight years of creative exchange and collaboration. The Invisible Residency will provide further insight into their collaboration.
Cooper Gallery Audience members share their responses to the exhibition via Cooper Gallery Notes which was the featured blog on Central Station on 10 September 2013: http://thisiscentralstation.com/featured-blog/cooper-gallery-blog/
Publication On Offer With Cooper Gallery:
Cooper Gallery are pleased to offer visitors of Knife Edge Press: The Complete Works (so far) the opportunity to buy Three Part Piece, Bruce McLean and Mel Gooding a publication produced on the occasion of the exhibition Bruce McLean: The Shapes of Sculpture An Exhibition of Recent Paintings, 10 October - 3 November 2012, at Bernard Jacobson Gallery. Within this publication Bruce McLean and Mel Gooding reflect upon Bruce McLean's varied and humorous yet critical practice. The book includes interviews and email correspondence between Mel Gooding and Bruce McLean, as well as numerous images and documentation of McLean's practice.
The publication is a must-read for anyone interested in Bruce McLean's practice or his long-standing collaboration with Mel Gooding. If you are interested in purchasing a copy for £10 plus P&P through Cooper Gallery please email exhibitions@dundee.ac.uk for more information.
Artists' Biographies:
Mel Gooding is an art critic, writer and exhibition organiser. Gooding has written many catalogue texts? and has contributed extensively to the art press, and to? magazines and newspapers. His monographs on artists ?include Bruce McLean (1990), Michael Rothenstein's? Boxes (1991), Patrick Heron (1994), Gillian Ayres (2001),? Ceri Richards (2002), Patrick Hayman Visionary Artist ?(2005), John Hoyland (2006) and herman de vries: chance? and change (2006). He has also written on architecture, ?and on general art topics including William Alsop Architect? (1992), Joze Plecnik: The National and University Library,? Ljubljana (1997); Public: Art; Space (1998); Abstract Art? (2001); Song of the Earth: European Artists in the? Landscape (2002).
Bruce McLean is one of the major figures of contemporary British Art. Born in 1944 he studied at Glasgow school of art and at St. Martin's in London, where he was taught by Anthony Caro. All his work brilliantly sent up the pompousness of the art world and mocked established art forms. He was given an exhibition at the Tate Gallery at the age of 27. From the late 1970s he has made paintings and prints in which humour remains central.
After St. Martin's McLean went on to teach at The Slade School of Fine Art. His early reputation arose from his activities as a sculptor involved in performance art. He has obtained international recognition for his paintings and prints, work with film theatre and books. McLean's bold and confident approach to print making proved influential to his contemporaries and also to a generation of younger artists.
McLean's work is in private and public collections world-wide and he has had numerous one man shows in both Europe and North America. These include The Tate Gallery, the Modern Art Gallery in Vienna, The Museum of Modern Art Oxford and the National Galleries of Scotland. Bruce McLean was awarded the John Moores prize for painting in 1985, and was the Head of Graduate Painting at the Slade until 2010. He lives and works in London.
Invisible Residency and Knife Edge Press: The Complete Works (so far) are part of Impact 8 International Printmaking Conference: A celebration of interdisciplinarity and exploration through the medium of print. For further details of Impact 8, please see their website.
Cooper Gallery is located in the Crawford Building, DJCAD.
Mel Gooding and Bruce McLean's Invisible Residency is projected in the Cooper Gallery as a daily changing projection. See below for the exchanges so far.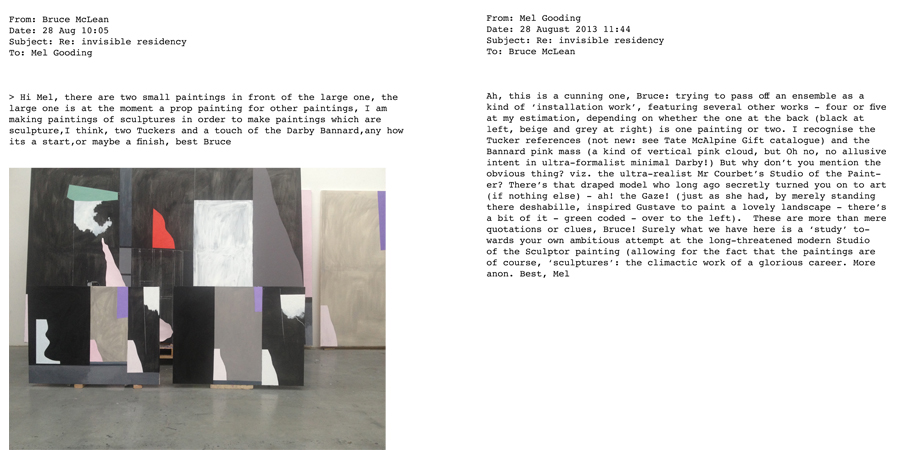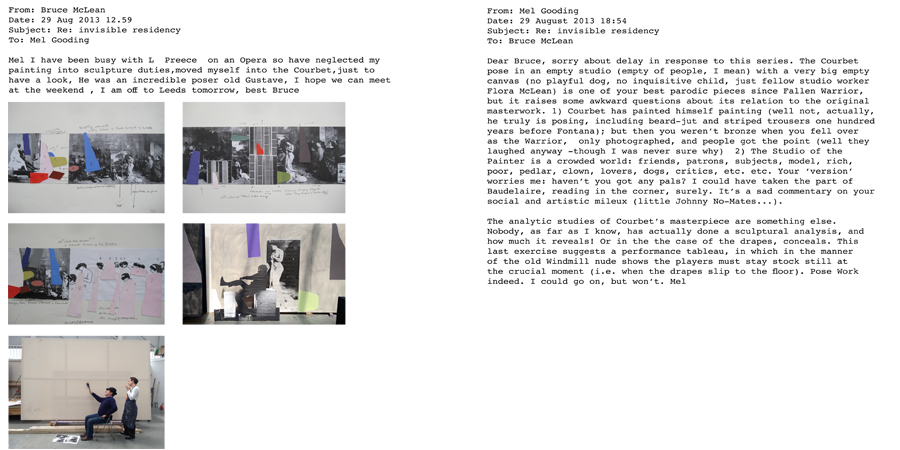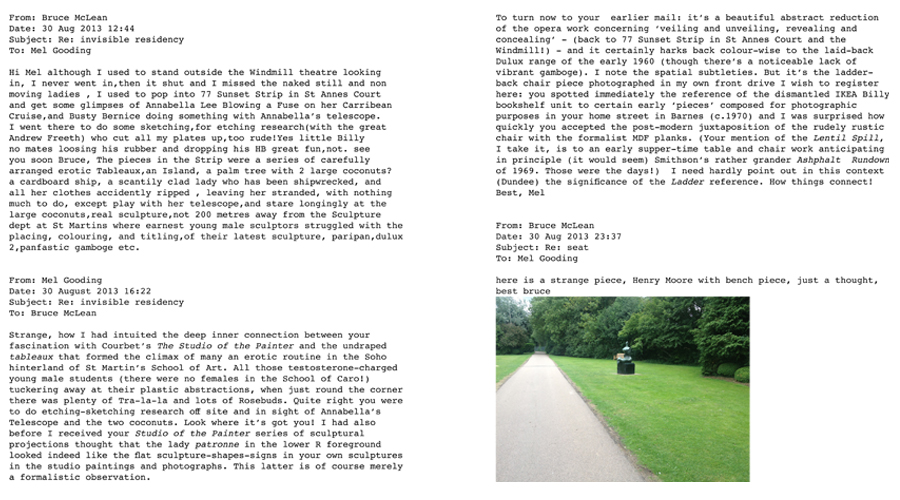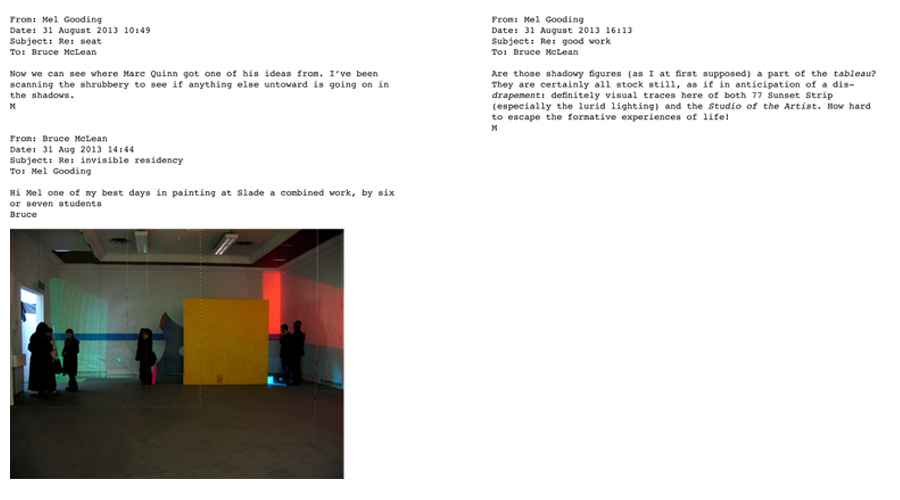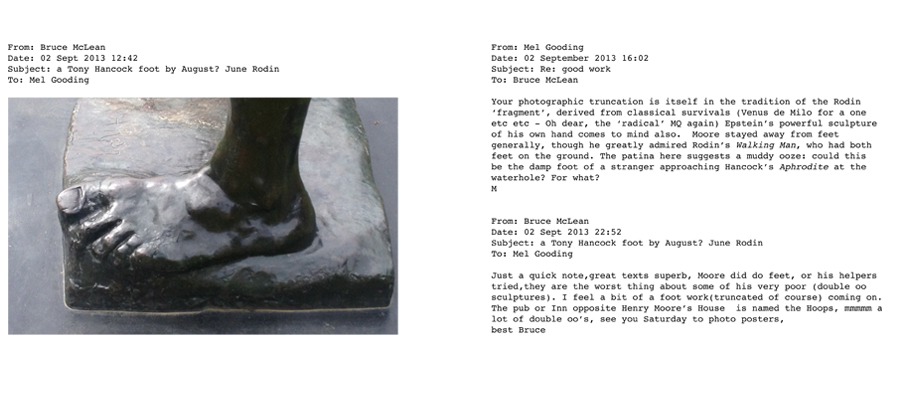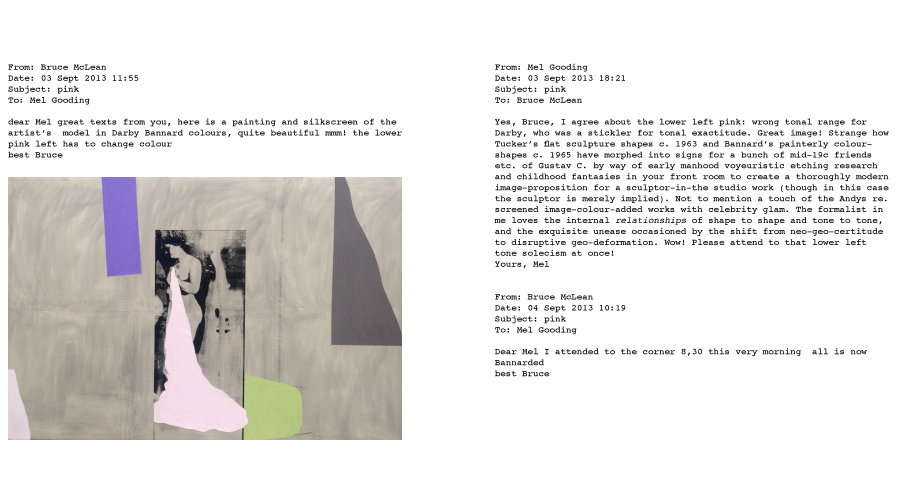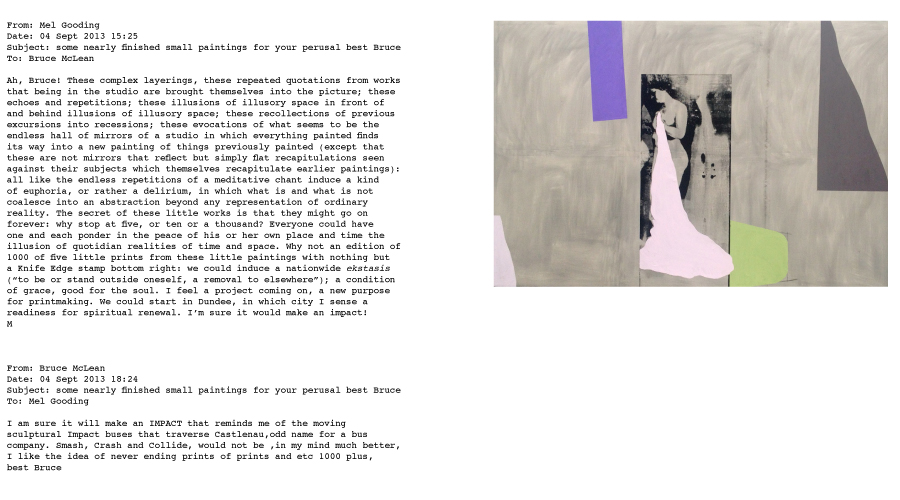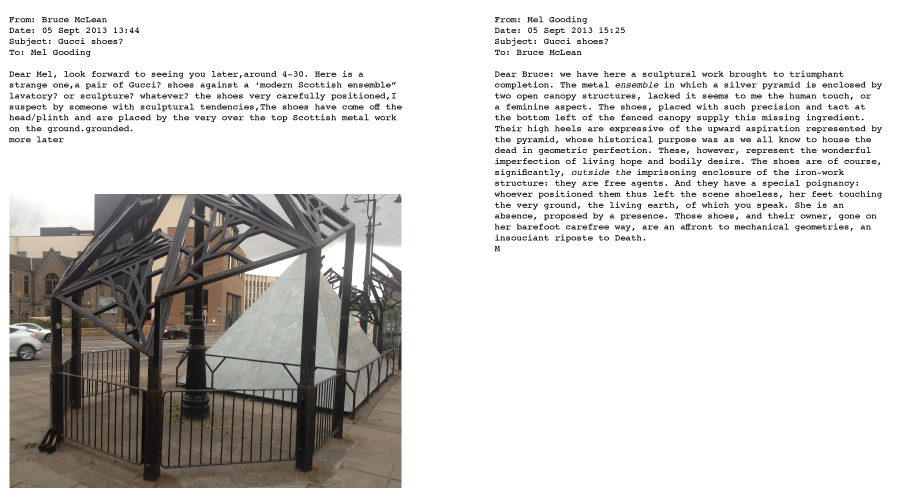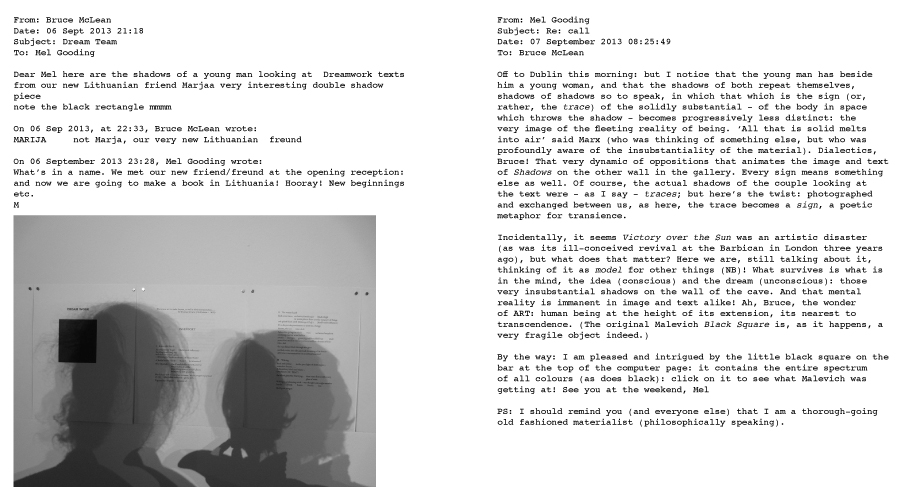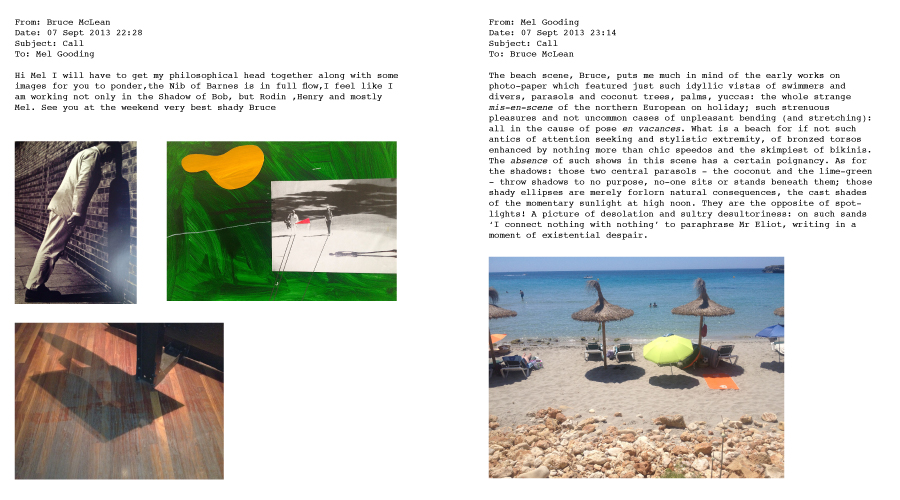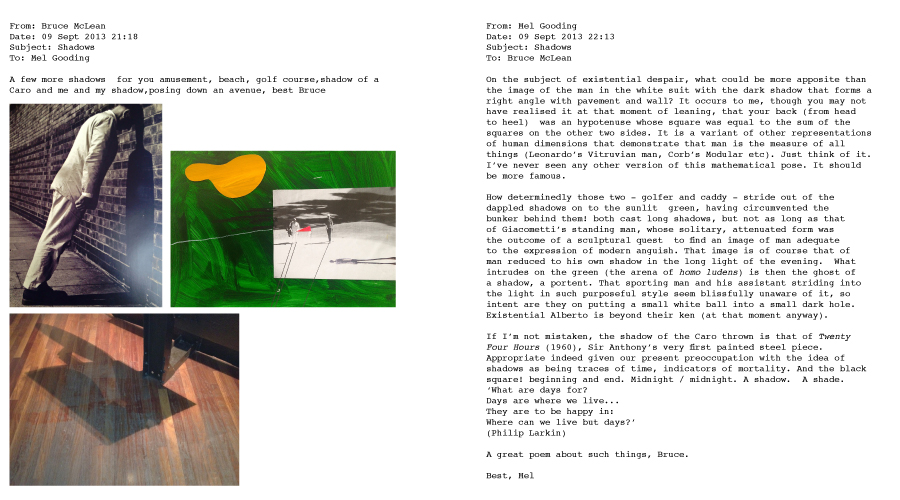 ‌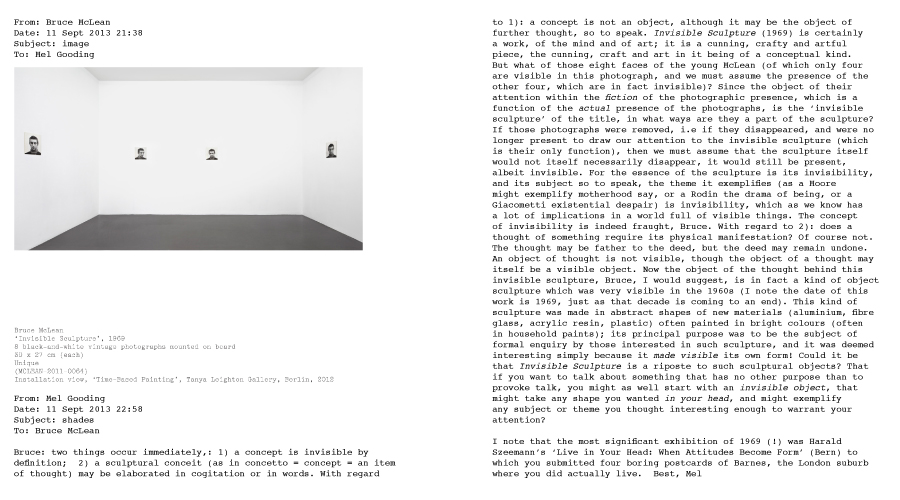 ‌