Archived exhibition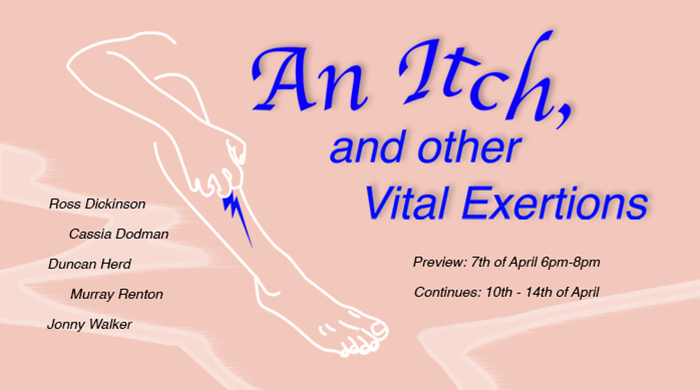 DJCAD Student Project | An Itch, and other Vital Exertions
Date: 7 April 2017 - 14 April 2017
Gallery: Matthew Entrance Gallery
Preview: Friday 7 April, 6-8pm
Exhibition: 10 - 14 April 2017
Opening Times: Mon-Fri, 10am - 5pm
Matthew Gallery, Upper Level
An Itch, and other Vital Exertions is an exhibition of work by DJCAD students; Ross Dickinson, Cassia Dodman, Duncan Herd, Murray Renton and Jonny Walker.

Energies, of all kinds, manifest in sculptural installations that reveal the diversity and various necessities of energy expenditure. Surreal alterations, erratic motions, and artificial aromas subvert the comfort of the everyday; scratching at the skin of mundanity. Works embrace the materiality of contemporary life – reflecting on objects, products, manufactured mechanisms, natural rhythms, whilst touching on somatic operations, such as An Itch, and other Vital Exertions.
* * *

The Matthew Gallery Lower and Upper Levels are located at the main entrance of Duncan of Jordanstone College of Art & Design. This exhibition takes place on the Upper Level of this Gallery.