7 October 2002

Unseen photos of The Beatles uncovered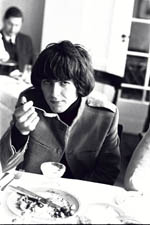 A hoard of 500 photographs, many previously unseen, recording The Beatles in candid moments during the filming of their second feature film "Help!" has been discovered amongst a collection donated to the University of Dundee by the family of photojournalist Michael Peto.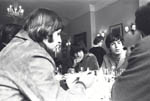 The fascinating images were hidden within a treasure trove of 130,000 photographs and negatives which Peto's stepson Michael Fodor, a former student of the University of Dundee, gifted the institution in 1971 following Peto's death. After lying unnoticed for three decades, they were only recently discovered when the collection was being sorted and digitised for The Visual Evidence, a project to create an internet database of the photographic archives of St Andrews, Dundee and Aberdeen Universities. Other gems in the Peto collection include images of Richard Burton and Elizabeth Taylor in Cambridge's Prospect Theatre Company and the only existing images of CS Lewis.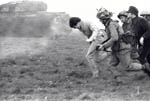 Pat Whatley, head of the University's Archives said, "Peto, whose collection is on a level with Cartier-Bresson, was a particularly charismatic individual who persuaded many famous but private figures, such as CS Lewis, to allow him to photograph them.
"He was a people's photographer and his photographs reflect the 'backstage' nature of his work and are quite unique in this respect."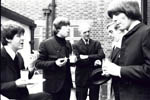 A selection of the shots have just gone on public display in the exhibition space of Cantina, the newly refurbished refectory at Duncan of Jordanstone College of Art & Design.
Commenting on the find, Scottish Culture Minster Lord Watson said, "The Beatles are an icon of the Sixties and to find a cache of unpublished material this size is extremely rare."
International auctioneers Christie's described the collection as "extremely significant."
Having been rescued from obscurity, the 500 black and white images, many of which feature John, Paul, George and Ringo relaxing between takes, are now to become a unique resource for students of a major new course in the history and practice of photography being jointly run by the Universities of Dundee and St Andrews.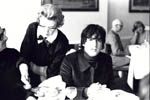 The new MLitt in the History and Practice of Photography will be taught by academics from both Universities who are also acclaimed artists, writers and theorists. Uniting the study of the history of photography at St Andrews with photographic practice at Dundee's Duncan of Jordanstone College of Art & Design, this unique one year masters degree will offer several modules, involving the study of the photographs of The Beatles and the rest of the Peto collection.
By Jane Smernicki, Press Officer 01382 344768 j.m.smernicki@dundee.ac.uk