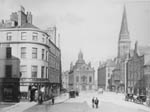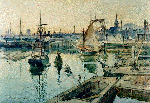 Step back in time at University of Dundee and view the city as depicted in paintings and photographs spanning the last 300 years.
To mark the recent merger of the University Archive, Records Management and Museum Services, now collectively known as ARMMS, "Dundee: The City in Art & Photography" will open in the Lamb Gallery, Tower Building, on Friday, November 22.
Many of the paintings, engravings and photographs on display have never been seen in public before, such as the eerie image of the mist-shrouded Royal Arch taken by famous photojournalist Michael Peto. Described as a 'splendid triumphal arch, 80 feet across' the structure was demolished in early 1964 to make way for the approach roads to the Tay Road Bridge. Other images show familiar Dundee landmarks which still survive today, like the H.Samuel corner in High Street and the City Churches.
Curator of Museum Services, Matthew Jarron said, "Dundee has long been a focal point for artistic creativity - the city has both enticed and challenged artists over the years. This exhibition reveals some of the different ways artists have depicted Dundee - some critical, some celebratory, but all inspired."
Caroline Brown, deputy head archivist, said, "The exhibition is an opportunity to display the wealth and diversity of material in our collections. Images of Dundee dating from the 17th century to the 1980s will be on view and we hope that it will encourage people to investigate some of the other material in our collections."
Dundee: the city in art and photography opens at 5pm on Friday November 22 and runs until January 24 2003. Admission is free.
By Jane Smernicki, Press Officer 01382 344768 j.m.smernicki@dundee.ac.uk