27 May 2002

Old boys rise to the Challenge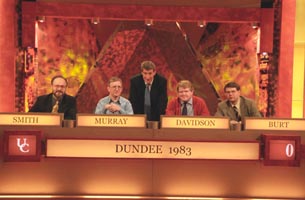 A vintage Dundee University Challenge team from 1983 will pit their wits once again against another set of oldies in University challenge champion of champion competition tonight (Monday 27 May) at 8pm on BBC2.
The team, who won the contest in 1983 reassembled for the oldies rerun which has seen winning teams from the 70s and 80s go head to head to see if they are any sharper or quicker after 20 years. The Dundee University 1983 champions will take on St Hilda's college Oxford.
Team member Peter Burt who graduated in 1984 in zoology and now works in the Natural Resources Institute at the University of Greenwich said: "It was a bolt from the blue when we were asked to go back nearly twenty years later to compete in another University Challenge. Winning back in 1983 has always been a source of some amusement for my family and I am frequently introduced as "Uncle Peter who won University Challenge". I thought the whole experience had been confined to my student days so it was a nice surprise to be asked back."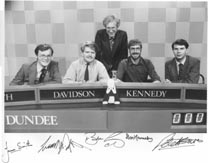 Peter explained: "I think our original team was successful because of our spread of expertise. We had a medic, a law student, a scientist and an arts student. Donald Kennedy, the medic, was a mature student so we had the benefit of some wisdom too. The team was selected very fairly. When DUSA received the invitation from Granada Television to submit a team they organised heats in the Union. About 40 or 50 people turned up and we ran the competition with sample questions that had been provided by Granada. The four of us came out on top and were also keen to go on telly so it worked out well.
Three of the original line up took part in this year's competition: Peter Burt, James Smith and Graeme Davidson. Donald Kennedy from the original team now lives in Australia so Craig Murray, who had been in the reserve Dundee team in 1984 took his place.
The 1983 University of Dundee team will appear tonight on BBC2 at 8pm.
Captions The original line up in 1983 and the oldies with Jeremy Paxman last month.