12 March 2003

Dundee University is British hurling champs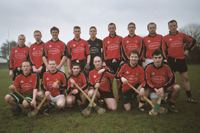 The University of Dundee has landed its first ever Hurling Championship, and its second major Gaelic Games trophy in a decade.
As a result of their new title, they have been invited to participate in a third level hurling championship in Ireland known as the Fergal Maher Cup winners. The British Champions are hoping that this fixture can take place in Ireland during their Easter University vacation in March/April 2003.
The Hurling Final was played at Dawson Park in Dundee with the two Dundee Universities head to head in the British Final. Abertay got off to the better start with an early goal and some good long range points from Paddy Hartigan and Padraig Fahy (both Galway men) leading at half time by two goals and eight points (14 points) to one goal and six points (9 points). In the second half however, assisted by the breeze, Dundee came progressively more into the game and with a strong defence marshalled by Iain Friel (Donegal) and Ian Bermingham (Galway), control at midfield through Michael Coughlan (Galway) and Paudie Barry (Clare) and strong forward play through Paul Storan (Limerick), Eoin Duffy (Westmeath) and Cliff Morgan (Tipperary), Dundee got the vital scores in the last quarter of the match.
The standard of hurling was excellent throughout and the scores, in particular the goals from Paul Storan and from top scorer Michael Coughlan who scored two goals and four points, were first class exponents of the best skills in hurling.
Contact Dr Peter Mossey 01382 425761
By Jenny Marra, Press Officer 01382 344910 j.m.marra@dundee.ac.uk