14 July 2004
Descendent of Dundee's pioneering doctor visits local exhibition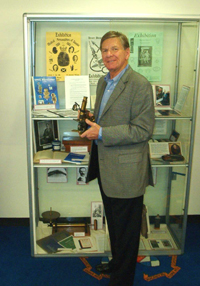 A descendent of Thomas Maclagan, the renowned doctor whose medical research contributed to the discovery of aspirin will visit the University of Dundee and Ninewells Hospital today.
Fergus Maclagan, who has travelled all the way from Australia, will take a tour round the Stepping Stones exhibition currently on display at the hospital's Medical School. The exhibition celebrates the 15th anniversary of the Medical History Museum at Ninewells and showcases some of its finest treasures, including material relating to Maclagan.
Dr Thomas Maclagan (1838-1903) was medical superintendent at Dundee Royal Infirmary from 1864 to 1866. During this time he had to cope with a major fever epidemic, leading him to pioneer the clinical use of thermometers. His most important work, however, was the research he carried out into the anti-rheumatic effects of salicin, a chemical extracted from willow bark. Maclagan's work was taken up by German researchers who used salicin to develop acetyl-salicylic acid - better known today as aspirin.
Maclagan later moved to London and established a fashionable practice whose patients included Thomas Carlyle and members of the Royal Family. At the time of his death in 1903, it was said that he "deserves a niche in the Temple of Fame as one of the great benefactors of the human race."
Without the dedicated research conducted by the Medical History Museum's first curator, Laura Adam, who died earlier this year, the remarkable work of Thomas Maclagan may have been entirely forgotten. She published internationally on Maclagan's life and work, and was responsible for the planting of a tree dedicated to him in the Royal Botanic Gardens, Edinburgh.
As well as seeing the exhibition, Fergus will also have the opportunity to visit 'Maclagan Way', the road named after Thomas, leading into Ninewells.
The Stepping Stones exhibition has been put together by the University of Dundee's Curator of Museum Services, Matthew Jarron, and new medical curator Dr Graham Lowe. It is open until 28 January 2005. Admission is free and opening hours are Monday - Friday, 10am - 5pm.
For further information please contact Matthew Jarron on 01382 344310
By Angela Durcan, Press Officer 01382 344910, out of hours: 07968298585, a.durcan@dundee.ac.uk