3 July 2003

SMART for STAR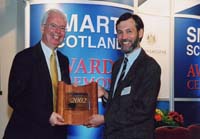 STAR Dundee, a recent spin out company from the University of Dundee has secured a SMART award for £45K from the Scottish Executive for its innovative technology to support the development of computer network for use on NASA and European Space Agency satellites.
Dr Steve Parkes, head of the company was presented with the SMART award by Deputy First Minister and Minister for Enterprise and Lifelong Learning Jim Wallace in Glasgow.
Working with technical experts across Europe and the USA, the Space Systems Research Group at the University of Dundee have developed SpaceWire, a communications network which has become the standard for use on many spacecraft. The SpaceWire onboard network connects together many of the electronic units on a spacecraft sending information between them at high speeds. The interconnected units could be telescopes monitoring the Earth's oceans or some other type of sensor, large memory sub-systems for storing gathered data, computers for processing the data and controlling the spacecraft, or the telemetry-telecommand system that is used to send data to Earth and receive commands. SpaceWire is now being adopted for use on many spacecraft by the European Space Agency and NASA.
Dr Steve Parkes, Head of the Space Systems Research Group at the University of Dundee said: "As space agencies and space businesses start to build equipment with SpaceWire interfaces, there is an emerging need for equipment to support the research, development and debugging of SpaceWire based systems. STAR-Dundee Ltd aims to fill the emerging market niche for research and development, debug and support tools for SpaceWire.
The specific technology for which the SMART award was won is a SpaceWire Link Analyser which can be used to monitor the information flowing through a SpaceWire network, providing vital debugging support during the spacecraft development phase. The SpaceWire Link Analyser will expand the range of SpaceWire related tools being provided by STAR-Dundee.
Innov8tive Detection and Monitoring, another spin out company from the University of Dundee which is involved in developing new technology for dentistry also received a SMART award. Its grant is for a dental probe that reliably detects and monitors tooth decay.
Contact Dr Steve Parkes 01382 345194
By Jenny Marra, Head of Press 01382 344910 j.m.marra@dundee.ac.uk